Investments can go down as well as up so there is always a danger that you could get back less than you invest. Nothing here is personalised advice, if unsure you should seek advice.
This fund combines exposure to the long-term growth potential of emerging markets, with the attraction of a regular income
The team focus on businesses they feel can withstand economic turmoil and maintain or grow their dividends through thick and thin
An Indian business has been added to the portfolio, while a bias to Mexico is maintained
Our view on this fund
This fund combines exposure to the long-term growth potential of emerging markets, with the attraction of a regular income. Sophia Whitbread was appointed lead manager of the fund in May 2015 and was previously co-manager since launch in October 2012. She also has the support of Newton's Emerging and Asian equity team, as well as the group's large bank of analysts.
Newton has demonstrated a commitment to long-term investing in the emerging market region and, in our view, the team adopt a sensible investment approach that could lead to good long-term returns. The fund's historic yield is 3.67%, although yields are not a reliable indicator of future income.
The fund does not currently feature on the Wealth 150 list of our favourite funds across the major sectors. Jason Pidcock, previously a long-standing and experienced member of the team, left the group in 2015, which we felt was a loss for the remaining team. We would prefer to see how Sophia Whitbread and the team fare for a period of time before reconsidering its position.
Market and fund review
2016 has been quite a year for emerging stock markets. Following a weak start to the year, emerging markets embarked on a strong period of performance, but stumbled following the US Presidential election in November. Some investors now feel interest rates could rise at a faster pace in the US, and this could make the high level of US dollar-denominated debt across the developing world unsustainable. Furthermore, investors have feared Donald Trump's protectionist policies could harm Asian and emerging markets exports.
While funds investing in the higher-risk region, such as Newton Emerging Income, have generally delivered good returns over the course of the year, they have not been immune from the recent setback. The performance of the Newton fund against the broader emerging markets has also been held back by its focus on higher-quality companies with sustainable earnings that often feature in more defensive areas of the market. Over the year, investors have tended to favour more economically-sensitive areas, such as banks and commodity-related sectors, which the fund has tended to avoid and missed out on some of the gains made.
The team at Newton maintain a relatively cautious outlook. They believe many investors have grown complacent over wider economic risks across emerging nations, such as ageing populations, rising debt levels, and the potential devaluation (or weakening) of China's currency. Therefore they continue to focus on businesses they feel can withstand economic turmoil and maintain or grow their dividends through thick and thin.
Over the longer term the team's conservative approach means the fund has tended to fall less in value during periods of market weakness, although it has tended to lag a rapidly rising market.
Portfolio activity
A focus on dividend-paying companies means the fund has historically invested little in India, where companies traditionally focus on reinvesting profits back into their business rather than paying them out to shareholders. However, the team recently took advantage of a recent period of weakness in the Indian stock market, which made share price valuations and yields more attractive (as share prices fall, yields rise and vice versa). Shares in Indiabulls Housing Finance, a leading mortgage finance company, were added to the fund.
Elsewhere, the fund maintains a bias to countries such as Mexico. The team recently added a new investment in OMA, which operates airports in northern Mexico. They believe the company will generate strong cash flows, helped by air traffic and passenger growth in the country, over the long term. Please note the fund is a concentrated portfolio, which means each holding has a significant impact on performance, but it is a higher-risk approach.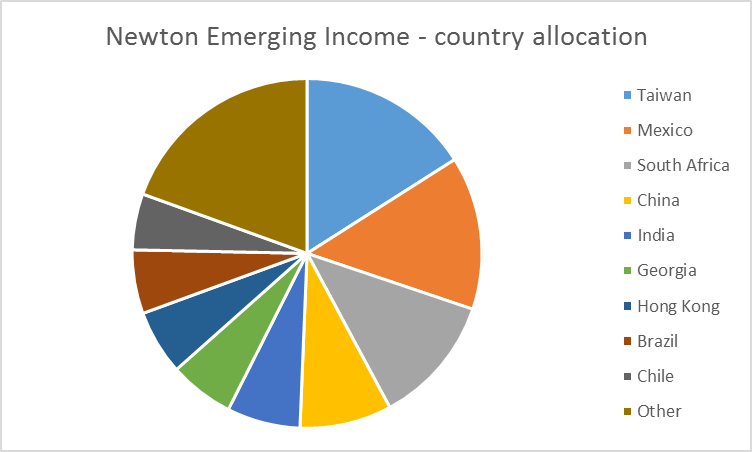 Source: Newton, correct at 30/11/2016
Annual Percentage Growth
Nov 11 -
Nov 12
Nov 12 -
Nov 13
Nov 13 -
Nov 14
Nov 14 -
Nov 15
Nov 15 -
Nov 16
Newton Emerging Income
-1.87
2.45
-14.66
24
FTSE Emerging
9.02
0.59
10.02
-14.14
32.94
Past performance is not a guide to future returns.
Full year past performance data prior to the November 2012 is unavailable.
Source: Lipper IM, correct at 30/11/2016
The fund's charges are taken from capital which can increase the yield, but reduces the potential for capital growth.
Find out more about this fund including how to invest
Please read the key features/key investor information document in addition to the information above.
Important information
-
Please remember the value of investments, and any income from them, can fall as well as rise so you could get back less than you invest. This article is provided to help you make your own investment decisions, it is not advice. If you are unsure of the suitability of an investment for your circumstances please seek advice.
No news or research item is a personal recommendation to deal.
Want our latest research sent direct to your inbox?
Our expert research team provide regular updates on a wide range of funds.
---