Investments can go down as well as up so there is always a danger that you could get back less than you invest. Nothing here is personalised advice, if unsure you should seek advice.
Key Points
Christopher Metcalfe took over the fund two years ago and performance has been good, although this is a relatively short time period
He has avoided investing in banks, oil & gas and mining companies, which has aided performance
The fund's income has fallen over the past few years but the manager feels confident this will grow over the long term
Our view
Christopher Metcalfe has managed the Newton UK Income Fund for two years and we are encouraged by the focus and stability he has brought to the fund. He has managed UK equity portfolios for many years, but has limited experience running an income-focused portfolio. As this requires a specialist skill set, we would like to monitor his performance over a longer period before considering the fund for inclusion to the Wealth 150 list of our favourite funds across the major sectors.
The manager's outlook
Christopher Metcalfe expects global economic growth to be lacklustre over the medium term. He believes interest rates in the UK will remain lower for longer, and the US will reverse December's interest rate raise.
Against a backdrop of low growth and low interest rates, the manager has avoided banks. Many UK banks are still highly indebted and have recently cut their dividends, or else yield very little. Lloyds and HSBC offer more attractive yields; however, Lloyds is too highly valued and HSBC's high exposure to Asian debt makes it an unattractive investment opportunity, in the manager's view.
Fund positioning
When selecting stocks for the portfolio Christopher Metcalfe places high importance on the sustainability of a company's dividend payments. This has led him to avoid oil & gas and mining companies. While many oil & gas companies currently offer a relatively attractive yield, he expects the oil price to remain low, which is likely to lead to dividend cuts in the future. Many mining companies have already cut dividends due to low commodity prices.
Conversely, utility companies, such as National Grid, are generally solid, dependable dividend payers, which are likely to do well against a background of poor economic growth. Elsewhere, media companies which have successfully transitioned from print to online, such as RELX and Wolters Kluwer, could support a growing dividend as their businesses expand. Companies within the utility and media sectors currently account for around 26% of the fund.
The fund's history
The fund has been through numerous changes over the past few years, including a number of new managers. Richard Wilmot managed the fund between December 2012 and March 2014. He had previously managed UK growth funds, typically with a bias to small and medium-sized companies, although he lacked experience in running funds with an income focus. The fund underperformed the peer group by 5.8% over this period, although this is too short a period to judge the manager's abilities. Prior to Richard Wilmot, Tineke Frikkee was lead manager on the fund. Under her management, the income paid by the fund reached an unsustainable level as she committed to grow the income each year. To achieve this, the fund had significant investments in a relatively small number of very high yielding stocks, with little invested in companies able to grow their dividends over time. The fund also made use of financial derivatives to artificially inflate the yield, all of which increased risk within the fund and made it more difficult to improve on the year prior. The current manager still has the flexibility to use derivatives which if used adds risk, although we feel he is less likely to do so.
Under Richard Wilmot and then Christopher Metcalfe's instruction, dividend payments from the fund have reduced over the past three years. Christopher Metcalfe feels the level of income paid by the fund is now at a reasonable level, which he can build over time, although remember all income is variable and not guaranteed.
Performance
Since Christopher Metcalfe assumed responsibility for the fund, performance has been good. An avoidance of mining, oil & gas companies, and banks all contributed positively to performance. Conversely, a low exposure to household goods held back returns as these companies performed well. The fund has risen 13.2%* compared with 6.3% for the average fund in the sector and 3.2% for the FTSE All Share Index, although past performance is not a guide to future returns.
Performance of the Newton UK Income Fund over manager's tenure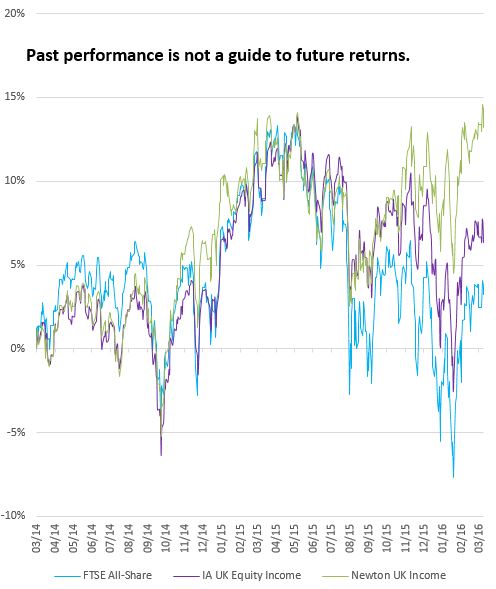 Source: Lipper IM, correct at 01/04/2016
Annual percentage growth
April 11 -
April 12
April 12 -
April 13
April 13 -
April 14
April 14 -
April 15
April 15 -
April 16
Newton UK Income
4.82%
17.03%
9.89%
10.11%
1.89 %
IA UK Equity Income
2.15%
18.12%
13.53%
7.63%
-2.25%
FTSE All-Share
1.47%
14.83%
9.69%
6.2%
-4.81%
Source: Lipper IM to *01/04/2016. Past performance is not a guide to future returns.
Find out more about this fund including how to invest
Please read the key features/key investor information document in addition to the information above.
Important information
-
Please remember the value of investments, and any income from them, can fall as well as rise so you could get back less than you invest. This article is provided to help you make your own investment decisions, it is not advice. If you are unsure of the suitability of an investment for your circumstances please seek advice.
No news or research item is a personal recommendation to deal.
Want our latest research sent direct to your inbox?
Our expert research team provide regular updates on a wide range of funds.
---