Investments can go down as well as up so there is always a danger that you could get back less than you invest. Nothing here is personalised advice, if unsure you should seek advice.
A well-resourced and experienced team with an excellent long-term track record
A willingness to take a contrarian view and search for opportunities off the beaten track
A new discounted ongoing fund charge for Hargreaves Lansdown clients
Our view
The Royal London Corporate Bond Fund previously featured on the Wealth 150 between November 2005 and April 2015. It was removed following the departure of Sajiv Vaid, who co-managed the fund alongside Jonathan Platt, to give us the opportunity to assess the team and analyse performance. We have long held Royal London's bond team in high regard and the team adapted well to the change, in our view. While the fund featured on the Wealth 150 it achieved a higher return than the IA £ Corporate Bond sector, and performance has continued to be strong.
We like the team's flexible approach and willingness to take a contrarian view. This means the fund is often invested differently to others in the sector and performance can deviate from its peers over the short term. Jonathan Platt and his team have delivered impressive returns and we believe they have the potential to deliver attractive long-term performance, although there are no guarantees. In addition, we have negotiated a new discounted ongoing charge of 0.34%, reduced from the standard ongoing charge of 0.45% (the Vantage charge of up to 0.45% also applies). Given our conviction and the low charge, the fund has been added to the Wealth 150+.
Performance
Jonathan Platt has been involved with this fund since it launched in March 1999. Over this time it has returned 134.4%* compared with 107.6% for the IA £ Corporate Bond sector. The team's willingness to look for opportunities off the beaten track has added value for investors over the long term, according to our analysis. Please note, past performance is not a guide to future returns.
It is not always plain sailing though. The fund has incurred two notable periods of poor performance compared with peers in the sector. During the financial crisis, investments in bonds issued by financial companies and some asset-backed bonds fell heavily in value. The team retained its conviction in these areas, which ultimately paid off as markets bounced from March 2009. Similarly, in the weeks surrounding the UK's decision to leave the European Union performance was held back by investment in bonds issued by financial companies. Again, the team has been willing to maintain its conviction as they believe the financial sector is in a stronger position than it was a few years ago. Around 30% of the portfolio is invested in the financial sector.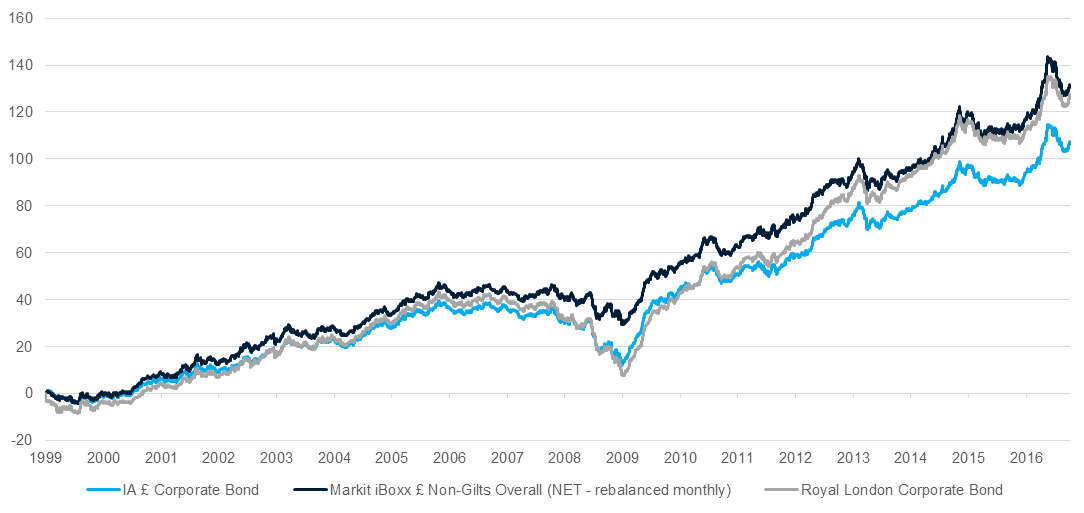 Annual Percentage Growth
Dec 11 -
Dec 12
Dec 12 -
Dec 13
Dec 13 -
Dec 14
Dec 14 -
Dec 15
Dec 15 -
Dec 16
Royal London Corporate Bond
9.07
-0.3
11.96
1.84
14.82
IA £ Corporate Bond
8.91
-0.51
9.95
0.22
12.31
Past performance is not a guide to the future. Source: Lipper IM *to 31/12/2016
How the managers invest
Jonathan Platt and the fixed interest team take a pragmatic approach. They seek to invest in bonds issued by companies their analysis suggests are financially secure and able to meet commitments to bondholders. There is also a focus on areas they feel are undervalued and overlooked by other investors. Unrated bonds (those that do not have a credit rating), for example, are often disregarded by investors. The Royal London team is willing to put in the additional analysis to uncover unrated bonds they believe have a lower risk of default than the price suggests. At present 8.4% of the portfolio is invested in unrated bonds.
Another area of focus for the team is secured bonds. These are bonds often secured against a company's assets, such as property. The managers favour these types of bond as they provide an element of security if a company gets into difficulty. The team has been successful in these areas, according to our analysis. Please note, the managers can invest in higher-risk high yield bonds.
Our view on corporate bonds
High-quality government and corporate bonds have performed well in recent years. Policies such as quantitative easing and ultra-low interest rates have helped fuel demand. This has driven prices higher and yields lower. A broad index of sterling corporate bonds now yields just 2.7% (not a reliable indicator of future income) and after such a strong run of performance the potential for further gains is limited and the potential for volatility and capital loss higher.
That said, we don't necessarily believe a reversal in performance is imminent. With interest rates likely to remain lower for longer, corporate bonds could remain in demand with income-hungry investors even when yields are relatively low compared with history. If expectations for interest rates to rise or inflation to increase (both of which are negative for corporate bonds) changes dramatically, the strong performance could reverse. We will keep investors up to date with our views via the website and / or Investment Times.
The Royal London Corporate Bond Fund has a yield of 3.26% (based on income paid over the past year and not a reliable indicator of future income). For investors able to accept the risk we believe the fund could form part of a diversified portfolio of bond and equity income funds with a view to generating an attractive income.
Please note charges can be taken from capital which can increase the yield but reduces the potential for capital growth.
Find out more about this fund including how to invest
Please read the key features/key investor information document in addition to the information above.
Important information
-
Please remember the value of investments, and any income from them, can fall as well as rise so you could get back less than you invest. This article is provided to help you make your own investment decisions, it is not advice. If you are unsure of the suitability of an investment for your circumstances please seek advice.
No news or research item is a personal recommendation to deal.
Want our latest research sent direct to your inbox?
Our expert research team provide regular updates on a wide range of funds.
---