Investments can go down as well as up so there is always a danger that you could get back less than you invest. Nothing here is personalised advice, if unsure you should seek advice.
The UK's shock vote to exit the European Union saw the UK stock market fall heavily. Funds investing in the region, including Julie Dean's TM Sanditon UK, have not been immune. In the immediate aftermath of the exit vote investors favoured businesses with overseas earnings that could benefit from sterling weakness and avoided domestic businesses, which are more likely to be hurt by any weakness in the UK economy. The fund has a relatively high weighting to medium-sized companies, which tend to be more domestically-focussed than their larger counterparts, and so this negatively impacted performance.
Since launch in June 2015, the fund has fallen 1.1%* compared with a rise of 3.6% for the FTSE All Share Index*, with much of the disparity occurring in the weeks surrounding the UK's decision to leave the EU.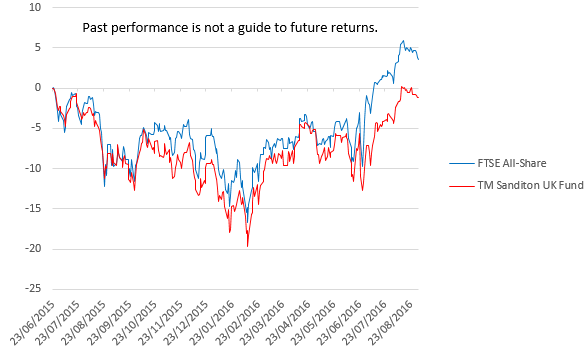 Annual percentage growth
Sept 11 -
Sept 12
Sept 12 -
Sept 13
Sept 13 -
Sept 14
Sept 14 -
Sept 15
Sept 15 -
Sept 16
TM Sanditon UK
8.47%
FTSE All-Share
10.59%
19.68%
8.88%
-5.11%
14.52%
Past performance is not a guide to future returns.
*Source: Lipper IM to 01/09/16. Full year performance prior to 2015 is unavailable.
Fund positioning
Julie Dean aims to correctly identify when the next stage of the business cycle will arrive, and the types of companies that will prosper. She typically aims to invest in economically-sensitive companies ahead of periods of economic expansion, and add to defensive areas ahead of slowdowns. The manager is currently cautious in her outlook; although economic data suggests the UK is unlikely to imminently slip into recession, she expects growth to be limited over the coming months.
As such, just under 45% of the fund is currently invested in companies the manager would classify as defensive businesses, such as those that sell food or drugs. This includes investments in J Sainsbury and GlaxoSmithKline. While she would like to increase exposure to this area she feels their popularity with other investors has driven valuations to levels higher than she is willing to accept. She is therefore happy to hold a higher level of cash (currently around 10%) while she awaits the opportunity to buy at lower prices.
Elsewhere, 33% of the fund is invested in more economically-sensitive companies. Exposure to this area increased in the weeks following Brexit as the manager found a number of opportunities to invest in companies, such as Halfords and Dixons Carphone, at depressed valuations. As valuations return to normal levels, she will look to lower the fund's exposure to economically-sensitive companies.
A large proportion of the fund (26%) is currently invested in consumer services companies, such as TUI and Restaurant Group, although Julie Dean has recently taken profits from these companies as they have recently performed well.
The fund has a higher exposure to healthcare companies than the index despite taking profits from AstraZeneca, GlaxoSmithKline and Indivior in the month following the Brexit vote; the share prices of these companies all rose further than their underlying businesses warranted, in the manager's view.
For exposure to the oil & gas sector, the manager favours smaller companies such as Premier Oil, Ophir Energy and Tullow Oil. The manager has been increasing exposure to this area, although she continues to have much less invested here than the index.
The fund operates a concentrated portfolio which enables each holding to make a significant impact on returns however this is a higher risk approach. The fund has exposure smaller companies which also adds risk.
Our view
We believe the period since the funds launch is too short a time frame to judge performance. We select funds for the Wealth 150+ based on a long-term outlook and we would implore investors do the same. We are happy to retain the fund on our Wealth 150+ list of our favourite funds with low charges due to the manager's long track record of success, although there are no guarantees this will be replicated in future. Please note the annual Vantage charge of up to 0.45% also applies.
Find out more about this fund including how to invest
Please read the key features/key investor information document in addition to the information above.
Important information
-
Please remember the value of investments, and any income from them, can fall as well as rise so you could get back less than you invest. This article is provided to help you make your own investment decisions, it is not advice. If you are unsure of the suitability of an investment for your circumstances please seek advice.
No news or research item is a personal recommendation to deal.
Want our latest research sent direct to your inbox?
Our expert research team provide regular updates on a wide range of funds.
---