Investments can go down as well as up so there is always a danger that you could get back less than you invest. Nothing here is personalised advice, if unsure you should seek advice.
In times of heightened uncertainty investors have tended to seek the safety of large well-established institutions and shun smaller companies. This was evident in the weeks that followed the UK's decision to leave the European Union. Domestically-focused small and medium-sized companies struggled due to their perceived exposure to the uncertain economic and political environment. Meanwhile, the UK's largest companies, many of which derive a significant proportion of their earnings overseas, fell to a lesser extent.
Smaller companies have recovered much of their losses since Brexit was announced. This is partly because many investors took advantage of price falls to purchase these companies' shares at a discount, and partly due to supportive measures introduced by the central bank. In early August the Bank of England announced interest rates would fall to 0.25% and a fresh round of quantitative easing would begin.
The Schroder UK Dynamic Smaller Companies Fund was not immune to these events. It too fell sharply in the immediate aftermath of the vote, but recovered the majority of its losses in the following weeks. Paul Marriage, the fund's manager, expects further volatility when Brexit negotiations begin. However, he is encouraged that many of the companies the fund invests in have indicated Brexit will have no immediate impact on their business. In addition, only 55% of the sales made by the companies he invests in are derived from the UK, with the remaining 45% of sales occurring overseas. If Brexit negotiations cause sterling to weaken further, export companies will benefit from their goods appearing cheaper to the rest of the world.
As a seasoned stock picker, Paul Marriage tends not to focus on the wider economic outlook. Rather, he gets under the bonnet of the higher-risk smaller companies he invests in and selects businesses based on their underlying capabilities. He believes a differentiated product is important and companies must also be market leaders in their chosen niche. This could help expand profit margins and generate cash to grow the business.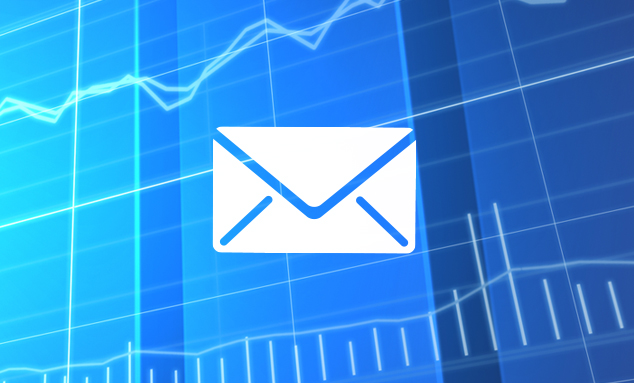 Free fund research
Expert research directly to your inbox.


Register today >
Fever-Tree is an example of such a company. The world's number one premium drinks mixer company has been held in the fund since it listed on the stock market two years ago and illustrates the manager's strategy of 'buy it once, buy large, and let it grow'. It has grown to be the largest company the fund invests in and, at 4.25% of the portfolio, it is also the fund's biggest investment.
Fever-Tree has 11% market share in the UK so has plenty of room to expand, according to the manager. For example, its products are only currently stocked in 4,500 of 12,500 stores operated by the grocery businesses that sell Fever-Tree drinks. As the business continues to grow, the manager expects he will be forced to sell his shares in the near future (he generally only holds onto businesses up to £1.5 billion in size and Fever-Tree is currently £1.16 billion).
Identifying businesses such as Fever-Tree has contributed to the fund's strong long-term performance. Since taking over management of the fund in 2006, the manager has delivered growth of 249.6%*, outperforming the FTSE Small Cap (ex. Investment Trusts) index by 171.8%. The majority of the fund's outperformance is due to the manager's strong stock selection, according to our analysis, although past performance is not a guide to the future.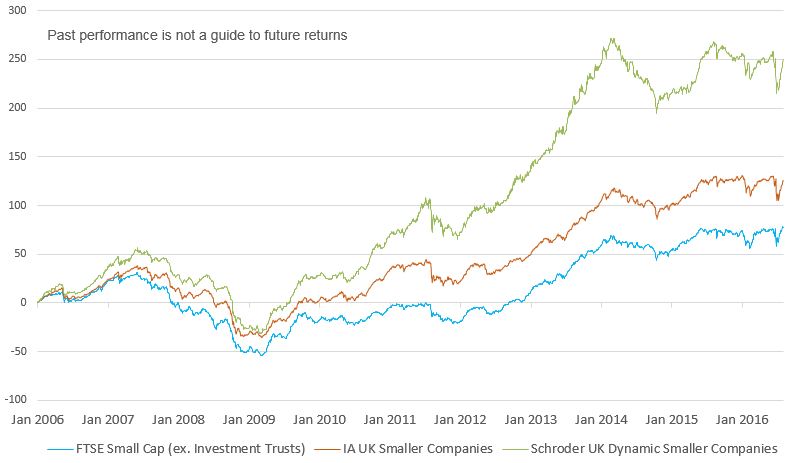 Past performance is not a guide to future returns.
Source: Lipper IM *to 01/08/16
Annual percentage growth
August 11 -
August 12
August 12 -
August 13
August 13 -
August 14
August 14 -
August 15
August 15 -
August 16
Schroder UK Dynamic Smaller Companies
-1.61%
46.15%
10.62%
11.3%
-4.28%
FTSE Small Cap (ex. Investment Trust)
-5.95%
49.19%
13.4%
11.71%
1.74%
IA UK Smaller Companies
-4.81%
32.36%
13.08%
13.76%
-1.00%
Our view
This fund was removed from the Wealth 150 in January 2014 when it closed to new investment on account of its increasing size. Paul Marriage struggled with its larger size in recent years, which dragged on returns. The fund was readmitted to the Wealth 150 a year ago and we feel the manager is in a better position to deliver for investors, given the fund is now a more manageable size.
Paul Marriage has added exceptional value for investors over the longer term through his good stock selection. He has historically added most value among his smaller company selections and so we are encouraged he has increased exposure to this area as the fund has grown smaller. We view the manager as an exceptional investor and the fund retains its place on the Wealth 150+ of our favourite funds with low charges. The Vantage charge of up to 0.45% per annum also applies.
Find out more about this fund including how to invest
Please read the key features/key investor information document in addition to the information above.
Important information
-
Please remember the value of investments, and any income from them, can fall as well as rise so you could get back less than you invest. This article is provided to help you make your own investment decisions, it is not advice. If you are unsure of the suitability of an investment for your circumstances please seek advice.
No news or research item is a personal recommendation to deal.