Investments can go down as well as up so there is always a danger that you could get back less than you invest. Nothing here is personalised advice, if unsure you should seek advice.
Investor caution and concern over potential interest rate cuts in the US have been positive for gold, favoured for its 'safe haven' status
Ani Markova remains positive in her outlook for the gold price in 2017
The manager expects demand for diamonds to wane over the coming year
Our view
Resources funds, alongside most funds focused on niche areas, are almost entirely beholden to factors outside the fund manager's control. Commodity prices spent four of the past five years in the doldrums and many resources funds suffered, with the Smith & Williamson Global Gold & Resources Fund, managed by Ani Markova, no exception. The past year has seen an improvement in commodity prices and these funds have benefited as a result; however, past performance is not a guide to the future.
Gold is a relevant investment for those seeking a hedge against inflation and, due to its low correlation to global equities, can be used to diversify a portfolio. However a fund such as this, which invests predominately in the shares of gold mining companies, will produce different returns to gold bullion and is also more volatile. This is a specialised fund with exposure to smaller companies which increases risk. Investors who wish to gain pure exposure to gold may wish to consider an Exchange Traded Commodity, which should track the gold price more closely. Any investment in this specialist and higher-risk area should only account for a small portion of a portfolio, in our view.
Manager's outlook
Despite strong performance over the past year, Ani Markova believes the gold price will rise from current levels. The US Federal Reserve is expected to raise interest rates over the next few months, which usually proves a headwind for the gold price as the opportunity cost of holding the yellow metal rises (as the investor is giving up the opportunity to hold an income-producing assets). However, the manager expects any rate rise to be small limiting the impact on the gold price. In addition as US inflation is also rising; gold is generally seen as a hedge against inflation and therefore tends to perform well in an inflationary environment.
The manager expects Donald Trump's election and the UK's decision to leave the EU to result in an increase in protectionist policies, which is likely to result in increased tariffs on imported goods and cause prices (and therefore inflation) to rise. Rising inflation will play a greater part in supporting the gold price over the next few years than many other investors have assumed, in the manager's view. Elsewhere, geopolitical tensions are also supportive for the gold price as the yellow metal is traditionally viewed as a 'safe haven'.
The Smith & Williamson Global Gold & Resources Fund's only exposure to gold bullion is via a small position in an investment trust that holds physical gold and silver. However, around 55% of the fund is invested in the shares of gold mining companies. The businesses the manager invests in have cut costs, are committed to profitability, and have incentivised management to keep costs low. The manager feels these companies are in a better position than they were a few years ago and expects any improvement in the gold price to reflect share price performance.
Ani Markova expects most of the big miners to reduce production forecasts over the next few years, which could boost the gold price if demand remains buoyant. As a result she has concentrated on companies focused on improving their pipeline and investing in exploration projects. This includes companies such as Newmont Mining and Agnico Eagle. The management of the latter optimises the ideal of 'buy low, sell high'. They actively acquired assets in the downturn, when struggling businesses were selling at rock bottom prices, and now have a strong pipeline in place to benefit from a higher gold price.
Elsewhere, the manager expects the diamond market to wane in 2017. There has been a lot of inventory brought to market over the past 12 months and demand has not increased to the same extent. That said, she expects her investment in Petra Diamonds to perform well as management is reducing costs and the quality of mined rocks is improving.
Performance
After four years of negative returns, the commodities and mining sectors enjoyed a reversal in their fortunes through 2016, finishing the year as the strongest performing area of the global stock market. Investor caution and concern interest rates in the US would rise at a slower rate than intially exposed was particularly positive for gold, favoured for its 'safe haven' status. The Smith and Williamson Global Gold & Resources Fund, has therefore enjoyed improved performance over the past year although there are no guarantees this will continue.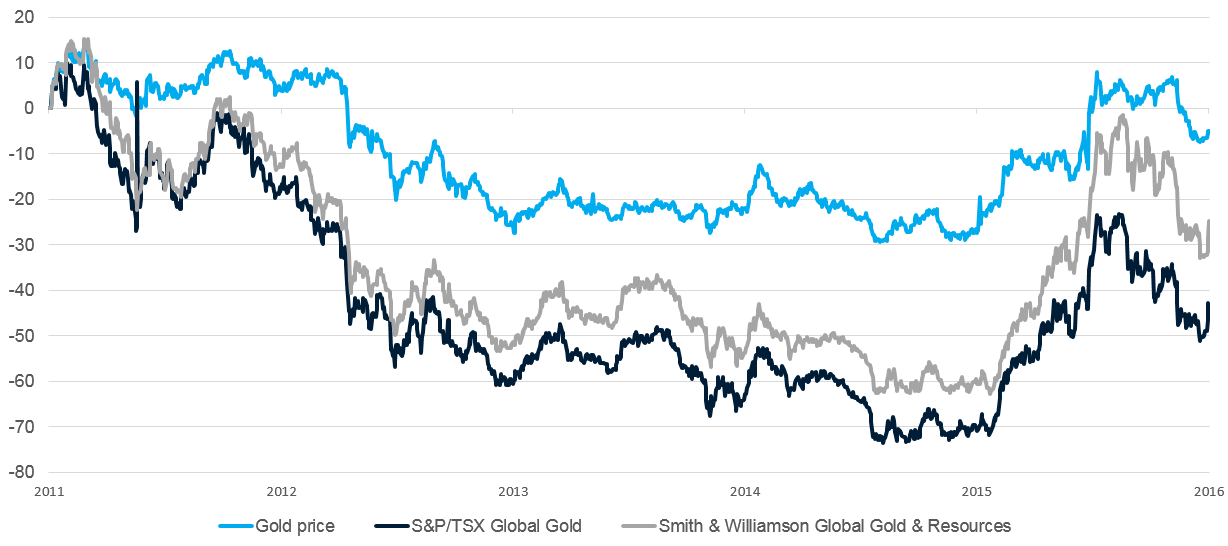 Annual Percentage Growth
Dec 11 -
Dec 12
Dec 12 -
Dec 13
Dec 13 -
Dec 14
Dec 14 -
Dec 15
Dec 15 -
Dec 16
Smith & Williamson Global Gold & Resources
-12.96
-44.95
-0.99
-16.84
91.04
Gold price (In £)
3.91
-30.01
7.16
-6.18
30.12
S&P/TSX Global Gold
-16.59
-51.65
-7.89
-20.97
86.51
Past performance is not a guide to the future. Source: Lipper IM to 30/12/2016.
Find out more about this fund including how to invest
Please read the key features/key investor information document in addition to the information above.
Important information
-
Please remember the value of investments, and any income from them, can fall as well as rise so you could get back less than you invest. This article is provided to help you make your own investment decisions, it is not advice. If you are unsure of the suitability of an investment for your circumstances please seek advice.
No news or research item is a personal recommendation to deal.
Want our latest research sent direct to your inbox?
Our expert research team provide regular updates on a wide range of funds.
---