Investments can go down as well as up so there is always a danger that you could get back less than you invest. Nothing here is personalised advice, if unsure you should seek advice.
After four years of negative returns few sectors are more unloved than commodities and mining. Many resources funds have suffered over this time and the Smith & Williamson Global Gold & Resources Fund, managed by Ani Markova, is no exception.
The fund's primary focus is on gold mining companies which currently account for around 55% of the portfolio. The gold price has fallen 41% from $1899 in September 2011 to a recent low of $1084. However, gold mining companies have been hit even harder with the S&P/TRX Global Gold index falling 76.6%* over the same period, although past performance should not be seen as a guide to future returns. Spiralling costs and poor management decisions, along with the falling gold price, have significantly reduced company earnings and profits.
Performance of the Smith & Williamson Global Gold & Resources Fund over the past 5 years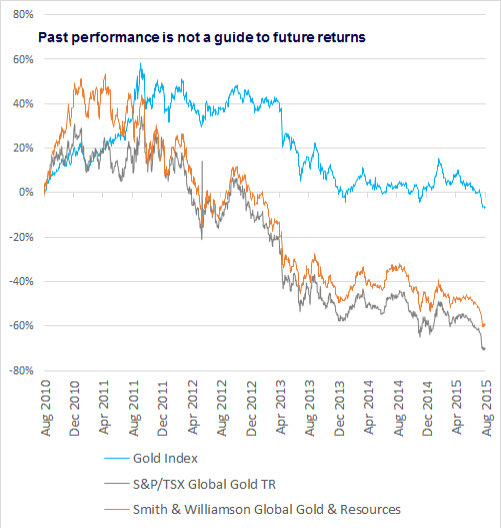 This fund was initially added to the Wealth 150 as we felt it would offer a different angle to other gold & resources funds. Unlike many of its peers, the fund is primarily focused on Canadian companies and has a greater exposure to higher-risk small and medium-sized firms. We therefore expected the fund to perform differently to peers which take a broader approach, investing more in larger companies or other regions globally.
However, the fund has not offered the diversification we expected and has performed similarly to other gold funds. In addition, Robert Lyon, one of the fund's co-managers, left in late 2014, leaving Ani Markova as sole manager. Finally, looking to the future, the lower gold price means mining companies have less margin for error and those unable to generate profits are more likely to go bust. Smaller companies are particularly vulnerable as they tend to have lower reserves and banks are less willing to lend support.
For these reasons we have decided to remove the fund from the Wealth 150 list of our favourite funds for new investment. If the gold price recovers, those companies which survive could go on to see a strong rebound in their share prices and the fund could perform well. However, for exposure to this niche and higher-risk area we prefer to back well-resourced teams taking a more diversified approach.
It is important to remember investing in the shares of gold mining companies will produce different returns to investing directly into gold bullion and recent performance highlights its volatile nature. If the gold price goes on to rise over the long term, companies able to maintain or reduce costs could increase the profit they make on each ounce of gold produced, in turn potentially leading to rising share prices. However, there are no guarantees and investing in the shares of gold mining companies is considered higher risk than investing in physical bullion. For this reason we feel exposure should only account for a small portion of a portfolio.
Annual percentage growth
Aug 10 -
Aug 11
Aug 11 -
Aug 12
Aug 12 -
Aug 13
Aug 13 -
Aug 14
Aug 14 -
Aug 15
Gold Index
33.49%
2.76%
-15.43%
-11.42%
-9.02%
S&P/TSX Global Gold
13.69%
-23.17%
-36.43%
-4.05%
-43.89%
Smith & Williamson Global Gold & Resources Fund
37.47%
-32.37%
-30.00%
-0.15%
-37.17%
Past performance is not a guide to future returns.
Source: Lipper IM *to 03/08/2015
Find out more about this fund including how to invest
Please read the key features/key investor information document in addition to the information above.
Important information
-
Please remember the value of investments, and any income from them, can fall as well as rise so you could get back less than you invest. This article is provided to help you make your own investment decisions, it is not advice. If you are unsure of the suitability of an investment for your circumstances please seek advice.
No news or research item is a personal recommendation to deal.
Want our latest research sent direct to your inbox?
Our expert research team provide regular updates on a wide range of funds.
---