Investments can go down as well as up so there is always a danger that you could get back less than you invest. Nothing here is personalised advice, if unsure you should seek advice.
Alan Rowsell has assumed the role of sole manager with immediate effect
The existing investment process continues to be applied
The manager feels the high quality smaller companies he favours are currently undervalued by other investors
Our view on the manager change
Alan Rowsell is now sole manager of the Standard Life Global Smaller Companies Fund. Harry Nimmo, who has worked closely with Alan Rowsell since the fund's launch in January 2012, has stepped down as the fund's co-manager. We do not anticipate any significant changes to the way the fund is run and are confident Alan Rowsell is a capable and experienced manager. He will also continue to have the support of Harry Nimmo and the wider investment team at Standard Life in managing the fund. This fund remains one of our favoured ways to access the wealth of opportunity among global smaller companies. We expect the manager to add value for investors over the long term and it retains its place on the Wealth 150 list of our favourite funds across the major sectors.
Standard Life's investment process
Alan Rowsell uses the same investment approach in managing the Standard Life Global Smaller Companies Fund that is used across Standard Life's other smaller company funds. Their longest-standing mandate is the UK Smaller Companies Fund, managed by Harry Nimmo, where the process has been applied with great success. A unique stock-screening tool, the 'Matrix', is used to identify quality companies capable of strong growth, where their value has begun to be recognised by other investors and could be reflected in a rising share price.
The Matrix scores more than 6000 smaller companies across the world on a number of factors such as dividend yield, earnings and the share price's direction of travel. The manager meets the companies that score highly to identify those he believes could become tomorrow's larger businesses. Companies identified by the Matrix in the past have included Rightmove and Ted Baker, which have both proven hugely successful.
Manager outlook
The manager feels higher-quality smaller companies capable of sustainable growth are currently undervalued by other investors who have favoured more economically-sensitive areas of the stock market. This trend accelerated following Donald Trump's election as US President in the belief his policies will boost economic growth, in the manager's view. However, Alan Rowsell is sceptical Donald Trump will succeed and maintains his focus on higher-quality businesses that he believes will prevail over the long term.
Alan Rowsell takes a high-conviction approach and the portfolio is relatively concentrated at around 53 holdings. This enables each investments, to have a significant impact on returns, but is a higher-risk approach. Please note, smaller companies tend to be higher risk than their larger counterparts.
Portfolio positioning
In recent months the Matrix has led the manager to invest in companies in the energy, mining, industrials, banking, and semiconductor sectors. US oil services company, Superior Energy Services, is recent addition to the portfolio. The company specialises in fracking, which the manager feels is a technological revolution that will boost US oil production for many years to come. In his view, Superior Energy Services is one of the best fracking companies in the US.
Elsewhere, the manager has initiated a position in Sunny Optical, which makes camera lenses for smartphones and vehicles. The manager expects the company to benefit from the transition to dual cameras on the back of smartphones, which give sharper pictures. The company is also likely to benefit from legislation in Europe and the US, which mandates the use of vehicle cameras, and the arrival of driverless cars, which use camera technology to avoid hazards and interpret road signs and signals.
Performance
The fund has produced stellar returns since launch and has grown 100.4% compared with 74.1%* for the IA Global sector. Although, past performance is not a guide to the future. Our analysis suggests the fund's performance is led by the manager's stock selection.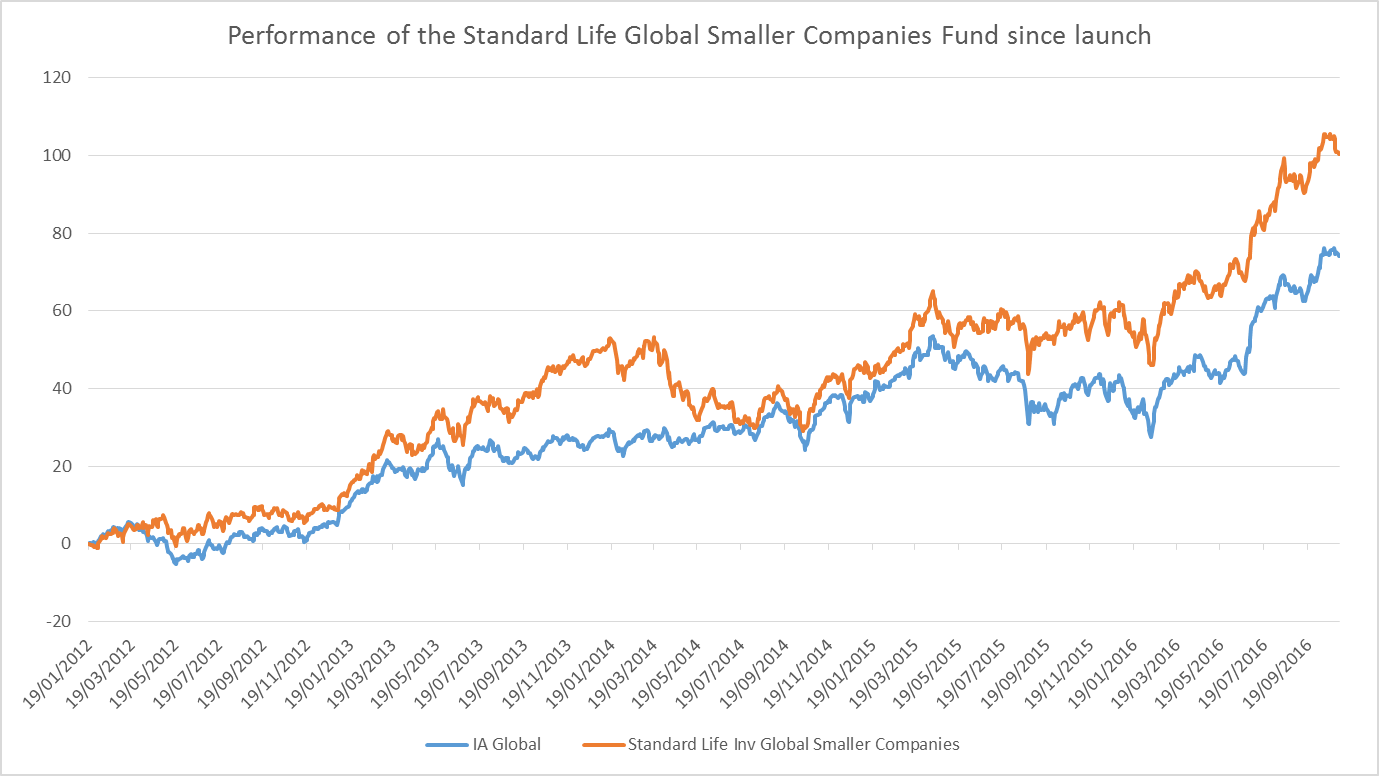 Past performance is not a guide to future returns. Source: Lipper IM *to 30/11/16
Annual Percentage Growth
Nov 11 -
Nov 12
Nov 12 -
Nov 13
Nov 13 -
Nov 14
Nov 14 -
Nov 15
Nov 15 -
Nov 16
Standard Life Global Smaller Companies
34.91
-2.48
11.98
22.02
FTSE Global Small Cap
10.65
26.46
9.39
4.89
28.94
IA Global
11.32
21.93
9.02
3.29
20.39
Find out more about this fund including how to invest
Please read the key features/key investor information document in addition to the information above.
Important information
-
Please remember the value of investments, and any income from them, can fall as well as rise so you could get back less than you invest. This article is provided to help you make your own investment decisions, it is not advice. If you are unsure of the suitability of an investment for your circumstances please seek advice.
No news or research item is a personal recommendation to deal.
Want our latest research sent direct to your inbox?
Our expert research team provide regular updates on a wide range of funds.
---