Investments can go down as well as up so there is always a danger that you could get back less than you invest. Nothing here is personalised advice, if unsure you should seek advice.
Medium-sized companies have often overcome many of the challenges faced by smaller firms, and are unencumbered by some of the inefficiencies that plague larger businesses. As a result they can be capable of impressive performance and over the long term have excelled relative to their larger counterparts, although this is not an indication of how they will perform in future. Funds with a bias to this area have therefore tended to performed well.
However, following the UK's decision to leave the European Union, shares in medium-sized companies fell sharply as investors worried UK economic growth would be negatively impacted. Medium-sized companies tend to be domestically-focused, so this impacts these businesses more than their larger, often internationally-focussed, counterparts.
The Standard Life UK Equity High Income Fund, managed by Karen Robertson, has previously received a boost from its investments in medium-sized companies as 30% of the portfolio is typically invested here, compared with around 16% for the FTSE All Share Index. However, this positioning has negatively impacted the fund over the short term.
Despite the result of the EU referendum, the manager remains positive on the prospects for the UK economy and expects the fund's bias to medium-sized companies to benefit performance over the long term. Her positive view on the UK has also led her to favour domestically-focused businesses for the fund's investments in larger companies. The fund's exposure to these businesses has also recently dragged on returns and is likely to continue doing so while concerns over the strength of the UK economy remain.
Over the longer term Karen Robertson's performance has been mixed. The following graph indicates how the fund has performed relative to the FTSE All Share Index since she began her tenure in January 1996 – when the line is rising, the fund is performing better than the index and when the line falls it is performing less well.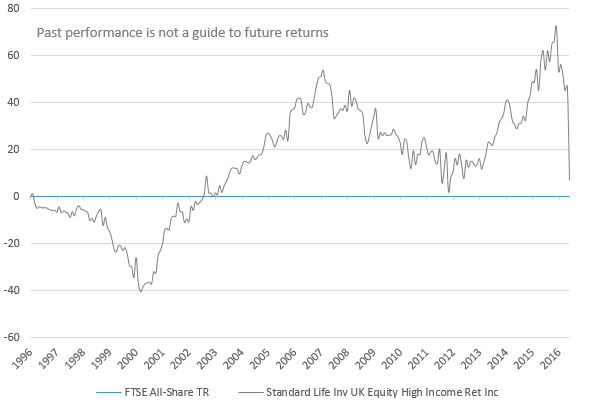 Past performance is not a guide to future returns.
Source: Lipper IM to 01/07/16
Annual percentage growth
July 11 -
July 12
July 12 -
July 13
July 13 -
July 14
July 14 -
July 15
July 15 -
July 16
Standard Life UK Equity High Income
-4.94%
20.4%
14.07%
10.46%
-8.74%
FTSE All-Share
-2.67%
18.23%
12.39%
3.04%
2.08%
Although the fund has enjoyed prolonged periods of strong performance relative to the benchmark, they have been followed by periods of weaker returns, where much of the gains are lost. Our analysis suggests periods of strong returns have, for the most part, been driven by the fund's large weighting to medium-sized companies, which have outperformed their larger counterparts for most of the past 20 years. Meanwhile, her stock selection has been inconsistent.
The fund currently yields 3.95%, which is marginally lower than the FTSE All Share yield of 3.98%, although remember all dividends are variable and not guaranteed. The manager has done a reasonable job of growing the income over the long term.
Portfolio positioning
Recent investments include rail and coach operator National Express. The business typically has long contacts to operate their services and she believes other investors have underestimated the value in the company. Earnings revenue from their rail business, for example, is secured until 2029 in the UK, and 2033 in Germany.
The manager also recently invested in SAGA. As the company tailors its products and services to UK-based customers aged 50 and over, it has a growing source of demand - an ageing population.
Elsewhere, the manager recently sold an investment in Restaurant Group, which owns brands such as Frankie & Benny's, Chiquito and Coast to Coast. She is uncomfortable with their rising costs, slowing sales and increased competition.
The fund's investments in larger companies currently include ITV, which is able to charge more for advertising as programme quality has improved; and Close Brothers Group, which has a 30 year unbroken track record of sustainable growth.
Our view
Karen Robertson's performance has been inconsistent over the longer term and the fund is likely to encounter a period of poor performance if concern over the UK economy continues, although many of the companies that have been hit hardest now look attractively valued. The Wealth 150 is reserved for what we believe to be the highest-quality managers and we do not currently feel this fund warrants a place on this list.
Please note the fund charges can be taken from capital which can increase the yield but reduces the potential for capital growth.
Find out more about this fund including how to invest
Please read the key features/key investor information document in addition to the information above.
Important information
-
Please remember the value of investments, and any income from them, can fall as well as rise so you could get back less than you invest. This article is provided to help you make your own investment decisions, it is not advice. If you are unsure of the suitability of an investment for your circumstances please seek advice.
No news or research item is a personal recommendation to deal.
Want our latest research sent direct to your inbox?
Our expert research team provide regular updates on a wide range of funds.
---