Investments can go down as well as up so there is always a danger that you could get back less than you invest. Nothing here is personalised advice, if unsure you should seek advice.
Key Points
Harry Nimmo continues to focus on high-quality companies with predictable growth, particularly within the technology, software and data service sectors
The fund experienced a difficult start to the year but long term performance remains good
We retain confidence in the manager to deliver strong performance over the long term
Performance
The collapse in commodity prices last year benefited industries such as food and leisure. Their input costs fell and customers had greater disposable income, which helped to boost profits. This proved positive for the fund's investments in consumer services companies. The manager's stock selection was particularly strong in this area which contributed further to the fund's good performance through 2015. As weak commodity prices made it difficult for commodity-related companies to make a profit, the fund also benefited from low exposure to this area.
However, the fund has underperformed the peer group since the beginning of 2016. This is due in part to the slight recovery in commodity prices. Harry Nimmo, the fund's manager, feels the recovery will be short lived and is happy to invest elsewhere.
Short-term performance has also been negatively affected by a fall in UK consumer and retail stocks. Next recently warned trading conditions were tougher than anticipated, which had a knock-on effect to other retailers including the fund's investment in Ted Baker, which had been a significant positive contributor to performance.
Long-term performance remains strong, with the fund rising 935% since launch, compared with 407%* for the average fund in the IA UK Smaller Companies sector, although past performance is not a guide to the future.
Performance of Standard Life UK Smaller Companies Fund since launch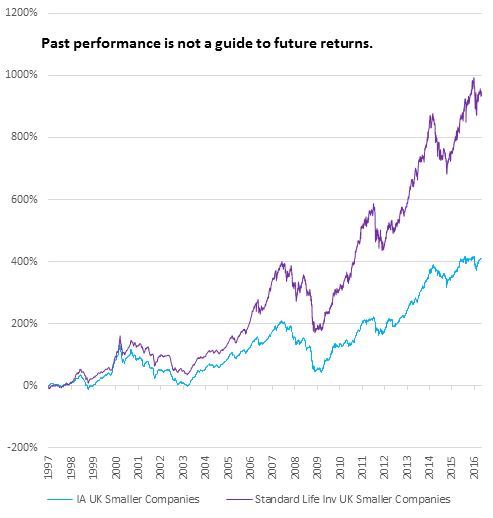 Source: Lipper IM, correct at 03/05/2016
Annual percentage growth
May 11 -
May 12
May 12 -
May 13
May 13 -
May 14
May 14 -
May 15
May 15 -
May 16
Standard Life Inv UK Smaller Companies
-1.61%
23.46%
24.29%
-5.37%
17.2%
IA UK Smaller Companies
1.43%
18.44%
30.11%
-2.71%
7.9%
Source: *Lipper IM to 03/05/2016. Past performance is not a guide to future returns.
Manager's outlook and fund positioning
Harry Nimmo continues to focus on high-quality companies with predictable growth. This currently includes a high proportion of technology, software and data service companies as the manager has identified a number of themes that could benefit these sectors in the future. Increased regulation and verification controls could benefit companies such as FDM Group, which supplies and trains IT professionals, for example. Elsewhere, companies such as Kainos Group stand to benefit from the government's digitisation of data and processes.
He continues to avoid companies in the manufacturing, engineering, mining and oil & gas sectors where earnings forecasts are weak. Currently the fund has a concentrated portfolio which allows each holding to have a significant impact on performance, but it is a higher risk approach.
Our view
A focus on quality, robust businesses, with strong balance sheets and low debt, has historically stood the fund in good stead. It has tended to perform better than peers when smaller companies have experienced a tougher time. It has lagged when share prices have risen strongly, as this is generally when the higher-risk companies Harry Nimmo avoids tend to perform well, although any investment in smaller companies is a higher risk approach. The manager has the flexibility to use derivatives which if used adds risk.
Harry Nimmo's process has proven highly successful and he has built an exceptional track record managing this fund since its launch in 1997. We are confident in the manager's ability to deliver exceptional returns and the fund retains its place on the Wealth 150+ list of our favourite funds across the major sectors with low charges. Please note the annual charge for holding funds in a Vantage account is 0.45%.
Find out more about this fund including how to invest
Please read the key features/key investor information document in addition to the information above.
Important information
-
Please remember the value of investments, and any income from them, can fall as well as rise so you could get back less than you invest. This article is provided to help you make your own investment decisions, it is not advice. If you are unsure of the suitability of an investment for your circumstances please seek advice.
No news or research item is a personal recommendation to deal.
Want our latest research sent direct to your inbox?
Our expert research team provide regular updates on a wide range of funds.
---