Investments can go down as well as up so there is always a danger that you could get back less than you invest. Nothing here is personalised advice, if unsure you should seek advice.
Fund is positioned more defensively than ever before
It has missed out on some stock market gains over the past year, but provided resilience against market volatility
We regard the fund as a good way to add stability to a portfolio and it retains its place on our Wealth 150
Our view
Sebastian Lyon has managed the Troy Trojan Fund since inception in 2001. He maintains a diversified portfolio with the aim to grow investors' wealth over the long term whilst limiting the volatility typically associated with stock market investing. The manager increases exposure to high-quality shares when their valuations are attractive and rotates into bonds, gold and cash when he feels stock markets are overvalued.
Over the past few years, the manager has found less value in global stock markets and positioned the portfolio defensively. As stock markets have generally continued to perform strongly, the fund has missed out on some of the gains made. However, it has provided some shelter during more volatile periods.
We continue to rate Sebastian Lyon as a highly capable fund manager and feel the diversification benefits offered by his fund could make it a good addition to a more defensive portfolio, or provide some stability to the core of a wider investment portfolio. The fund continues to feature on the Wealth 150 list of our favourite funds across the major sectors.
How is the fund invested?
Sebastian Lyon is currently more cautious than he was prior to the onslaught of the 2008 global financial crisis. Share prices and valuations have since been pushed ever higher as investors have continued to search for higher returns in a low growth world. In many cases this has been without the support of sufficient earnings growth and the manager believes this puts many share prices in a precarious position.
As such, shares currently account for only 39% of the portfolio, which is well below the historic average of 46%. This portion of the fund primarily focuses on larger UK and US firms with reliable earnings streams and good growth potential, which could hold up better than less-established companies in times of stock market volatility. The manager can also invest in higher-risk smaller companies; however, the fund has had little exposure to this area of the market for several years.
As attractively-valued companies have been more difficult to find in recent years, Sebastian Lyon has made only two new investments over the past year. This includes soft drinks producer AG Barr and Franco-Nevada, which provides financing to precious metals businesses in exchange for the right to purchase future production at a discount.
The fixed interest component comprises 23% of the fund and is focused on short-dated inflation-linked bonds, which are less sensitive to rising interest rates than long-dated bonds. As rates rise, bond prices fall (and their yields rise) as the interest rates available on cash look more attractive. These short-dated bonds could therefore offer some shelter in an environment of rising interest rates, though they could still lose money in this environment.
When stock markets offer less value, the manager would usually invest a greater portion of the portfolio in bonds, which have historically provided a haven when share prices fall. However, this relationship has broken down, in his view, as bonds have been prized by investors in recent years for the income they offer and now also look overvalued.
Sebastian Lyon therefore holds a greater portion of the fund in cash or near-cash investments (currently 30%) in order to maintain the overall defensiveness of the portfolio. A further 8% of the fund is invested in gold which has historically performed well in periods of stock market volatility.
While the portfolio contains a diverse array of investments, it is concentrated. This approach means each investment can contribute significantly to overall returns, but it can increase risk.
Performance Review
The fund underperformed the broader UK stock market over the past year. However, given the defensive nature of the portfolio, we would typically expect the fund to lag global stock markets when share prices are rising rapidly. On the other hand, we expect the fund to offer some shelter to investors' capital during weaker or more turbulent times for the stock market. Please remember past performance is not a guide to future returns and, while this is a more conservative fund, it can still fall in value as well as rise so investors could make a loss.
Annual percentage growth
Jun 12 -
Jun 13
Jun 13 -
Jun 14
Jun 14 -
Jun 15
Jun 15 -
Jun 16
Jun 16 -
Jun 17
Troy Trojan
-0.8
2.8
3.3
13.9
5.8
FTSE All-Share
17.9
13.1
2.2
18.1
21.95
Past performance is not a guide to future returns. Source: *Lipper IM to 30/06/2017
Over the longer term the fund has performed well and over the past 10 years it has outperformed the FTSE All Share Index by 14.2%.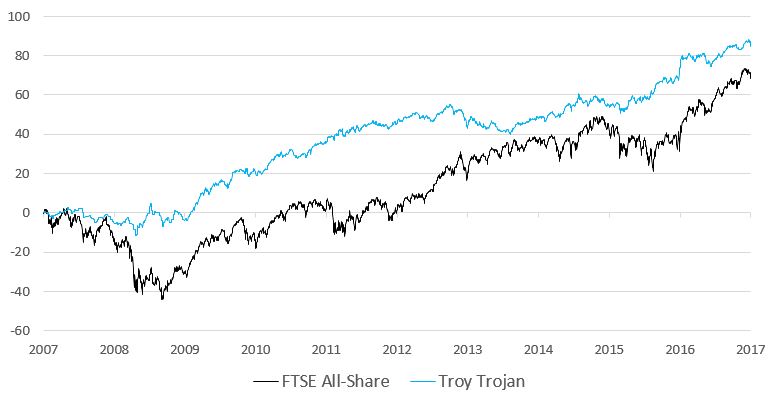 Past performance is not a guide to future returns. Source: *Lipper IM to 30/06/2017
Find out more about this fund including how to invest
Please read the key features/key investor information document in addition to the information above.
Important information
-
Please remember the value of investments, and any income from them, can fall as well as rise so you could get back less than you invest. This article is provided to help you make your own investment decisions, it is not advice. If you are unsure of the suitability of an investment for your circumstances please seek advice.
No news or research item is a personal recommendation to deal.
Want our latest research sent direct to your inbox?
Our expert research team provide regular updates on a wide range of funds.
---