Investments can go down as well as up so there is always a danger that you could get back less than you invest. Nothing here is personalised advice, if unsure you should seek advice.
Genuine diversification from a truly global bond fund
Managed by Jim Leaviss, one of the UK's most experienced bond investors
Low annual fund charge (OCF) of 0.55% a year (reduced from 0.8%) for Hargreaves Lansdown clients
Any turbulent event in financial markets brings into stark focus the benefits of diversification. In the wake of the UK's vote to leave the EU, sterling weakened considerably. This was negative for sterling-denominated assets, as well as companies and individuals with significant exposure to the UK.
In contrast, overseas assets and companies that make money abroad – particularly those with exposure to the US dollar, which has been strong – have fared better.
A UK-based investor is always likely to have a bias to sterling, but there are merits to having exposure to overseas markets and currencies. The M&G Global Macro Bond Fund could offer a solution.
How is the fund managed?
Jim Leaviss starts with his 'bigger picture' outlook for economic growth, interest rates and inflation globally. This helps him determine how much to invest in different areas of the bond market, with the default position being: one-third in global government bonds, one-third in global investment grade corporate bonds, one-sixth in global higher-risk, high-yield bonds and one-sixth in higher-risk emerging market debt.
Broadly speaking, he is likely to have more invested in corporate and emerging market bonds when he is positive; and a greater proportion in government bonds when his outlook is cautious. He can also use derivatives to enhance returns. This allows him to quickly vary exposure to different types of bonds and currencies, as well benefit from falls in asset prices and rising interest rates (which are negative for bonds). He therefore has a lot of flexibility, but this can add risk.
While Jim Leaviss is responsible for the overall allocation to different types of bonds and currencies, he has the support of a talented and well-resourced team when it comes to selecting individual bonds. This includes Richard Woolnough, Ben Lord, Stefan Isaacs, and Claudia Calich (deputy manager on M&G Global Macro Bond).
The overall aim is to invest the portfolio in a diversified range of fixed interest assets and currencies to achieve the best possible return in the prevailing economic environment. There is no explicit performance target, but Jim Leaviss hopes to perform better than his IA Global Bond sector peers over three year periods.
Our view on this fund
In some respects M&G Global Macro Bond is similar to a strategic bond fund – it has a flexible, 'go anywhere' mandate with the manager able to buy government bonds (including those issued by EEA states), investment grade corporate debt, higher-risk high-yield bonds, and higher-risk emerging market debt.
However, Jim Leaviss has more flexibility than a fund manager in the IA £ Strategic Bond Sector. He can invest a greater proportion of the fund internationally and have significant exposure to foreign currencies. Unlike many global bond fund managers he is willing to use the flexibility afforded to him to both enhance returns and shelter capital during tougher times, although there are no guarantees he will be successful.
Jim Leaviss is willing to invest with conviction, take decisive action and proactively adjust the portfolio in response to changing economic conditions. He is one of the few fund managers to do this successfully on a global basis and we believe he has the experience and resources to do an excellent job for long-term investors.
The fund could provide diversification to a UK-focused fixed-interest portfolio and might appeal to investors who seek exposure to currencies other than sterling. Jim Leaviss aims to deliver the best total return (combination of capital growth and income) over the long term. His focus is not to generate a high yield so the fund might not be suitable for investors who require income from their bond investments.
Current positioning
In the run-up to the EU referendum Jim Leaviss took a cautious approach. He significantly reduced exposure to corporate bonds, from over 70% of the portfolio to less than 40%. Bonds issued by European banks and insurance companies were sold during the first half of June, for example.
Exposure to 'short-dated' government bonds – that is, those soon to be repaid by the government they were issued by - was increased. These are considered lower risk and tend to perform well when investors are fearful.
In terms of currencies, there was 85% exposure to the US dollar, just over 8% exposure to the Japanese yen and no exposure to sterling. This benefited the fund as the dollar and yen both strengthened against sterling. A 'short' position in the euro was also beneficial as the currency fell in value.
Overall, the defensive positioning paid off and Jim Leaviss had plenty of firepower to take advantage of market volatility in the wake of the referendum. Exposure to both investment grade and high-yield corporate bonds was increased again and now accounts for 50% of the portfolio in total: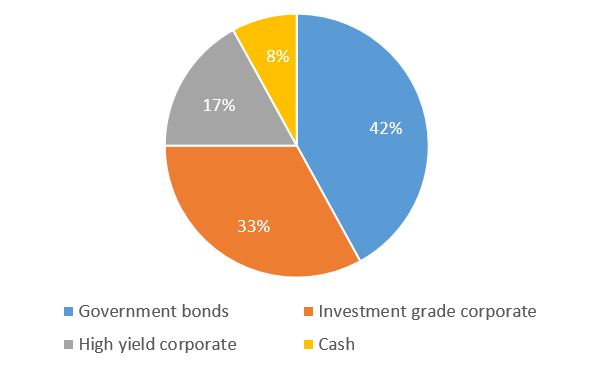 Source: M&G as at 30/06/2016
The most significant adjustments were made to the fund's currency exposure though. After the Brexit vote, profits were taken from US dollar and short euro positions, by selling US dollars to significantly reduce exposure and buying euros to increase exposure. Profits were also taken from the Japanese yen position and the fund's overall currency exposure is as follows: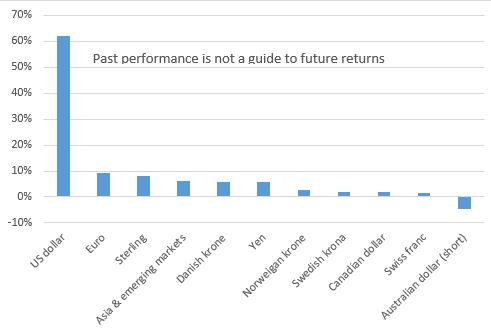 Source: M&G as at 30/06/2016
Performance
Jim Leaviss has managed this fund with his current approach since January 2007. Since then the fund has grown by 114% compared with 69% for the average fund in the IA Global Bond sector*. Please remember past performance is not a guide to the future.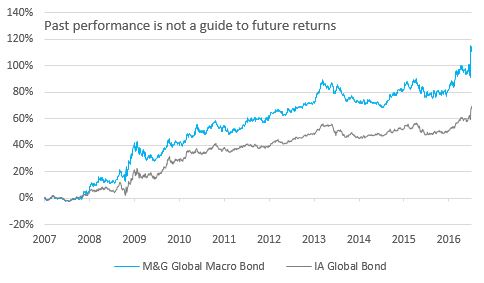 Past performance is not a guide to future returns.
Source: Lipper IM to *01/07/2016.
Annual percentage growth
July 11 -
July 12
July 12 -
July 13
July 13 -
July 14
July 14 -
July 15
July 15 -
July 16
M&G Global Macro Bond
4.5%
9.8%
-6.9%
4.6%
21.1%
IA Global Bond
1.7%
4.3%
-1.4%
0.4%
14.5%
The manager has historically used the flexibility afforded to him well and he demonstrated this again recently with his willingness to take a cautious approach in the run up to the EU referendum and take advantage of volatility in the wake of the vote. He won't get it right every time, but we believe experience is vital for a manager of this type of fund and Jim Leaviss is one of the most experienced bond fund managers in the UK.
Historically, the fund's currency exposure has had a significant impact on returns, with performance boosted by exposure to the US dollar when it is strong against sterling. We expect the fund's currency exposure to be a key influence on performance going forward.
| | |
| --- | --- |
| Net initial charge | 0.00% |
| Ongoing charge | 0.80% |
| Saving | 0.25%* |
| Net OCF | 0.55% |
| Performance Fee | No |
*This saving is delivered via a loyalty bonus. This is tax-free in an ISA or SIPP but may be subject to tax outside, effectively increasing the net ongoing charge.
The annual charge to hold funds in the Vantage Service is 0.45%. Where savings are paid as loyalty bonus, they may be subject to tax in the Fund & Share Account.
Find out more about this fund including how to invest
Please read the key features/key investor information document in addition to the information above.
Important information
-
Please remember the value of investments, and any income from them, can fall as well as rise so you could get back less than you invest. This article is provided to help you make your own investment decisions, it is not advice. If you are unsure of the suitability of an investment for your circumstances please seek advice.
No news or research item is a personal recommendation to deal.
Want our latest research sent direct to your inbox?
Our expert research team provide regular updates on a wide range of funds.
---