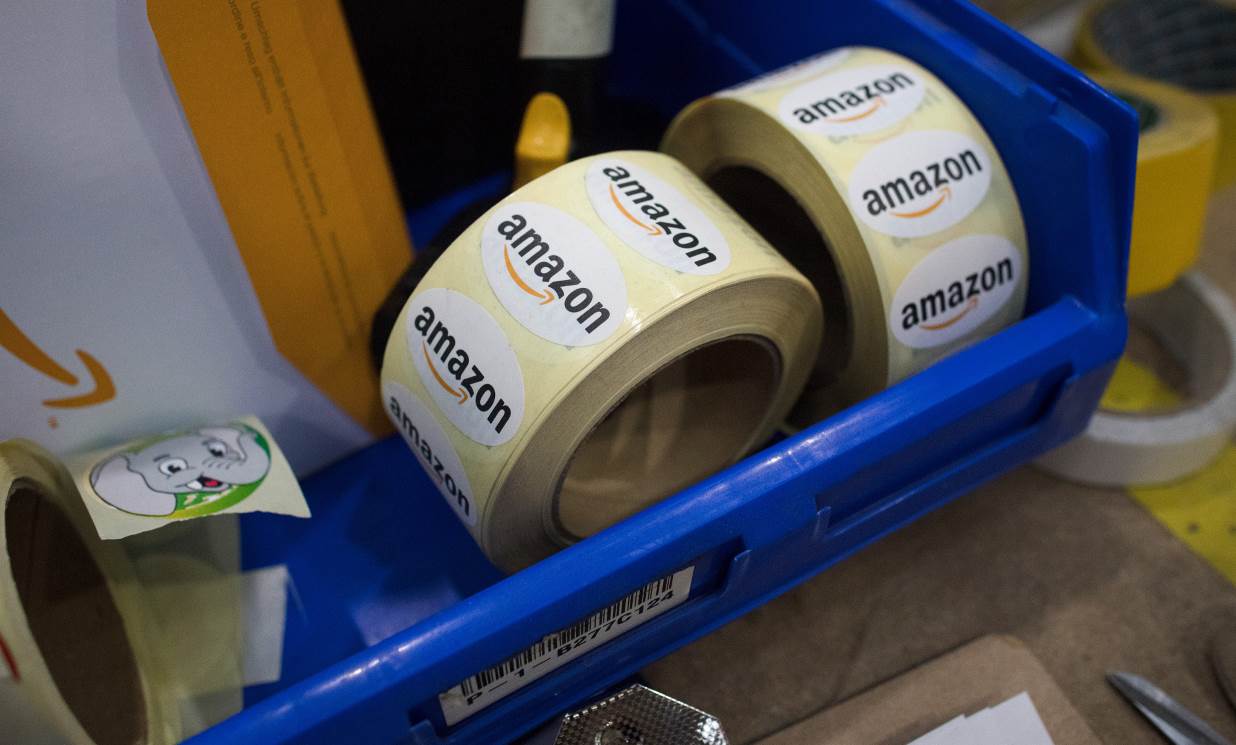 Published by

4m read
Hargreaves Lansdown is not responsible for this article's content or accuracy and may not share the author's views. News and research are not personal recommendations to deal. All investments can fall in value so you could get back less than you invest. Article originally published by Bloomberg.
As Amazon.com Inc. plows into one industry after another, a question keeps arising: What about banking?
Speculation that big American technology companies will try to disrupt the financial world reached new heights this week after a top U.S. regulator said rules separating banks from commerce should be reexamined. Consumers deserve more choice if financial services can be delivered better by non-traditional players, according to Keith Noreika, temporary head of the agency that oversees national banks.
Tech juggernauts including Amazon, Alphabet Inc.'s Google and Facebook Inc. already are encroaching into turf long dominated by banks, such as facilitating payments or offering loans to small businesses. And they could expand in areas such as consumer credit, trying their hand at the types of personal loans provided by fintech ventures like SoFi and LendingClub.
"The lines are already blurring," said Mitch Siegel, who leads U.S. financial services strategy at KPMG. "Things like payments and lending almost just disappear because they're so embedded into our commerce experiences."
Still, erasing the divide between deposit-taking banks and commerce would probably require consensus among several U.S. regulators, as well as congressional action, which isn't likely anytime soon. Even then, tech firms and online retailers might not want to go through the trouble to become full-fledged banks.
"They're going to be subject to the panoply of rules and regulations that banks have spent a very long time building" compliance departments to handle, said Rodgin Cohen, who's long represented the biggest U.S. banks as senior chairman of Sullivan & Cromwell LLP. So for now, it's simpler for the likes of Amazon to push into groceries.
Amazon.com Inc.

$1,882.22

-0.23%

Alphabet Inc

$1,200.96

-0.46%

Facebook Inc

$173.8

-0.52%

Paypal Holdings Inc

$85.45

0.15%

Square Inc

$72.9

0.19%

Apple Inc

$217.58

2.00%

JPMorgan Chase & Co

$114.77

0.00%

CVS Health Corp

$73.68

0.66%

Rite Aid Corp

$1.46

3.55%

Starbucks Corp

$53.56

0.98%
Market closed | Prices delayed by at least 15 minutes
Switch to live prices |
What probably keeps bank executives nervous is the many ways in which technology leaders are already dabbling in some financial services, further embedding themselves into the lives of their customers and gathering reams of data. Here's how the outsiders could creep even further:
Payments
PayPal Holdings Inc.'s Venmo, which popularized effortless person-to-person electronic payments, opened Silicon Valley's eyes. For companies such as Facebook, Google, Square Inc. and Apple Inc., handling payments is a great way to keep users in their ecosystems longer or to gain valuable insight into shopping habits. This year, a consortium of the largest U.S. banks fought back, debuting Zelle, a real-time payments network connecting 86 million mobile-banking customers.
Amazon is also using payments to prevent financial firms from getting a cut of some sales. It introduced Prime Reload, which gives members a 2 percent bonus when they use their debit card to move funds from a bank account to an Amazon balance. For card networks like Visa Inc. and Mastercard Inc. that means less income from fees and less visibility into their customers' purchases, data they've been keen to capitalize on in recent years.
Industry insiders speculate Amazon could someday take another step, introducing its own credit card - separate from its deals with JPMorgan Chase & Co. and Synchrony Financial - to ice banks and credit-cards out of the swipe fees they collect.
Deposits
Amazon and PayPal have developed ways to let customers without bank accounts shop online. PayPal, for example, has inked deals with retailers including CVS Health Corp. and Rite Aid Corp. so people can fill their PayPal wallets by depositing cash at the stores. Meanwhile at Starbucks Corp., coffee lovers have loaded well over $1 billion into their prepaid accounts - more money than some U.S. community banks hold in deposits.
Amazon could go further, serving as a portal for banks to provide services, according to a recent McKinsey & Co. report. The possibilities include deposit-taking, cross-border transactions and payroll services, it said.
Small Business Lending
Amazon already finances merchants on its website, providing them with more than $3 billion since 2011. The e-commerce giant offers loans between $1,000 and $750,000 and then deducts that amount - plus interest - from the merchant's account. Amazon also is uniquely positioned to improve recovery rates because it can take inventory stored in its warehouses as repayment if a merchant begins to default.
Corporate Loans
A concern among lenders is that Amazon could get involved with bigger customers. Banks provide services including cash management and financing to big corporations, but those who sell their wares on Amazon or use its massive cloud-computing division could be persuaded to try new services. And Amazon has a wealth of data on those clients, which could help it with transactions like factoring.
Mortgages
Home loans would be a tougher nut to crack for tech firms. Quicken Loans Inc solved part of the problem with its Rocket Mortgage tool, putting the application process on a smartphone. That's made it the second-largest mortgage provider without being a bank. Still, a 2015 investment document shows the headaches that can pose: The firm needed almost six and a half pages just to list the regulations it must navigate to originate and service loans. The red tape includes state-by-state licenses to service and sell loans.
©2017 Bloomberg L.P. This article was written by Jenny Surane, Laura J. Keller and Hugh Son from Bloomberg and was legally licensed through the NewsCred publisher network. Please direct all licensing questions to legal@newscred.com.
Free Newsroom email alerts
The headlines that matter to investors direct to your inbox
Register for daily/weekly email alerts with news from The Financial Times, Forbes, Reuters, The Economist and more.