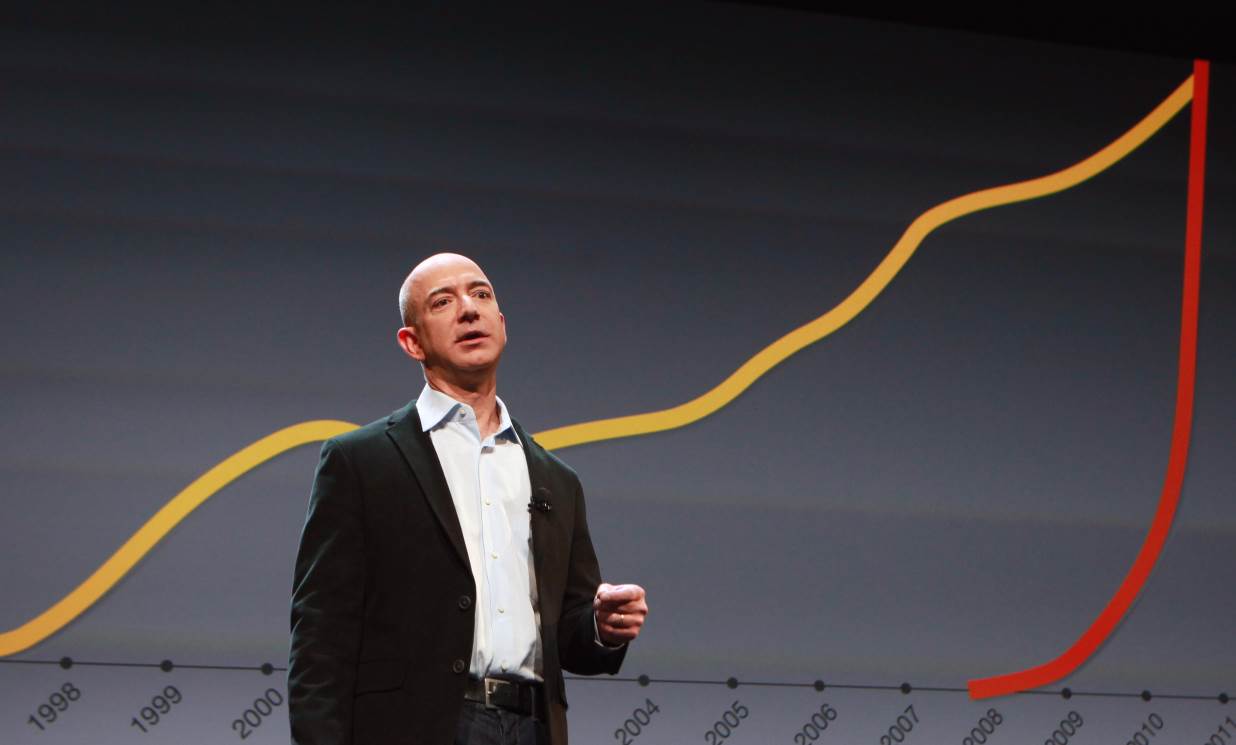 Published by

4m read
Hargreaves Lansdown is not responsible for this article's content or accuracy and may not share the author's views. News and research are not personal recommendations to deal. All investments can fall in value so you could get back less than you invest. Article originally published by Forbes.
The world's richest man, Jeff Bezos, played down the size and influence of Amazon in his latest annual letter to shareholders, published this week. "Amazon remains a small player in global retail," Bezos wrote. "We represent a low single-digit percentage of the retail market, and there are much larger retailers in every country where we operate. And that's largely because nearly 90% of retail remains offline, in brick and mortar stores."
Cynics might say that the statement was intended for politicians intent on breaking up Amazon, but nevertheless it is factual. If you look purely at the U.S., Amazon will account for almost half of all online retail in 2019, but only about 5% of the total market. Zoom in more closely on grocery, and while Amazon captures up to 30% of online grocery spending (as much as all its competitors combined), Amazon and Whole Foods control only 4% of the total grocery market. (Walmart has 21%.)
Despite its "small player" status, Amazon has big ambitions - which will extend to a major expansion in physical retail, specifically in convenience and grocery. "As a company grows, everything needs to scale", notes Bezos in the annual letter.
The growth will come from at least four different sources.
Firstly, Bloomberg predicts that the "frictionless checkout" Amazon Go format will roll out to 3,000 locations by 2021, up from 10 today and 50 by the end of 2019.
Amazon.com Inc.

$1,861.69

-0.17%

Walmart Inc

$103.18

0.02%

Kroger Co

$25.78

0.94%
Market closed | Prices delayed by at least 15 minutes
Switch to live prices |
That would make Amazon Go one of the leading convenience chains in the country. Bezos is "excited about the future" of Amazon Go, saying that customers "describe the experience of shopping" there as "magical".
Secondly, the Wall Street Journal reports that Amazon is planning to open a brand new grocery chain, distinct from Whole Foods. Initial plans are for the first location in Los Angeles by end of this year, with "dozens of grocery stores in several major U.S. cities" to follow. The supermarkets will aim at a broader target than Whole Foods, with a different range of products and lower price points. To fast-track the new effort, Amazon may look to buy smaller regional grocery chains.
Thirdly, Amazon will continue to expand Whole Foods beyond its current 500 locations, according to the Wall Street Journal. The aim is to put more customers within a two-hour delivery window of its stores, so they can take advantage of Amazon's "Prime Now" service. New Whole Foods may also be larger to facilitate omnichannel - pick up and delivery.
Finally, Amazon won't stop experimenting. In Bezos' letter to shareholders, he romances the idea of "wandering" - innovation discovery journeys that are "guided - by hunch, gut intuition, curiosity, and powered by a deep conviction that the prize for customers is big enough that it's worth being a little messy and tangential to find our way there." That "wandering" will lead to more concepts like Amazon Go, Amazon Fresh Pick-Up - the click and collect service being piloted now in two Seattle locations, and Amazon Scout - autonomous delivery.
What's the end game? Forbes' contributor Brittain Ladd told Internet Retailer that to win at grocery, Amazon must radically increase its store network - to "a minimum of 2,150 grocery stores". Achieve that and sometime from 2030-3025, Amazon could potentially topple Walmart. Acquisition is one possible road to get there and Ladd believes that there are a number of options, including Target Corp. and Sprouts Farmers Markets Inc.
Of course, if Amazon does aggressively pursue physical grocery (and there are good reasons - supermarkets drive regular traffic), it will be coming from a long way behind. Walmart currently has over 4,000 stores offering groceries, while #2 Kroger boasts almost 3,000. Both brands are working hard to integrate online and offline, with Walmart offering pick-up at more than 2,100 locations and delivery from almost 800.
So perhaps Jeff Bezos' "small player" humility is well-placed. If Amazon does make significant strides in brick-and-mortar, it will be due to their "true customer obsession". Inc. Magazine's Bill Murphy put all of Bezos' shareholder letters over the last two decades through a word cloud generator, and the word "customer" or "customers" appeared by far most often and more regularly than even "Amazon". That focus is the mark of a successful "humble shopkeeper" and a great retailer.
This article was written by Jon Bird from Forbes and was legally licensed through the NewsCred publisher network. Please direct all licensing questions to legal@newscred.com.

Free Newsroom email alerts
The headlines that matter to investors direct to your inbox
Register for daily/weekly email alerts with news from The Financial Times, Forbes, Reuters, The Economist and more.