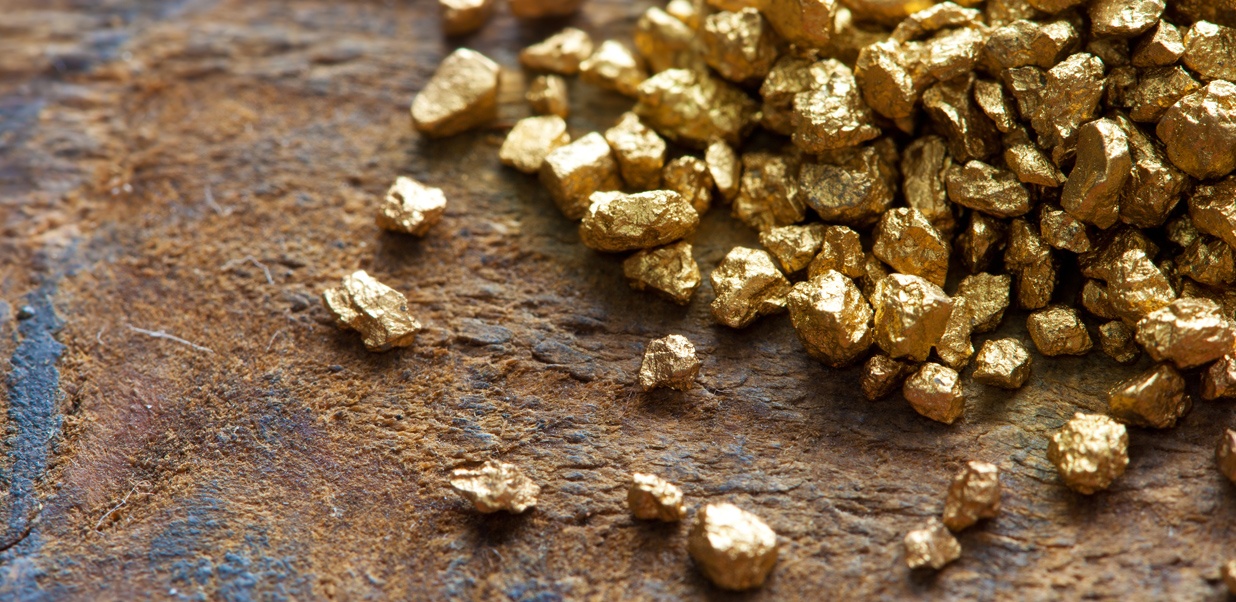 Important notes
This article isn't personal advice. If you're not sure whether an investment is right for you please seek advice. If you choose to invest the value of your investment will rise and fall, so you could get back less than you put in.
Gold was first smelted in ancient Egypt, formed into the shape of sheep and used as currency. 5,000 years later it's still used as a store of value the world over.
The gold price recently hit a six-year high of just over $1,400 per ounce. And because the US dollar's been strong over the past few years, gold looks even better when priced in other currencies. In sterling, the gold price recently breached £1,100, putting it within striking distance of its £1,178 all-time high.
Why has the price of gold risen?
Investors turn to gold in times of uncertainty. And it's fair to say we're living in uncertain times.
Geopolitical skirmishes dominate the headlines. The US is in disputes with Iran, China, Russia, North Korea and Mexico. Closer to home, Brexit is on the horizon and signs of a potential recession are beginning to show in the Eurozone.
The emerging markets effect
The central banks of several emerging economies have been adding to their gold reserves in recent years. The biggest buyer's been Russia, although China, India and Turkey have also been steadily increasing their stockpiles. Central banks buying gold in large quantities can reduce the supply and increase the price of the yellow metal.
Number of central banks increasing gold reserves by a tonne or more
Source: Central banks, ICE Benchmark Administration, International Monetary Fund, World Gold Council to 31 March 2019
Lower interest rates across the globe, and expectations of interest rate cuts, act as a tailwind for the gold price too. Unlike bonds, gold pays no income. That's normally a big drawback but with bond yields so low, and even negative in some countries, gold looks increasingly attractive to lots of investors.
Does gold have a place in an investment portfolio?
Investing in gold isn't for everyone. Its price is likely to remain volatile so investors should make sure they have a very long-term investment horizon.
The gold price behaves differently to share prices which can make it a good way to diversify a wider investment portfolio. It's also kept its value for hundreds of years, meaning it can offer an element of protection from inflation, although there are no guarantees.
Over the long term, rising incomes in emerging markets could fuel demand for gold products, such as jewellery, while a lack of large gold discoveries could constrain supply and lead to a rising gold price.
How can I invest?
Buying physical gold bars and coins can be expensive and impractical – you've got to find a way to keep them safe after all. But there are other ways to invest in gold. Both our ideas are specialist investments, so they generally shouldn't make up a big proportion of an investor's overall portfolio. Please note that all investments fall and rise in value, so you could get back less than you invest.
This article is not personal advice, if you're not sure if an investment is right for you, seek advice.
We think the BlackRock Gold & General Fund is a reasonable way to get exposure to gold. Evy Hambro's been at the helm for more than a decade and has more than 20 years of industry experience. He's got the support of an experienced, well-resourced team, which includes co-manager Tom Holl.
The fund invests in companies with exposure to gold and other precious metals, like miners and refinery businesses, rather than the precious metals themselves. Their performance partly depends on the price of those metals. But other things, like the success or failure of mining projects, also have an impact. That means their performance can be more volatile than investing in the metals directly. The fund's investments in emerging markets and smaller companies add risk.
More about this fund including charges
Key Investor Information Document
The BlackRock World Mining Trust is a more diversified way to access gold. It invests in companies mining a number of different resources – from copper and coal to silver and diamonds. About 16% is currently invested in gold-focused companies. It still invests in a single sector though, so volatility should be expected.
The trust shares the same manager and high-quality team as the Blackrock Gold & General Fund. They try to identify global trends and invest in companies able to benefit as the theme develops. Current themes include electric cars and the fund invests in producers of lithium and cobalt, which are key components for batteries.
Unlike the Blackrock Gold & General fund though, the trust has the flexibility to borrow money to invest (gearing), which can boost returns when markets rise, but it can increase losses when they fall. This, combined with the manager's flexibility to invest in derivatives, adds risk. Potential investors should check the latest annual reports and accounts for details of these risks along with the charging structure.
More about this trust including charges
Important notes
This article isn't personal advice. If you're not sure whether an investment is right for you please seek advice. If you choose to invest the value of your investment will rise and fall, so you could get back less than you put in.
Daily market update emails
FTSE 100 riser and faller updates
Breaking market news, plus the latest share research, tips and broker comments
Register