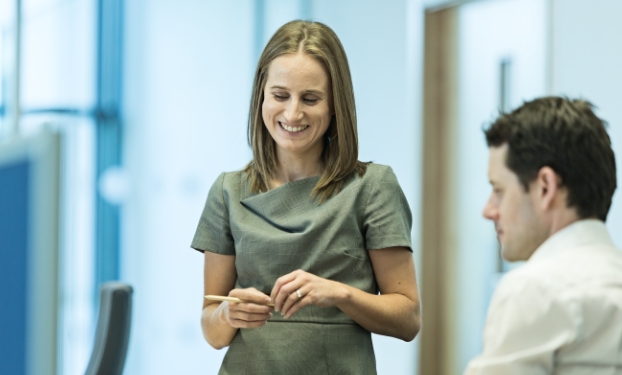 Lee Gardhouse & Ellen Powley 30 November 2018
No news or research item is a personal recommendation to deal. All investments can fall as well as rise in value so you could get back less than you invest.
In September we asked our investors to vote on changes which would give us another way to invest with and work alongside fund managers within our HL Multi-Manager funds.
We were delighted that the changes were approved and this month, for the first time, we used the additional flexibility given to us within HL Multi-Manager Income & Growth.
To explain more about the changes, and how we've used them, we caught up with HL Multi-Manager Income & Growth fund managers, Lee Gardhouse and Ellen Powley.
Can you give us a brief outline of what the changes mean to you, as fund managers?
Lee Gardhouse: You can read about the changes in more detail here but, in essence, they give us a different way of reaching the same destination. We still look to identify the best equity income fund managers we can find, package them into a simple investment, and manage the portfolio, as well as its income stream, over time.
When it comes to accessing these fund managers, though, the changes give us more flexibility. Before, when we found fund managers we wanted to invest with, we would buy units of their pre-existing funds. Now, we also have the option to appoint these fund managers to invest a portion of our own HL Multi-Manager Income & Growth fund.
Can you bring this to life with the example of what you've done this month?
Ellen Powley: For 10 years now we've invested in the Threadneedle UK Equity Alpha Income fund. The fund is managed by Richard Colwell, who we rate highly. We also think he has an excellent team around him.
Richard invests mainly in medium and larger sized UK companies who have generated healthy dividends. For the past decade we've accessed these stocks by investing in the Columbia Threadneedle fund but this month we transferred the shares out of this fund and wrapped them up in our own HL Multi-Manager Income & Growth fund.
Richard still manages these shares, chooses which ones to invest in and, as before, we have control over how much of the fund Richard looks after.
Why did you choose this fund first?
Lee Gardhouse: Whenever you do something new, it's best to keep it simple. In this instance, the portfolio Richard manages within our fund is an exact replica of his existing Threadneedle UK Equity Alpha Income fund. He invests in the same companies in the same proportions.
That makes life a bit easier and, as a group, Columbia Threadneedle are experienced in managing money in this way so it seemed a sensible place to start.
If the shares are the same, what's the benefit?
Ellen Powley: We have the same investments but at a lower price. By accessing fund managers in this way, we're able to secure and pass on lower prices to you. We can do this now because we've managed to build up enough scale to make it a viable proposition both for us and the fund managers we appoint.
As it happens, Richard already had a lot of freedom within his Threadneedle UK Equity Alpha Income fund so we didn't look to tweak what he was doing. But we are in close contact with him to discuss any changes which he feels could squeeze even better performance out of the investment he manages for us. Over time, it might be that the shares he chooses for us differ somewhat from the fund we used to invest in.
Are you planning to do more of this?
Lee Gardhouse: We're in contact with a number of other fund managers to discuss managing investments exclusively for us within our HL Multi-Manager Funds. We started this journey focussed on price, to lower the cost of investing for you, but we think there could be more benefit than this alone.
So alongside conversations over price, we want to work with fund managers to create bespoke and more efficient portfolios - importantly giving us the potential to deliver a better longer-term performance. For example, I've long felt that fund managers are prone to a bad habit of holding too much cash - even as little as 5% over time can act as a drag on performance. But with this new structure we can work with the managers to create portfolios for us where they run with little or no cash at all.
We're not going to rush into anything, though. We want the flexibility to be able to access fund managers in this way because, in certain situations, it will benefit you. But we'll be selective about these opportunities because we still think the model we've been managing the fund with over the past 16 years works well.
All investments and their income rise as well as fall in value, so you could get back less than you invest. Past performance is not a guide to the future. This article is not personal advice. If you are unsure of the suitability of an investment for your circumstances, please seek advice. The HL Multi-Manager funds are managed by our sister company Hargreaves Lansdown Fund Managers.