Autumn Statement - four reasons for caution when investing in infrastructure stocks
In an Autumn Statement with few giveaways, infrastructure was one area where the chancellor did choose to splash the cash. We take a look at what it means for the UK's infrastructure stocks.
Important notes
This article isn't personal advice. If you're not sure whether an investment is right for you please seek advice. If you choose to invest the value of your investment will rise and fall, so you could get back less than you put in.
Infrastructure was the watchword in this year's Autumn Statement, and the chancellor announced infrastructure and innovation spending of £23bn. However, that number includes spending on research & development and housing as well as on roads and railways.
The government plans to spend between 1% and 1.2% of GDP on economic infrastructure from 2020. That compares to 0.8% this year and will be welcomed by the UK's construction sector. However, there are a number of reasons we feel investors should exercise caution when considering investing.
Historic performance
Historically infrastructure-focused construction and engineering stocks have not proven shareholder friendly. There a number of reasons for that, and although not all of them are inevitable consequences of being in the sector, some are.
Infrastructure stocks: Underperformance against FTSE 350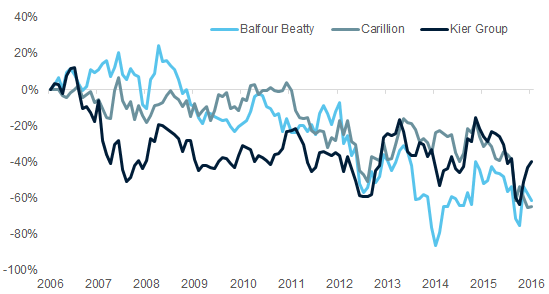 Past performance is not a guide to future returns
Source: Lipper IM, 31/10/06 - 31/10/16
Margins in construction are usually wafer thin. That leaves relatively little room for error, and profits can quickly turn into losses if unforeseen costs appear. Low margins hampered the sector's ability to deal with lower infrastructure spending following the financial crisis and are a key element in the sector's underperformance.
Balfour Beatty is perhaps the best example in recent times. The company's recent troubles stem from poor cost control in the UK business. Having made bids for contracts at very low margins, subsequent cost pressure (such as a shortage of skilled labour) put the business under strain. That has led to losses in seven of the last eight halves and an extensive restructuring of the business.
Balfour is in much better shape now, but this should serve as a warning to investors about the potential pitfalls in the industry.
Of course cost overruns are by no means unique to infrastructure; but they can be a particular problem for the sector. Governments are capricious clients, often cancelling, delaying or altering projects when a new government or minister comes to power. That makes what should be highly visible, and easy to cost, project pipelines more volatile than investors, and management, might expect.
Too big to matter
When considering the impact of today's announcement investors should bear in mind the size of many infrastructure/construction businesses. At its last full-year results, Kier revealed a future order book of £3.4bn in its construction division and annual revenues of around £2bn. With construction margins of around 2%, it would have to win a significant share of the contracts available to translate into a meaningful change in profits.
£23bn in new infrastructure spending may seem vast, but when it is divided up between the various contractors who will be involved, the impact on individual companies could be relatively limited.
More a trickle than a flood
Timing is also an important factor. The spending announced yesterday will be spread over five years – and major infrastructure projects are not quick to deliver.
The third runway at Heathrow, approved in October, isn't expected to receive final Development Consent until 2021, and won't see planes land until 2025 at the earliest. Today's proposed investments won't take anywhere near that long, but the spending will still be spread over several years.
A long lead in time allows companies to plan effectively. But it also means that today's spending commitments will be more of a trickle for construction profits than a flood and, as discussed earlier, cost planning can still go awry.
Are they really construction at all?
Perhaps most importantly, investors should bear in mind that many of the UK's largest construction businesses are much less heavily involved in the actual building process than they once were.
Carillion now generates 55% of revenue from its support services division. Although exposed to increased infrastructure spending through activities such as road maintenance, the division also includes businesses such as facilities management. Many players now also run significant investment arms - Balfour Beatty's £1.2bn investment portfolio is equivalent to 66% of the group's market capitalisation.
The outlook for infrastructure
That's not to dismiss the importance of today's announcements, especially as they form part of a wider global trend.
Many commentators expect Donald Trump to increase spending on infrastructure when he is sworn in as the 45th President of the United States. That has already boosted companies with US earnings such as equipment rental supplier Ashtead, which earns 86% of revenues on the other side of the Atlantic.
If we are seeing another step towards significantly higher infrastructure spending around the world that is certainly good news for infrastructure stocks. Moreover, today's announcements may be small but they do suggest that the lean times following the financial crisis are unlikely to be repeated.
However, we remain concerned that infrastructure players have historically struggled to take advantage of a clear runway and achieve lift-off for investors.
Unless otherwise stated, all estimated figures, including prospective dividend yields, are taken from a consensus of analyst forecasts compiled by Thomson Reuters. These estimates should not be taken as a reliable indicator of future performance. Ratios should not be looked at in isolation.
All yield figures quoted are variable and not guaranteed. Past performance is not an indicator of future returns.
The information in this article is not intended to be advice or a recommendation to buy, sell or hold any investment mentioned, nor is it a research recommendation. No view is given as to the present or future value or price of any investment, and investors should form their own view in relation to any proposed investment. All investments and income can fall as well as rise in value so investors could get back less than they invest.
Weekly share insight emails
Sign up to receive our experts' latest views and opinion direct to your inbox, including:
Key share research updates
Our latest stock market and share based articles
Hargreaves Lansdown PLC group companies will usually send you further information by post and/or email about our products and services. If you would prefer not to receive this, please do let us know. We will not sell or trade your personal data.
Important notes
This article isn't personal advice. If you're not sure whether an investment is right for you please seek advice. If you choose to invest the value of your investment will rise and fall, so you could get back less than you put in.
Editor's choice – our weekly email
Sign up to receive the week's top investment stories from Hargreaves Lansdown. Including:
Latest comment on economies and markets
Expert investment research
Financial planning tips
Sign up