No news or research item is a personal recommendation to deal. All investments can fall as well as rise in value so you could get back less than you invest.
Income drawdown is the main alternative to buying an annuity at retirement. After having the option to take your tax free cash, you keep control of your pension investments and withdraw the income you need directly from your pension pot.
For many, this control gives income drawdown its appeal, but it also gives it considerable risks. You have the freedom to decide where to invest, and how much income to take, within limits. Get it wrong and your income and capital will fall, and you can get into a downward spiral as you still need to take an income. Income drawdown also offers more flexibility when you die, as there is the option to pass on whatever is left in the pension fund to your dependants.
Request your free Guide to Income Drawdown
No recommendation
No news or research item is a personal recommendation to deal. All investments can fall as well as rise in value so you could get back less than you invest.
Equity income funds play a central role
Recently I looked at the most popular funds held in drawdown in our Vantage SIPP (Self Invested Personal Pension). Notably, the five most popular funds were all equity income funds.
Read my article: Five popular funds for income drawdown
This can be a sound approach. After all, if you are taking income from your drawdown portfolio, it can make sense to choose income-generating investments. An equity income fund aims to invest in businesses which can grow their earnings over the long term. Many offer a healthy starting yield of around 3 to 4% (variable and not guaranteed), whilst offering potential for your capital and income to grow.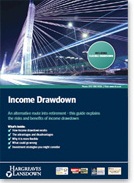 To discover the benefits and risks of choosing income drawdown at retirement, request your FREE guide now
Income Drawdown Guide
However, it is important not to have all your eggs in one basket. Even if you hold a range of UK equity income funds your portfolio may be less diversified than you think.
The pharmaceutical, oil & gas and utilities sectors, for example, tend to be heavily represented in many UK equity income funds. The top five income-paying shares in the UK accounted for an unprecedented 76% of all dividends paid in the first quarter of 2014, according to Capita Registrars, thanks to a large special dividend from Vodafone.
How can you diversify?
Adding an international flavour is one way of gaining exposure to different companies and regions. One fund I would highlight is the Newton Global Higher Income Fund, managed by James Harries, which falls into the Global Equity Income sector. The fund has significant exposure to the US, Europe and also has some exposure to higher-risk emerging markets, where many companies are starting to embrace a dividend culture.
Find out more about income drawdown in the Vantage SIPP
What other funds are popular, outside equity income?
Bond funds are a good way to diversify an income drawdown portfolio. They tend to exhibit less capital fluctuation than stock market investments and provide an alternative source of income, although they have less potential for growth and have had a good run. One of the most popular funds amongst our drawdown clients is the M&G Optimal Income Fund, which has flexibility to invest across the entire fixed income spectrum. The fund is run by Richard Woolnough, who has proved adept at navigating a variety of economic conditions.
The Artemis Strategic Assets Fund is also a popular choice. It employs a 'go anywhere' approach, with the flexibility to invest in shares, bonds, cash, commodities and currencies. The fund can use derivatives to take 'short' positions in certain types of assets, which can magnify returns but also increases risk. The manager William Littlewood has an excellent long-term track record.
Here are the five most popular non-equity income funds held by our drawdown clients at June 2014:
*Yield figures are quoted on a historic basis and are variable and not guaranteed. The actual yield you receive will differ.
**The Schroder UK Dynamic Smaller Companies fund was previously known as Cazenove UK Smaller Companies. This fund is no longer accepting new money.
Another fund I would highlight for consideration is the Troy Trojan Fund. Sebastian Lyon, the fund's manager, uses asset allocation to help shelter the fund against market falls, constructing his concentrated portfolio from defensive companies, bonds and gold, as well as cash. The fund has been through a difficult period over the last year as exposure to gold and the fund's high cash weighting have held back returns, against a backdrop of rising stock markets. However, should market conditions deteriorate the fund's conservative approach could come into its own.
Ensure you have a cash buffer
Finally I believe it is worth holding at least a year's required income in cash. Having a cash buffer allows you to easily meet income withdrawals without having to sell investments. If markets have fallen, having a year's worth of income in cash allows you to sit tight and wait for things to recover, whilst still receiving income. Remember, although annuities have had a bad press recently, they do provide a guaranteed income which can be very reassuring, especially for older pensioners, and it is possible to split your pension between income drawdown and an annuity.
Request your free Guide to Income Drawdown
Request a FREE income drawdown illustration
What happens to your pension when you die?
You may also be interested in: