Important notes
This article isn't personal advice. If you're not sure whether an investment is right for you please seek advice. If you choose to invest the value of your investment will rise and fall, so you could get back less than you put in.
The pension changes confirmed on 21 July 2014 give investors unprecedented freedom over how they take money from their pension.
From April 2015 investors aged at least 55 will be able to take their pension flexibly: a secure income, a flexible income or even just cash if they wish.
FREE: New pension rule changes factsheet - July 2014 update
The government estimates around 18 million people will be able to benefit. This includes not just retirees, but most people with a pension.
However, your age and when you plan to start drawing your pension will determine how you will be affected by the new rules and what actions you might consider in the short and long term.
No recommendation
No news or research item is a personal recommendation to deal. All investments can fall as well as rise in value so you could get back less than you invest.
Here we briefly analyse the impact of the rules on different groups of investor, and what options they might have.
Investors planning to retire in the next year: impact of the pension changes
Investors planning to retire soon are the most immediately affected by the new pension rules.
Waiting for April 2015 is certainly an option. However, that means you will not receive any tax-free cash and/or income from your pension for another eight months at least. It is also currently unclear when all pension providers will allow the freedoms the new rules grant.
If this concerns you, or you would like to take money from your pension now, there are other options you could consider.
Option 1: You could buy a secure income now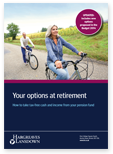 Find out your main options at retirement, request your FREE guide now
Your options at retirement guide
If you want the security and simplicity of an income guaranteed never to run out, you could consider buying an annuity now. After you've taken any tax-free cash (in most cases up to 25% of your pension) you can buy an annuity with the rest - or just part of it.
It is worth mentioning the Chancellor has announced changes to annuities, including extended guarantee periods and decreasing income options.
However, there is no certainty over when those will be introduced and whether they'll offer investors good value. In addition, if you need income now then delaying could result in missing out on at least eight months of income.
See how much it could cost if you delay buying a secure income
See what secure income you could receive from your pension today
Option 2: You could take tax-free cash and, if you wish, some income from your pension now, whilst you wait for pension freedom in April 2015
If you want to take tax-free cash and maybe some income, income drawdown option may be of interest. It is a stop-gap solution for investors aged at least 55 who do not need secure income yet and want to keep their options open:
Take up to 25% tax-free cash.
Take an income if you want: from no income up to the limits currently set by the government (currently between 7% and 12% of your pension value, depending on your age).
Benefit from the new rules from April 2015: when the income limits are removed (April 2015) you can benefit automatically and make unlimited withdrawals if you wish.
Keep your fund in cash for the short term or invest for the long-term - your pension fund can be held in cash until April 2015 to protect its value (you'll receive a small amount of interest). Alternatively, you can choose your own investments, as cash alone is not likely to be an appropriate long-term solution.
No tie-ins - you can buy an annuity at any time, or choose to stay in income drawdown and invest for the longer term.
Flexibility on what happens to the pension if you die - the fund can be passed on to your dependants when you die, including a continuing income or a lump sum (the lump sum is currently less 55% tax). These options are more flexible than an annuity, but not as flexible as those available if you don't go into drawdown, particularly the tax treatment of death benefit lump sums.
Find out more about income drawdown
Income Drawdown is flexible and could be a practical solution to tide you over until April 2015. There are, however, several factors and risks you must consider carefully before deciding if it is right for you.
Request information on Income Drawdown

Investors still far from retirement: impact of the pension changes
According to the Chancellor, "individuals who have worked hard and saved responsibly should be trusted to make their own decisions with their pension savings".
Investors still years away from retirement are likely to have two main concerns, if they ultimately want to take advantage of the new rules.
First, they'll want to know their pension provider will allow them freedom at the point of taking an income. Second, they'll want to make sure they have all the tools they need to make the most of their pension in the meantime.
In the past, when pension rules have changed and new options become available, some providers have not offered the new options at all and some have but only after a delay. Will this be the case this time round?
We aim to offer the new freedoms announced by the Chancellor on 21 July in the Vantage SIPP from April 2015.
Another issue is whether you have the tools to make the most of your pension in the meantime. Two key areas worth checking are control and investment choice.
Control: can you check your pension value and performance easily? Do you have online access? Can you switch investments quickly, if you wish to?
Investment choice: three quarters of default funds, held by most pension investors and worth an estimated £165 billion in total, apply 'lifestyle' strategies. These move people's pensions into bonds as they approach retirement, in the expectation they will buy an annuity. If your pension is invested in one of such funds and you plan to use the pension freedom available from April 2015, you may want to check your pension investments are still fit for purpose.
If you find your current arrangement lacking, and want to make the most of the changes, you may want to consider a pension that gives you the tools you need.
The Vantage SIPP (Self Invested Personal Pension) is a type of personal pension that lets you choose your own investments and gives you freedom and flexibility - whilst you build the pension and when you take income from it.
Find out more about the Vantage SIPP
This article and our factsheet are not advice. They are based on our interpretation of the Budget Statement and subsequent documentation. When further details and draft legislation is published which is expected in August our understanding could change. Tax treatment can change and will be dependent on your individual circumstances. If you are unsure whether an investment is suitable for you please seek advice.

Important notes
This article isn't personal advice. If you're not sure whether an investment is right for you please seek advice. If you choose to invest the value of your investment will rise and fall, so you could get back less than you put in.
Editor's choice – our weekly email
Sign up to receive the week's top investment stories from Hargreaves Lansdown. Including:
Latest comment on economies and markets
Expert investment research
Financial planning tips
Sign up