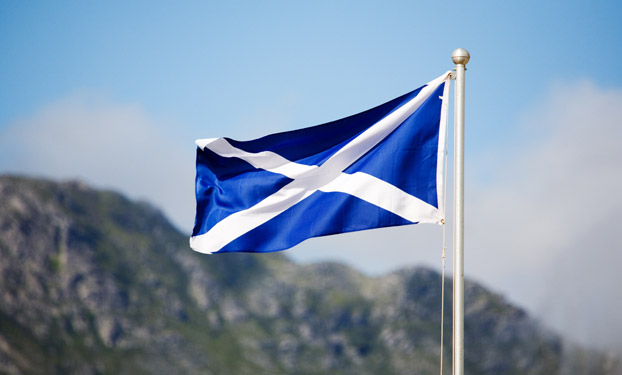 Russell Wright 15 December 2017
No news or research item is a personal recommendation to deal. All investments can fall as well as rise in value so you could get back less than you invest.
Over the last few years, the Scottish government has been given increasingly wide-ranging powers over setting their own income tax rates and bands.
Yesterday, they made full use of these powers for the first time and proposed a number of changes to income tax.
What's changing?
From 6 April 2018, it's proposed there will be five tax bands for Scottish taxpayers.
Scotland's finance secretary, Derek Mackay, said the change will mean those earning under £33,000 in Scotland will pay less tax.
Higher earners in Scotland will pay more tax than the rest of the UK, with the higher tax rate rising from 40% to 41%, and the top rate from 45% to 46%.
| | Earnings | Tax rate in Scotland |
| --- | --- | --- |
| Personal allowance | Up to £11,850 | Tax free |
| Starter rate | £11,850 - £13,850 | 19% |
| Basic rate | £13,850 - £24,000 | 20% |
| Intermediate rate | £24,000 - £44,273 | 21% |
| Higher rate | £44,273 - £150,000 | 41% |
| Additional rate | £150,000+ | 46% |
The rest of the UK only has the personal allowance and three bands (basic rate, higher rate and additional rate).
The Scottish Parliament will need to approve the plans before they take effect in April 2018.
Who will be affected?
Only Scottish income taxpayers will be affected.
Broadly, you are a Scottish taxpayer if you are resident in the UK and:
You have only one UK residence, which is in Scotland, and you live there for part of the year
You have more than one UK residence, at least one of which is in Scotland, and you live in Scotland for more of the year than you do in any other part of the UK
You cannot identify your main residence and spend more days in Scotland than in any other part of the UK
Scottish taxpayer status applies for the entire tax year. It's not possible to be a Scottish taxpayer for only part of it.
Will pension tax relief be affected?
The government tops up personal contributions with 20% tax relief, instantly boosting the amount of money you've saved. This won't change.
Higher-rate taxpayers can enjoy even more tax relief, as they can claim up to a further 20% through their tax return or local tax office. Additional-rate taxpayers can claim back up to a further 25%.
This means, for example, that a £1,000 contribution would only cost £800 for a basic-rate taxpayer. For a higher-rate taxpayer, it could be as little as £600, and for additional-rate taxpayers the cost falls to as little as £550.
With these changes, Scottish taxpayers earning above £24,000 should get tax relief of up to 21% when they make a personal pension contribution, but this extra 1% won't be added to their pension automatically. We expect they will need to complete a tax return or write to their local tax office.
For higher and additional-rate Scottish taxpayers, they can claim back up to a further 21% and 26% respectively by completing their tax return.
Remember, the new rules have not been confirmed yet, there could be further changes at any time. Any benefits will depend on personal circumstances.
What should you consider now?
Scottish taxpayers may wish to consider whether they make a pension contribution in this tax year (by 5 April 2018), or wait until next (from 6 April 2018).
If you will be paying 21%, 41% or 46% tax you may be able to get more tax relief by delaying your contribution. However, you also need to decide if you need to make the most of your contribution limits for the current tax year.
For the rest of the UK, it's business as usual.
Remember, to receive tax relief, your personal contributions are limited by the amount you earn that tax year. If you are a non-earner or earn less than £3,600, you can still pay in £2,880 which the government will top up to £3,600. Money held in a pension cannot normally be accessed until age 55 (57 from 2028), up to 25% tax-free and the rest taxed as income.
Find out more about how much you can contribute to a pension
Find out more about tax relief
This article is not personal advice. If you are unsure of the suitability of an investment for your circumstances please seek advice.