Tracker funds - three questions to ask before investing
Richard Troue looks at three factors to consider when choosing an index tracker fund.
Important notes
This article isn't personal advice. If you're not sure whether an investment is right for you please seek advice. If you choose to invest the value of your investment will rise and fall, so you could get back less than you put in.
Tracker funds offer a convenient and low-cost way to gain exposure to a broad range of shares or bonds. Not all are created equal though and before you invest, there are a number of questions to ask.
Which index should I track?
We generally feel broader, more diversified indices are better and have wider appeal.
An investor who seeks exposure to the UK stock market through an index, for example, has three options.
FTSE 100 - the largest 100 companies in the UK
FTSE 250 - the next 250 largest companies (medium-sized businesses, or 'mid-caps')
FTSE All Share - includes all those above plus around 300 smaller companies
The FTSE 100 is perhaps the best known of these, but the large companies that make up the index tend to be multi-national firms whose fortunes are not really tied to the UK economy. Indeed, around three quarters of the revenue earned by FTSE 100 companies comes from overseas.
The FTSE All Share in contrast is a much broader index. It provides exposure to companies of all sizes and across a broad range of industries. However, even using a FTSE All Share tracker which includes some of the slightly smaller companies will give you over 80% exposure to the FTSE 100.
Arguably, the best barometer for the UK economy is the FTSE 250. The FTSE 250, or 'mid-cap' sector is home to the largest 250 companies by market capitalisation after the FTSE 100.
View our favourite UK index tracker funds
The choice of index can be more complicated for overseas markets, where investors are likely to be less familiar with index options. In the Asia Pacific region, for instance:
The FTSE AW Developed Asia ex. Japan Index provides exposure to Australia, Hong Kong, New Zealand and Singapore.
The FTSE World Asia Pacific ex. Japan Index provides exposure to Korea, Malaysia, Taiwan and Thailand, in addition to the four countries mentioned previously.
Using this example, we feel the latter is therefore more apt for investors seeking broad exposure to the Asia Pacific region.
View our favourite Asia Pacific index tracker funds
What are the charges?
Costs are often the biggest factor in determining tracker fund performance. Over time, costs gradually reduce a fund's performance and the higher the costs the greater the drag will be. The average UK tracker fund has underperformed the FTSE All Share Index by 28% since we created the Wealth 150 in 2003.
Funds often offer a choice of more than one unit class, often with different charging structures. Take the Legal & General UK Index fund, for example, which aims to track the performance of the FTSE All Share Index. The Class C units, which feature on our Wealth 150+ list, have lower annual fees than the Class R units (net charges of 0.06% versus 0.24%). As the chart shows, the higher costs of the Class R units have had a greater drag on performance and returns have been lower since the launch of Class C units, despite the portfolios being identical.
Performance of different share classes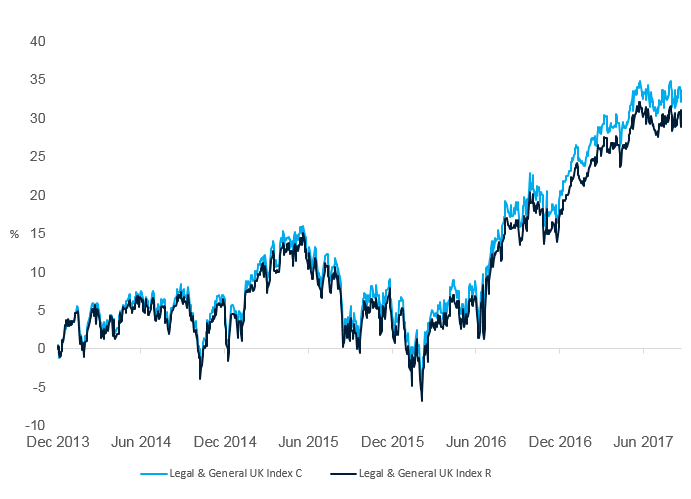 Past performance is not a guide to future returns
Source: Lipper IM, 09/12/13 - 31/08/17
*Full year performance data not available
Over longer time periods the higher charges would have an even more significant impact. This is why we have negotiated hard with fund managers to obtain the lowest possible charges for our clients on the Wealth 150+ tracker funds. Our charge to hold funds in Vantage is a maximum of 0.45% per year. More details on charges.
View our favourite tracker funds - the Wealth 150+
What is the manager's approach?
Even though the managers of tracker funds are not making active decisions to invest in some stocks and exclude others, they each construct their funds in slightly different ways. We think the best approach is to consider a range of tracker fund providers and select the best one in each area.
The main considerations are the method used to replicate the index, and if the manager engages in stock lending (see below).
Replication - full replication is when the manager holds all the shares or bonds in the index, whereas partial replication is when the fund chooses not to hold some smaller stocks. Partial replication is common where the index being tracked has a large number of constituents. We generally feel that full replication is best for investors, as it leads to more precise tracking, but recognise that this is unfeasible in some markets.
Stock lending - this is the process where a fund lends its holdings to a third party in exchange for a fee. Stock lending is a useful tool for managers to offset costs, but it does carry some risk. We are comfortable with a fund lending stock only if the manager takes appropriate steps to control risk and investors benefit from lower fees.
Details about the index a fund aims to track, its charges, and the manager's approach are available on our website. This can be found on the fund factsheet or Key Investor Information Document (KIID).
But in order to take much of the hard work out of selecting a tracker fund, we have highlighted our favourites on the Wealth 150+. The Wealth 150+ Trackers all go through a rigorous research process which considers all of the above.
You should consider your own objectives and attitude to risk before deciding where to invest. If you're unsure of the suitability of an investment for your circumstances please seek advice. Investments, including tracker funds can fall as well as rise in value, so you could get back less than you invest.
Our analysis aims to identify which funds have tracked their index closely in the past and, importantly, those we believe are well-placed to track accurately in future.
Important notes
This article isn't personal advice. If you're not sure whether an investment is right for you please seek advice. If you choose to invest the value of your investment will rise and fall, so you could get back less than you put in.
Editor's choice – our weekly email
Sign up to receive the week's top investment stories from Hargreaves Lansdown. Including:
Latest comment on economies and markets
Expert investment research
Financial planning tips
Sign up