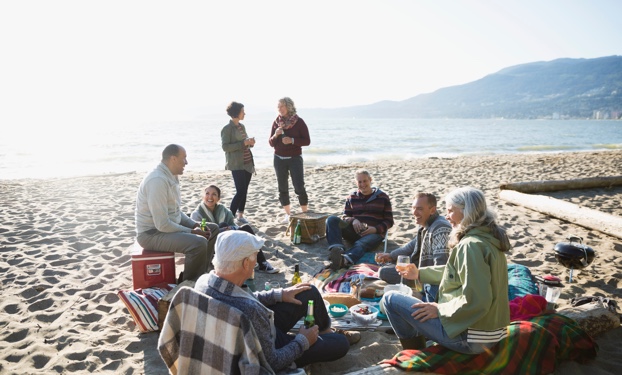 Henry Irving 5 August 2019
No news or research item is a personal recommendation to deal. All investments can fall as well as rise in value so you could get back less than you invest.
With the Great British summertime in full swing (for now), the last thing you're probably thinking is "can I get a higher annuity rate?" But if you're planning to take an income from your pension soon, it's worth checking – the extra income you could get can be staggering.
Why today? Well, if you get an enhanced annuity quote by using our service by 19 August 2019, you'll be in with a chance of winning a £175 Fortnum & Mason wine hamper. After all, with the sunshine actually arriving in the UK, there's cause for celebration.
Is an annuity right for you?
If you want a secure income and peace of mind in retirement, you should think about buying an annuity. You'll know exactly how much money you're going to get and when you're going to get it for the rest of your life.
Even if you plan to use drawdown, we think it's important you check how much secure income you could receive by getting a quote. It might be higher than you think.
When you set up an annuity you decide how often you want your income, whether to protect it from rising prices and what happens to your annuity after you're gone. Once set up, annuities can't normally be changed so please consider your options carefully.
Could you get a higher annuity rate?
We're usually cautious about sharing our unhealthy lifestyle choices or health conditions when we apply for insurance products. Typically it leads to higher premiums and costs. But an annuity is an insurance product like no other. It actually pays to disclose everything.
All you need to do is provide your health and lifestyle details when you apply and you could qualify for a higher income. You can get instant quotes from all the leading annuity providers on the open market in one go, and there's no obligation to go further after you've got a quote.
There are lots of common qualifying health conditions, like high blood pressure or high cholesterol. But you don't need to be ill to qualify. Just confirming details like how much alcohol you drink or your height and weight could mean you'll get a higher annuity income.
Annual gross income from a £100,000 pension
Scroll across to see the full chart.
We generated these quotes using our online annuity quote tool on 22 July 2019. All quotes are for a single life annuity, paid in monthly in advance, with no escalation or guarantees built in. Quotes are for a 65 year old who is single and lives in an area which has an average life expectancy.
Don't forget, if you provide your health or lifestyle details, you'll be entered into our prize draw to win a £175 wine hamper. We've got five to give away.
Even if you don't qualify for an enhanced rate, you'll still be entered into the prize draw.
Entrants must be 55 or older. Full terms below.
Why not take advantage of both options?
If you've got your heart set on drawdown, you might want to think about combining your options. That way you could have enough secure income to cover your essential bills. And you can use the flexibility of drawdown for any well-deserved luxuries.
Getting a quote
If you'd rather get an enhanced annuity quote over the phone, you'll also be entered into the prize draw if you call us by 19 August. Just call our Retirement Helpdesk on 0117 980 9940. They're available six days a week: Monday-Thursday 8am-7pm, Friday 8am-6pm and Saturday 9:30am-12:30pm.
What help is available?
What you do with your pension is an important decision. We strongly recommend you understand your options and check your chosen option is right for your circumstances. If you're not sure, take advice or seek guidance.
The government provides a free and impartial service to help you understand your retirement options – more on Pension Wise. This article is not personal advice.
What are the full terms of the offer?
If you obtain an enhanced annuity quote using our annuity service (a "Quote") between 07:00am on 5 August 2019 and 11:59pm on 19 August 2019 (the "Offer Period") we will enter you into our prize draw (the "Draw") to win a hamper worth £175 subject to these terms and conditions. The Draw is only open to individuals who obtain an enhanced annuity quote with us. Annuity quotes which are not enhanced quotes will not be entered into the Draw. The Draw is free to enter.
To be eligible to win a prize, you must also:
be 55 or older;
be resident in the United Kingdom;
not be an employee of any Hargreaves Lansdown group company or a member of any such employee's immediate family or household;
comply with these terms and conditions.
Upon obtaining a Quote in the Offer Period, you will be automatically entered into the Draw. You will only be entered into the Draw once. You will be entered into the Draw on the date you first obtain a Quote during the Offer Period and you will not receive an entry into the Draw for each additional Quote you obtain during the Offer Period. Quotes obtained after the Offer Period has closed will not be entered into the Draw.
Details of the terms and conditions of the Hargreaves Lansdown Annuity Service are available on our website.
There are five hampers worth £175 to be won. Winners can decide to receive a cheque worth £175 if they would prefer an equivalent cash prize. Each entrant into the Draw shall only be entitled to win one of the five prizes. If you would like to opt out of the Draw, please notify us by calling 0117 980 9940.
The winners will be chosen by random draw on 20 August 2019 ("Draw Date").
The winners will be notified (using details provided at entry) either by telephone or, if we can't reach the winners by telephone, by email, before 22 August 2019. If we haven't heard from a winner by 3pm on 22 August 2019, we will hold on to the prize until we do. If we still haven't heard from the winner by 23 September 2019, that winner will not be entitled to a prize and a draw will take place to select another winner.
The prizes will be posted to the winners using the address provided at entry within five working days of being notified of their win.
Our decision regarding any aspect of the Draw is final and binding and no correspondence will be entered into about it.
Participants are deemed to have accepted and agreed to be bound by these terms and conditions upon entry. We reserve the right to refuse entry, or refuse to award the prize to anyone in breach of these terms and conditions.
We reserve the right to replace the prize with an alternative prize of equal value if circumstances beyond our control make it necessary to do so.
We reserve the right to hold void, cancel, suspend, or amend the Draw where it becomes necessary to do so.
We will process your name and address for the purpose of the Draw. Personal data supplied during the course of the Draw will be processed as set out in our privacy policy.
The Draw will be governed by English law and entrants to the Draw submit to the jurisdiction of the English courts.
The Hargreaves Lansdown Annuity Service is provided by Hargreaves Lansdown Asset Management Limited, which is a limited company registered in England & Wales with company number 01896481 whose registered office is One College Square South, Anchor Road, Bristol, BS1 5HL.