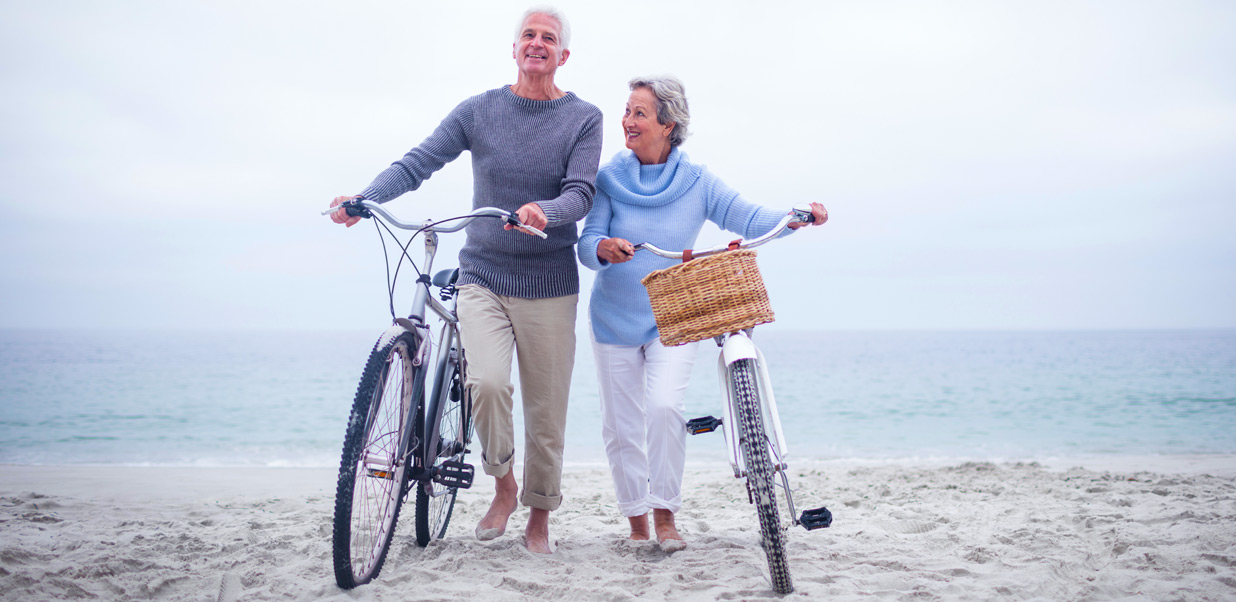 Important notes
This article isn't personal advice. If you're not sure whether an investment is right for you please seek advice. If you choose to invest the value of your investment will rise and fall, so you could get back less than you put in.
Final salary, or defined benefit, pensions give the perfect combination for lots of retirees – a guaranteed income that keeps pace with inflation.
At the start of the century, final salary pensions made up close to 75% of all occupational pensions. For decades they were a standard part of retirement planning, but not anymore. Since 2008, active membership of defined benefit schemes has fallen by 57%.
But all is not lost.
If you have a defined contribution pension, like the HL SIPP (self-invested personal pension) – there are certain strategies you can use to replicate some of the key benefits of final salary pensions.
Buying a guaranteed income
In exchange for some or all of your pension, insurance companies will pay you a guaranteed income for life, an annuity.
Just like a final salary pension, it doesn't matter how long you live, your annuity provider will pay you an income for the rest of your life. Remember once set up an annuity cannot usually be changed or cancelled, even if your circumstances change.
The amount of income you'll get depends on annuity rates, your health when you apply, your age and the options you choose. Based on today's best quote, if you decided to use £100,000 of your pension to buy an annuity at age 65, and you didn't provide any health details or choose any additional options, you'd get an annual income of £5,367.
Unfortunately, this standard annuity wouldn't keep pace with inflation. However, you can decide to add inflation tracking at the outset. This means your starting income will be lower, but your income will keep track with rising costs.
Find out more about annuity options
| Pension pot | Annual RPI linked income |
| --- | --- |
| £50,000 | £1,577 |
| £100,000 | £3,138 |
| £200,000 | £6,268 |
| £300,000 | £9,370 |
| £400,000 | £12,480 |
| £500,000 | £15,558 |
All quotes generated using our annuity quote tool on 20 November 2018. They're based on a healthy 65 year old living in an average postcode. The annuity is paid monthly in advance and will change in line with the Retail Price Index (RPI). The income you could receive will depend on your circumstances and the options you choose. Annuity income is taxable. Quotes are only guaranteed for a limited time and rates change frequently. So they could go up or down in the future.
Living off the income your investments produce
Drawdown gives you complete control over where your pension is invested and how much income you receive. But your income isn't guaranteed. If your investments perform poorly or you take too much income, you could run out of money.
There aren't any guarantees with the stock market or drawdown, unlike final salary pensions or an annuity.
However, by only taking the income your investments make, known as taking the natural yield, you don't have to sell investments to fund your income. Giving your pension the chance to grow and keep on top of inflation. Your investments and income from them will still go up and down in value, so at times you might not get enough income to meet your needs. You do have the flexibility to make extra withdrawals if you need to. But don't forget selling investments will deplete your fund, and could have a big impact on your income later in retirement.
Exactly how much income you'll get depends on the size of your pension's investments and the dividends paid from them. For example, if your investments were valued at £100,000 and they produced an annual dividend income of 4.58%* (the yield of the FTSE 100 at the moment) you'd get £4,580 of income that year. This yield shouldn't be seen as a reliable indicator of future income. Remember, yields and the value of your investments will fluctuate.
Annual income from the FTSE 100 dividend yield of 4.58%
Source: *Thomson Reuters, 21/11/18.
Combining both options
There's nothing stopping you from using both annuities and drawdown. You don't have to choose just one.
Our retirement planner can help you see what a combination of secure and flexible income might look like.
What help is available?
What you do with your pension is an important decision. We strongly recommend you understand your options and make sure your chosen option is right for you. Take advice or guidance if you're not sure.
The government provides a free and impartial service to help you understand your retirement options - more on Pension Wise.
This article isn't personal advice. We offer a range of information and support. We also have an advisory service that can help you achieve your goals. Our flexible approach means you only pay for the advice you need.
If you have any questions about your retirement options, call our experts on 0117 980 9940. They're available six days a week: Monday-Thursday 8am-7pm, Friday 8am-6pm and Saturday 9:30am-12:30pm.
Important notes
This article isn't personal advice. If you're not sure whether an investment is right for you please seek advice. If you choose to invest the value of your investment will rise and fall, so you could get back less than you put in.
Daily market update emails
FTSE 100 riser and faller updates
Breaking market news, plus the latest share research, tips and broker comments
Register