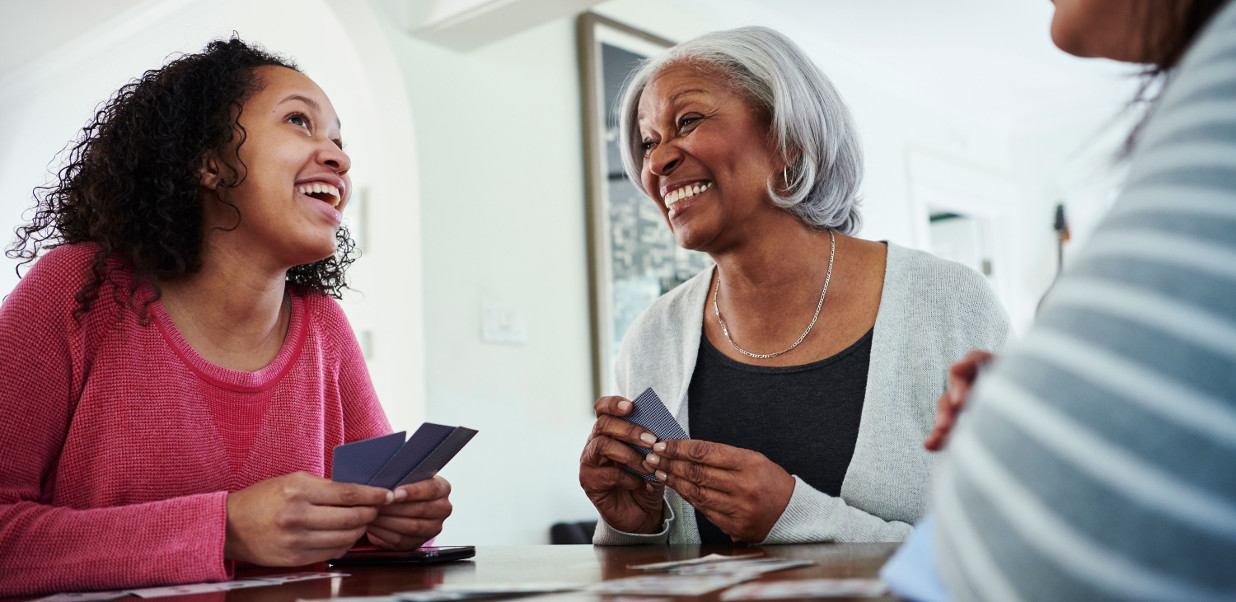 Important notes
This article isn't personal advice. If you're not sure whether an investment is right for you please seek advice. If you choose to invest the value of your investment will rise and fall, so you could get back less than you put in.
Millennials, baby boomers, and now the sandwich generation.
These are the 1.3 million people in the UK squeezed between caring for aging parents and their children or grandchildren. Most are 35-54 years old and female. 
While having both around is a blessing, it's not without its challenges.
1 in 5 carers spend at least 20 hours a week caring for others. This can take a huge toll on your personal wellbeing, finances, health and career.
And the problem isn't going to go away. If anything it's going to get worse.
People are living longer and having children later in life. Once our children grow up, they need more help buying a home of their own. Meanwhile, shrinking families  means you're less likely to have siblings to share the burden, and divorce rates among older people mean they may not have a partner to help either.
5 tips to survive the 'sandwich' years
1. Choose yourself first
Securing your own financial future first might feel like an obvious first step. But our natural instinct is to help our children and loved ones as much as we can.
Truth is, being in the sandwich generation can derail your retirement.
It's not selfish to take care of yourself first. After all, the best gift you can give your children is to not financially burden them in the future.
Make sure you're financially secure, especially during retirement. An average retirement now lasts 30 years. That's a long time to cope with inflation eroding your capital, ever-changing pension rules, and the shortfall between the state pension and the national living wage. It is vital to make sure you're confident about facing the future first.
2. Have those awkward conversations
You can't plan without the right information. So, have those awkward money conversations as early as possible. Talk to your parents about estate planning; their money, long-term care and the importance of wills.
Let's not forget the difficult conversion about power of attorney. What happens if they can't make decisions about their health and finances? An option is to nominate someone to do it for them with a Lasting Power of Attorney (LPA).
While you can't predict what will happen, long-term care costs are expensive, and rising. With the average cost ranging from about £33,500 to £52,000 per year for a residential care home, it's really something everyone should be thinking about. If you have to self-fund care, here are six ways you can do it.
3. Maintain your emergency fund
For most people, it makes sense to have 3-6 months' worth of expenses to fall back on if something goes wrong. With so many people set to be reliant on you, you might decide you need a bigger cash buffer. Either way, you should work at putting this in place as soon as possible.
4. Get the right help
Being under pressure from all sides isn't easy. The more care you have to provide, the bigger the toll it tends to take.
But you don't have to worry. In many cases, the right planning and support can help you get through this tough time in one piece financially and emotionally. Whether it's a financial adviser, charity support or hiring care, it can relieve some of the burden.
5. Make time for yourself
There will be times when you'll feel like you're not doing enough for the people who need you. It turns out that guilt comes with the territory of living in the sandwich generation.
No matter how much you do, it's never going to feel like enough.
But most caregiving experts insist there's no reason to feel guilty. If anything, they say it's important to recharge your physical and mental batteries. This allows you to be there for the people who need your help.
All the support you need. Nothing more, nothing less
The information provided is not personal advice but if this article has got you thinking about how best to manage the family's finances and you're unsure, it might be worth talking to an expert.
Whether it's for yourself or a loved one, we can help.
Our 'advice on your terms' approach means you get the advice service and level of engagement that's suited to you.
We have specialists in long-term care planning, able to help identify any potential issues. If there's a chance of a shortfall to pay for care, they'll help work out a plan to meet it.
Our Bristol-based helpdesk is your first port of call. They'll be able to explain how we can help. We're open 5 days a week to learn about your situation.
You might find you don't need advice, if that's the case we'll support you with free information to help you get on track. If you decide to proceed with advice, charges will apply.
Give us a call on 0117 317 1690, or find out more.
Important notes
This article isn't personal advice. If you're not sure whether an investment is right for you please seek advice. If you choose to invest the value of your investment will rise and fall, so you could get back less than you put in.
Daily market update emails
FTSE 100 riser and faller updates
Breaking market news, plus the latest share research, tips and broker comments
Register