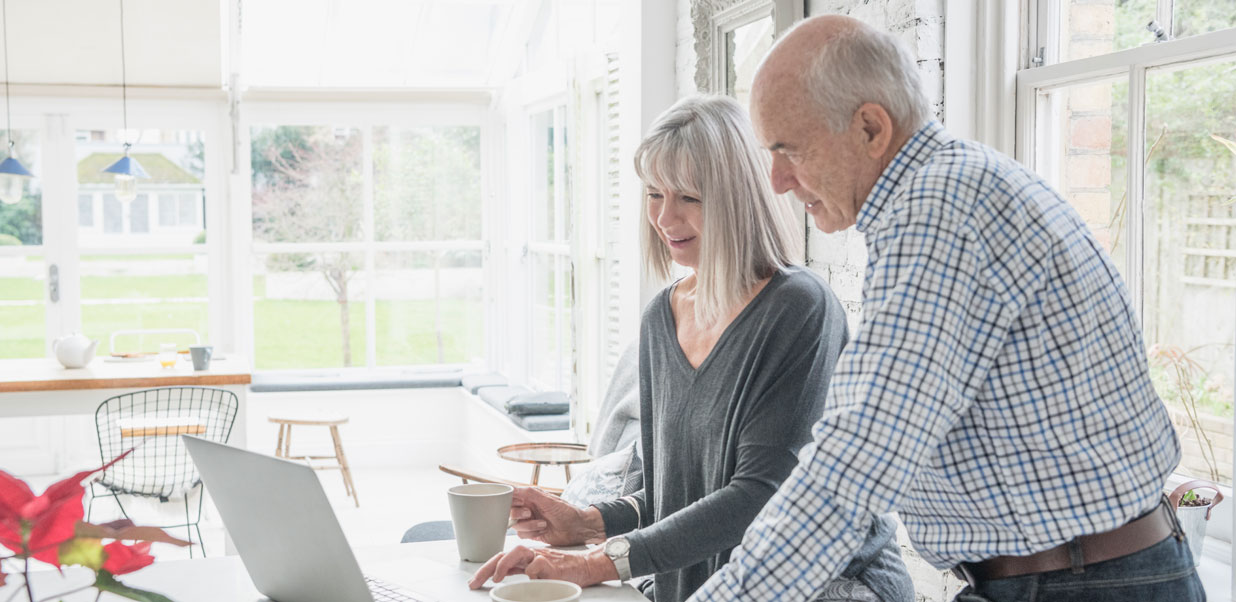 Important notes
This article isn't personal advice. If you're not sure whether an investment is right for you please seek advice. If you choose to invest the value of your investment will rise and fall, so you could get back less than you put in.
Drawdown puts you in control of the money in your pension – you choose your investments and how much income to take (if any). It's likely that your strategy for taking an income will affect where you choose to invest.
Remember all investments can fall as well as rise in value. You could get back less than you invest, so regularly reviewing your investments and strategy is vital.
Investing for growth
If you don't need an income yet, a common approach is to choose investments that aim for long-term growth. Often this includes funds that invest in a wide range of companies, either in the UK or across the globe. It might also include higher-risk smaller companies with the potential to grow into market leaders.
Below we list the most popular growth funds among our drawdown investors (measured by assets under administration as at 31 December 2018, and listed in alphabetical order). This is for your interest only and shouldn't be taken as personal advice on where to invest. You should carefully think about your own objectives and how much risk you're comfortable with when deciding where to invest.
These funds invest in different areas and their managers have different styles. They could provide a strong starting point to help you build a balanced growth portfolio. Our investment analyst Kate Marshall looks at two of our favourites in more detail below.
This fund invests in some of our favourite growth funds. Managers Lee Gardhouse and Roger Clark blend together a mix of funds with different styles, which complement each other well. They do the hard work on your behalf – they monitor the portfolio and make changes when they think the time's right. We think the benefits of this approach justify the extra charges involved.
The fund invests across the globe and aims to grow your wealth over the long term. Gardhouse and Clark look for managers with great track records of performance. They often own part of the business they work for, or are well-incentivised, so they're focused on delivering the best performance they can for investors.
Around one third of the fund is invested in the UK, home to some great fund managers. It also invests in other developed markets like the US and Japan, as well as higher-risk Asian and emerging markets. Funds that invest globally, like Lindsell Train Global Equity, are also held. You can find out more about this fund below.
Funds focused on medium-sized and higher-risk smaller companies also make up a big part of the fund. Gardhouse and Clark think managers investing in this area of the market have the greatest stock-picking edge, and could really add value over the long term.
The HL Multi-Manager Special Situations Trust is run by our sister company Hargreaves Lansdown Fund Managers Ltd.
Find out more about this fund, including charges
This fund also invests across the globe, but it invests in individual companies, rather than other funds. It tends to focus on larger companies in developed markets, such as the US, UK and Japan. It has the flexibility to invest in higher-risk smaller companies as well.
It's managed by Nick Train, Michael Lindsell and James Bullock. They simply invest in great companies and hold them forever. They look for companies that have something truly unique, like a brand name. Companies with well-known brands have lots of loyal customers that buy their products again and again. So they tend to make more sustainable earnings, which can be reinvested back into the business and increase the potential for even more growth.
The managers don't think there are many truly exceptional businesses in the world, so they make big investments in a small number of companies, which can increase risk. Once they've invested in a company, the hope is they'll grow steadily and can be held in the fund for a long time. This means they don't buy and sell companies very often.
We view the managers as some of the most successful stock pickers. We think the fund's a good choice for a long-term growth portfolio. It's quite concentrated with no more than 30 investments. This can increase performance when times are good, but adds risk.
Lindsell Train Global Equity Fund is an offshore fund so you're not usually entitled to compensation through the UK Financial Services Compensation Scheme. The fund owns shares in Hargreaves Lansdown plc.
Find out more about this fund, including charges
Past performance is not a guide to the future. Source: Lipper IM to 31/12/2018
What you do with your pension and where you choose to invest are important decisions. If you're unsure what's best for your situation, we strongly recommend you seek guidance or advice.
The government offers a free and impartial service to help you understand your retirement options – more on Pension Wise
Our award-winning advisory service can offer one-off and ongoing financial advice to help you make decisions and reach your goals. There's no pressure, and you'll only pay for the advice you need.
Looking for investment ideas?
Our Wealth 50 fund list could be a good place to start.
You can filter the funds by sector, objective and yield to explore their aims and see which might match your goals.
Important notes
This article isn't personal advice. If you're not sure whether an investment is right for you please seek advice. If you choose to invest the value of your investment will rise and fall, so you could get back less than you put in.
Daily market update emails
FTSE 100 riser and faller updates
Breaking market news, plus the latest share research, tips and broker comments
Register