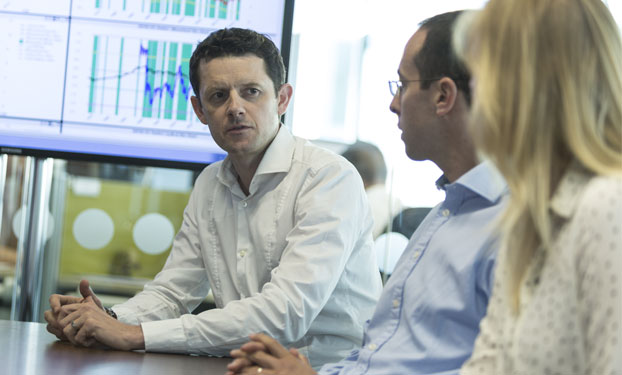 Nadeem Umar 5 February 2019
No news or research item is a personal recommendation to deal. All investments can fall as well as rise in value so you could get back less than you invest.
Multi-Manager funds, usually for a combination of these reasons, can get a bad press.
They're expensive
They're just another fund
You can buy the funds they invest in, yourself
I'll admit, there's some truth to each of these statements. But, fundamentally, they're misleading. Here's why I think it might be dangerous to dismiss multi-manager funds.
Let's go back to first principles – what's a Multi-Manager fund?
A quick glance at a factsheet might tell you they're a collection of funds, which make up an easy-to-invest-in portfolio. The reality is they're much more than that.
At your side
Leading our Multi-Manager funds is a team of experienced investors, who've spent every working day over the past 18 years thinking, reading, selecting and talking about funds, while surrounded by other fund managers.
They've built a team around them, and developed technology which allows them to research more funds, more quickly, in more detail than almost anyone in the country.
We think the technology is transformational and they use the output of this heavy-lifting in everything you see, from Investment Ideas to the Wealth 50 to our Multi-Manager funds.
Try as you might
But you can't replicate the portfolios, even if they're powered by the same engine as our Wealth 50. Sure, there's lots of crossover but there are also funds in our Multi-Managers, which don't appear on the Wealth 50.
Sometimes, that's because our Multi-Manager funds have invested with these managers for many years. While they're happy for existing clients to stay invested, they're closed to new clients. Findlay Park American and Comgest Growth Emerging Markets are two examples.
We think these fund managers are exceptional but their success has meant they aren't looking to attract new business so we can't add them to the Wealth 50. You won't even find them on our website.
Other times, it's price. Our Multi-Manager funds are institutional investors, so they can invest in funds at a lower cost than you can as an individual. Funds which we don't think are competitive on the Wealth 50 will be more competitive within our multi-manager funds.
Finally, the Multi-Managers can take a more nuanced view. A fund is either on the Wealth 50 or it's not. Within the multi-managers, a fund can be a small or a large position, depending on the strength of our team's conviction.
Value is what you get
Granted, a Multi-Manager fund has higher costs than a typical fund. But it's wrong to think of it as simply, more costly. You pay for an additional service.
Think of it as having a professional fund investor look after a portfolio that you can then invest in. The 'Multi-Manager fund' you see on the factsheet is the most efficient way to access these portfolios and the expertise behind them. It might look like it puts all your eggs in one basket, but take the name away and what you've got is a diversified portfolio of funds.
Each underlying fund is chosen on its own merits, but importantly, each fund is chosen with the whole portfolio in mind. Our fund managers want each holding to fulfil a specific role, which allows the portfolio to flex in changing market conditions.
The goal is to maximise performance, while managing risk. Although like all investments the fund will still fall as well as rise in value, so you could get back less than you put in.
Over-time, our team stress-test the portfolio over and over again. Each Multi-Manager fund is subject to a full review every six months. The same goes for each sector they invest in. The team meet each fund manager in the portfolio, at least every year, but will speak with them more often.
If their conviction in a fund grows, they'll increase its weight in the portfolio. If it wanes, they'll let its weight run down. Otherwise, they'll rebalance the funds on a daily basis.
If fund changes need to be made, they'll be made quickly. Any sales a multi-manager makes aren't subject to capital gains tax. It allows them to move to better opportunities as and when they arrive, without the worry of a tax bill.
If the manager of a key fund in your portfolio moves on to another venture, it's likely you'll want to follow. But if you face a tax bill in doing so, it's tempting to put it off. A Multi-Manager isn't limited in this way and, as such, doesn't allow the tax tail to wag the investment dog.
A place in any portfolio
So, I'd argue a Multi-Manager isn't just another fund. Which flips the argument about cost on its head. You can't compare the price of your shopping in a supermarket with the bill from a meal in a restaurant. You do both for different reasons.
For smaller portfolios, a Multi-Manager fund could be the sole investment. The hassle of day-to-day management left to our experts. In larger portfolios, they can help to simplify and strengthen. There's so much fund choice that, in many cases, investors probably hold far too many and end up over-diversified.
An active investor could use a Multi-Manager to provide the core of a portfolio, and invest in other funds to provide exposure to a particular area or theme. In this way, there're fewer funds to manage and you're more likely to have higher conviction in the funds you do hold.
Ultimately, with anything you could do yourself, there'll always be a point at which you say, "No, I'll do it". But when it comes to your investments, I think it's worth asking yourself, "Would I manage my money as diligently as a Multi-Manager?" For those happy to pay more for the additional benefits of a Multi-Manager approach, we think they are worth a closer look. This article isn't personal advice. If you're not sure an investment is right for you please seek advice.
The HL Multi-Manager funds are run by our sister company, HL Fund Managers Ltd.