Important notes
This article isn't personal advice. If you're not sure whether an investment is right for you please seek advice. If you choose to invest the value of your investment will rise and fall, so you could get back less than you put in.
ISA investors are always on the lookout for effective ways to improve their investment returns. And often, it's the simplest ideas that pack the biggest punch.
In our experience, bringing all your ISAs together in one place could have a considerable effect on investment performance. It'll be easier for you to make good investment decisions and react quickly to opportunities. On top of this, you should also save time and receive less paperwork.
Below, Mr Cottle from West Sussex explains why he decided to bring his ISAs together in the HL Stocks and Shares ISA.
This article isn't personal advice. Our service is designed for investors who make their own investment decisions without personal advice. If you're not sure an investment is right for your circumstances, please seek advice. Tax rules can change and the benefits of ISAs depend on your personal circumstances.
Stock market investments can fall as well as rise in value, so unlike holding cash, you could get back less than you invest.
Mr Cottle: 'My ISA transfer was absolutely painless'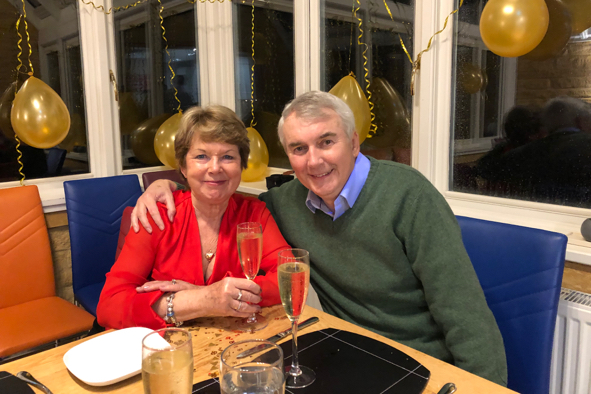 Q: When did you start investing in ISAs?
I started using them in about the mid-nineties. I used to work at a financial company that had an investment department and that's how I became aware of them. I opened three separate ISAs with different fund management groups. I didn't really do too much with them but they carried on accumulating quite nicely.
Q: Why did you decide to transfer?
Transferring my ISAs wasn't something I'd given a great deal of thought to. But I already had an ISA with HL and I got some information through the post about how to transfer ISAs and it just seemed like it would be a worthwhile thing to get them all in one place. That was really the driving force of it.
Having done the transfer I've seen so many benefits of having them all together. I'm getting a lot less paperwork through the post. I used to get quarterly updates from the fund management groups as it was really paper driven but I'm now able to see everything easily online.
On top of this, I'm now paying less in total charges than I was when I held my ISAs across the previous providers.
Discover more about transferring
Q: How was the process of transferring?
Very, very easy. The whole thing was a lot quicker than I imagined it would be. Basically, I didn't really have to do a thing. I thought that I'd have to go back to all these fund managers and chase them up but there was none of that. It was all dealt with very speedily and right from the start I was given a timetable from HL about how long it was going to take. I was kept in the picture on a regular basis as the transfer moved from one stage to another. It was absolutely painless and I can't really see any downsides to transferring.
I even got cashback for transferring which was a nice added bonus.
Q: How are you planning on using your ISA?
I'm retired now and I've got a reasonable pension from my employer. I've been taking that for around six years now. The two main investments that I've got – aside from my pension – are the HL Stocks and Shares ISA and a buy-to-let property. My pension more than looks after my day-to-day living expenses and my aim is to use these other two investments for holidays, family events and home improvements going forward.
Discover more about transferring
Transfer your ISA today
Mr Cottle's story shows that transferring an ISA can be simpler and quicker than you might think. That's because we do all the hard work for you during the transfer.
Please read our terms and conditions (including Tariff of Charges) and key features and important investment notes, and check whether you'll face any exit penalties from your current provider, and that you will benefit from transferring.
The fastest way to transfer an ISA is online. Just fill in a few details and we'll arrange the transfer for you. Alternatively, you can download a transfer form and return it to us. In both cases, we'll contact your provider and arrange the transfer for you.
Cashback offer
Transfer to us and get between £20 and £500
Transfer an ISA worth £5,000 or more to HL and we'll give you between £20 - £500. The money is a thank you from us, it won't come out of your account or investments.
The more you transfer, the more you receive. Terms apply.
To automatically qualify you must apply by 15 January 2020. Need more time to decide? Let us know and we'll give you up to an extra three months.
You'll receive your cashback after the offer closes and all transfers have completed. The money will be paid into your loyalty bonus account. To keep the cashback, all we ask is that you keep your account with us for a year.
| You transfer | We pay you |
| --- | --- |
| £5,000 - £24,999 | £20 |
| £25,000 - £49,999 | £50 |
| £50,000 - £99,999 | £100 |
| £100,000 - £149,999 | £250 |
| £150,000 or more | £500 |
Terms of the cashback offer
1. You'll receive a cash amount between £20 and £500, depending on the amount you transfer, when you transfer an existing ISA worth at least £5,000 with another provider to an HL Stocks and Shares ISA (the "Offer"), subject to these terms and conditions. Please be aware that the following are excluded from the Offer: (1) the transfer of a Junior ISA, Child Trust Fund or certificated shares into an HL Stocks and Shares ISA; and (2) new money cash subscriptions into any existing HL Stocks and Shares ISA account.
2. The Offer does not apply to investments already held in the HL service, to switches or transfers between or within existing HL accounts or to income and interest received on any assets held in those accounts.
3. The Offer is funded by Hargreaves Lansdown. The cashback will not come from your own cash or investments. The Offer will be available until 15 January 2020 inclusive, however, we reserve the right to remove or suspend the Offer if necessary, including for legal or regulatory reasons or otherwise, by posting a notice on our website. If the Offer closes early, all qualifying applications already received at the time of the posting of the notice will still be accepted.
4. The Offer will only apply to cashback transfer forms coded: TRIC1, TRIC2, TRIC3, AWIC1, APIC6, OTMQB, OTK, OTS, TELE1 received by us whether received online, by phone or in the post between inclusive (the "Offer Period"). The application code should be found in the top right of a form. As long as we receive your transfer form within the Offer Period, even if the transfer itself is not completed until after the Offer closes, you'll still qualify. If you need more time to decide whether you want to transfer to us, please let us know and we will extend this deadline for you by up to three months. To request more time simply call our Helpdesk on 0117 900 9000 or email transferoffer@hl.co.uk with your full name and address.
5. The cashback payment will be paid into your Loyalty Bonus Account after the Offer has closed and within one month of completing your transfer, which will be determined by us. Your Loyalty Bonus Account is separate from your HL ISA, Fund and Share Account, and SIPP. The cash can be kept in your Loyalty Bonus Account for fee collection, withdrawn or moved into whichever HL account you choose. If moved into an ISA or SIPP, it'll count towards your annual allowance.
6. The value of your cashback will be based on the cumulative total value of transfers you make within the Offer Period and not the value of each transfer. The value of the cashback shall be determined in accordance with the tiers identified in the table accompanying these terms and conditions. It is not possible to combine the value of transfers into accounts with different client numbers for the purpose of this offer. The maximum amount of cashback you can receive under this offer is £500.
7. We ask you keep your HL account(s) for one year from the date of the transfer. Please feel free to switch between investments and in or out of cash within your account, but if you decide to transfer away or close your account within 12 months of the date your transfer completes, then we reserve the right to reclaim the cashback paid. If cash is to be reclaimed then you'll be notified and the cash will be taken within 7 days of the account closure or transfer.
8. We also reserve the right to determine how the cash offer is calculated. Therefore, if you are not sure how your transfers will be treated under the terms of this Offer, please contact us before you return your transfer form. By submitting a qualifying application, you agree to be bound by the terms of this Offer. These terms are governed by the laws of England and subject to the exclusive jurisdiction of the English courts.
9. The Offer cannot be used in conjunction with any other transfer offer.
Important notes
This article isn't personal advice. If you're not sure whether an investment is right for you please seek advice. If you choose to invest the value of your investment will rise and fall, so you could get back less than you put in.
Editor's choice – our weekly email
Sign up to receive the week's top investment stories from Hargreaves Lansdown. Including:
Latest comment on economies and markets
Expert investment research
Financial planning tips
Sign up