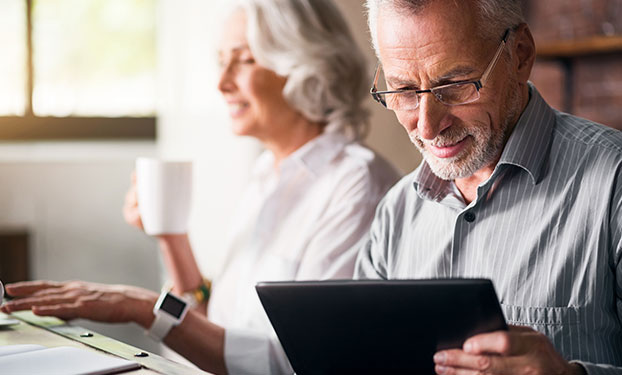 Henry Irving 10 April 2019
No news or research item is a personal recommendation to deal. All investments can fall as well as rise in value so you could get back less than you invest.
There are three changes that could affect your pension as the new tax year gets under way.
Workplace pensions increasing

Auto-enrolment was introduced by the government in 2012 as a way of helping people save for their retirement. As a result almost 10 million people have saved into a workplace pension, who otherwise might not have.

By law, your employer now has to put you in a workplace pension scheme if you're eligible. A portion of your monthly salary is then paid into that pension, alongside money from your employer, and a generous boost from the government in the form of tax relief. Pension and tax rules change and their benefits depend on individual circumstances.

From 6 April 2019, the total minimum amount that goes into your workplace pension scheme increased from 5% to 8%, which could mean both you and your employer are paying in more.

Your employer now has to pay in at least 3% of your salary and you'll have to pay any shortfall to meet the 8% minimum.

| Date | Employer minimium contribution | Your contribution | Total minimium contribution |
| --- | --- | --- | --- |
| This tax year (from 6 April 2019) | 3% | 5% | 8% |
| Last tax year (6 April 2018-5 April 2019) | 2% | 3% | 5% |

Scroll across to see the full table.

Our research predicts that a UK worker on the average wage of £29,588 will see an extra £31 leave their salary each month.

Not a huge amount on a month-by-month basis, but enough to give your pension a significant boost in the long run.

2018-19
2019-20
Change
Average earnings (£29,588)
Your monthly contribution
£46.90
£78.52
+£31.62
Employer's monthly contribution
£39.08
£58.89
+£19.81
Total contribution (inc. tax relief)
£97.72 (£11.73 tax relief)
£157.04 (£19.63 tax relief)
+£59.32
£50,000
Your monthly contribution
£80.64
£146.21
+£65.58
Employer's monthly contribution
£67.20
£109.66
+£42.46
Total contribution (inc tax relief)
£167.99 (£20.16 tax relief)
£292.43 (£36.55 tax relief)
+£124.44

Scroll across to see the full table.

If we look at a 22-year-old earning the average wage continuing to pay in the previous minimum of 5% to their pension, they could expect a pension pot of around £114,992 by the time they reach 68.

But on the new 8% contribution basis, their expected pension value jumps by over £69,805 to £184,797.

While you might feel the temptation to opt out of your workplace pension scheme and use that money for more immediate costs, you'd be missing out on extra money from your employer and pension tax relief from the government, both of which are come at no cost to you. Remember though that money in a pension is not usually accessible until age 55 (57 from 2028).

It's important to remember that the sooner you start saving into a pension, the more time your money has to grow. Remember if you're investing, the value of investments can fall as well as rise and you could get back less than you invest.

Try our new and improved pension calculator to see how much your pension could be worth in the future.

Lifetime allowance increasing

The lifetime allowance (LTA) is a limit on the value of pension benefits you can build up during your lifetime without suffering a tax charge.

From 6 April, the LTA has gone up from £1.03 million to £1.055 million, and it's expected to increase next year too, in line with inflation.

State pension increasing

You can claim a pension from the government when you reach State Pension age which will pay you a guaranteed income for the rest of your life.

The amount you'll receive depends on whether you qualify for the old state pension or new state pension, how many 'qualifying years' of National Insurance (NI) contributions you have, and if you contracted out of the additional state pension.

The number of qualifying years you have will depend on how many years you have been employed or self-employed and paid NI contributions, and the number of years you have received NI credits for.

Men born on or before 5 April 1951, and women born on or before 5 April 1953, who've paid NI for at least one year, would have qualified for the old state pension. This used to pay a maximum of £125.95 per week, but will now be £129.20. You can receive the maximum if you have 30 NI qualifying years.

Those who qualified for the old state pension may have also built up additional state pension. The maximum additional state pension cap will now be £176.41 per week, up from £172.28.

Men born after 5 April 1951, and women born after 5 April 1953, who've paid National Insurance contributions for at least ten years qualify for the new state pension. This used to pay a maximum payment of £164.35 per week, but will now be £168.60. You can receive the maximum if you have 35 NI qualifying years.

Three investment ideas for a SIPP

A pension, in our opinion, is the best way to save for your retirement. When you add money, you get a boost from the government of up to 45% (different rates apply to Scottish taxpayers) and every UK resident under 75 qualifies. Even children and other non-taxpayers.

It's one of the most generous tax perks available and the main reason why people put money in a pension in the first place. You can't usually take money out of a pension until you're 55 (57 from 2028).

A self-invested personal pension, or SIPP, is a type of pension that lets you choose all your own investments.

Funds are one of the most popular SIPP investments. A fund is a collection of investments, chosen and run by a fund manager. Each fund manager has an objective, for example to grow your capital, or provide a decent income. When you invest in a fund, you're buying a slice of the fund's investments.

There are thousands of funds out there, but we think some have more potential than others. Our team of experts have highlighted three funds they feel offer promising investment opportunities for SIPP investors.

The HL SIPP makes it easy for you to manage your pension. You can see how it's doing online at any time, making changes whenever you like. That way you can breathe life into your pension, and ultimately determine how you enjoy your retirement.

This article is not advice. If you are unsure of the suitability of an investment for your circumstances, please seek advice.