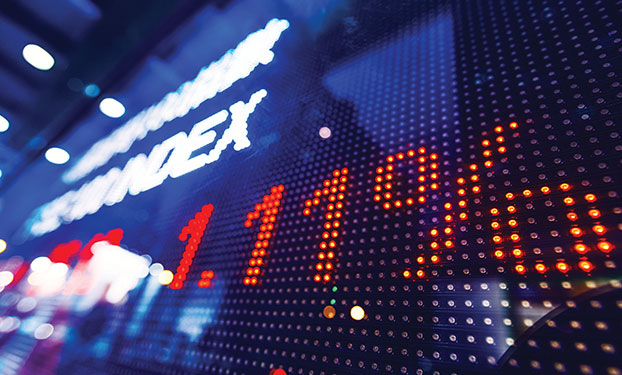 Kate Marshall 13 August 2018
No news or research item is a personal recommendation to deal. All investments can fall as well as rise in value so you could get back less than you invest.
So much for a relaxing summer.
From Brexit to Trump, there was a lot to talk about last month. It was enough to put any investor on edge.
In the UK, plenty of opinion about our exit from the EU was served to the British public. Hard Brexit, soft Brexit, deal, no deal, no Brexit – it's no wonder so many people are put off investing in the UK.
How to prepare your portfolio for Brexit
There were also concerns Trump's threats to China could spark a global trade war. Not only could more trade tariffs be bad for business and competition, but there could be wider implications. It could reinforce protectionism and foster bad blood between other countries.
Trade wars – what does it mean for the markets?
The effect on investor confidence has been damaging. It fell heavily last month and our research shows sentiment towards the UK is at one of its lowest points over the past year.
But it didn't have the sort of impact on markets you might expect. In fact, all major global stock markets made good gains last month. The Chinese stock market was the main exception, but even the broader Asian and emerging stock markets, which have close ties with China, performed well.
This shows that money can be made even when economic and geopolitical issues seem to have hit a new low.
We've always felt investors shouldn't pay too much attention to wider issues when making investment decisions. There's lots of great businesses out there, both home and abroad, that should do just as well and ride out the bad times, as they've done in the past.
Consumers will still need to buy goods, like food, cosmetics or electrical appliances, and use other services, regardless of what's going on in the wider world. So many companies will continue to generate cash, and ultimately this is what should drive share prices in the long run.
That's not to say we're complacent about what's going on in the wider world. If things go awry in the lead up to Brexit, and Trump's spat with the rest of the world reaches breaking point, then markets could be volatile.
And global stock markets have tended to be on an upward trend over the past decade, but this won't carry on forever. So setbacks should be expected from time to time.
Over the long term we still think the stock market's a great home for investors who want to grow their wealth and can accept some risk. But now could be a good time to review your portfolio, and make sure it still meets your objectives and is at a risk level you're comfortable with.
For those with a long-term outlook, we think it makes sense to have diversified exposure to companies from across the globe, including the UK. Our latest ideas for investing worldwide can be found on the Wealth 150+ list of our favourite funds.
Technology
Technology has recently been the other talk of the town. The shares of a lot of tech firms have performed remarkably well over the past year.
The FAANGs – Facebook, Apple, Amazon, Netflix and Google – have driven most of these returns. They're now some of the world's biggest companies, but this means they're under a lot of public scrutiny. Even the slightest step wrong could see their share prices stumble. This recently happened with Facebook after it warned us that both growth and profitability are set to slow.
Thumbs down. Facebook's stock drop
Technology spans more than these big internet companies though. There are plenty of other businesses out there using technology to innovate, improve their services, or cut costs. Adopting technology in the right way can disrupt an entire market or overtake competitors.
Find out more about how far the technology revolution has come, and different ways you can invest, in our special report.
Wealth 150 update
Last month we removed TM Sanditon UK from the Wealth 150+.
We're disappointed with the fund's performance since launch in June 2015. It's underperformed the UK stock market over this time and our analysis shows manager Julie Dean's stock-picking has been weak.
Annual percentage growth
Jun 13 -
Jun 14
Jun 14 -
Jun 15
Jun 15 -
Jun 16
Jun 16 -
Jun 17
Jun 17 -
Jun 18
TM Sanditon UK
n/a*
n/a*
0.1%
0.6%
5.8%
FTSE All-Share
5.6%
5.4%
3.8%
14.9%
9.2%
Past performance isn't a guide to future returns. Source: Lipper IM to 31/07/18. *Full year performance data not available
She's shown an ability to generate strong returns through good stock-picking in the past. But we think she's executed her investment process poorly during her time at Sanditon. This, combined with the fund's underperformance and her poor stock selection means we're not confident the fund can outperform in future. We currently have greater conviction in other managers in the IA UK All Companies sector.
TM Sanditon UK – Wealth 150 removal note
Kate Marshall, Senior Investment Analyst