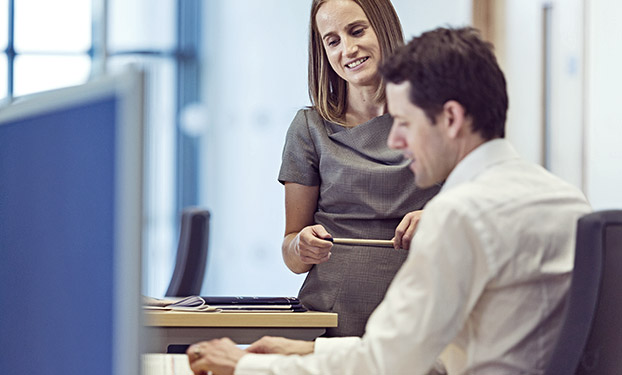 Kate Marshall 18 January 2019
No news or research item is a personal recommendation to deal. All investments can fall as well as rise in value so you could get back less than you invest.
Investors might look at 2018 as a year to forget. All major global stock markets fell in value, and December took most of the pain when share prices fell sharply.
UK investors were offered some respite though. Sterling weakened against the world's major currencies, like the US dollar, so this softened the blow if you invested overseas. The US stock market actually made a small gain in sterling terms.
As we make way into the New Year, it's a good time to look in more detail how markets and our favourite funds performed in 2018.
Remember all investments can fall as well as rise in value so you may not get back what you invest. Past performance is not a guide to the future.
Who performed well?
It's not surprising most funds fell last year because of the market weakness. But it's good to see some Wealth 50 funds made money for investors.
Lindsell Train Global Equity grew 10.5%* even though the broad global stock market fell 3.1%. That's no easy feat. Our analysis shows the managers invested in the shares of companies that performed well, even if the sector or country they're in did poorly.
Take the consumer goods sector, which is made up of companies that often sell everyday household items. It lost money last year, but not all companies are created equal. Unilever and Diageo, which are both held in the fund, did much better. Avoiding weaker areas like energy and materials also helped the fund. It's a similar story for its long-term performance. The managers invest in a small number of companies, which can increase risk.
The fund invests in shares in Hargreaves Lansdown plc and is registered in Ireland, so isn't covered by the FSCS.
Some global bond markets also held up fairly well last year. A lot of overseas bonds are denominated in US dollars, so when the dollar is stronger, returns for UK investors are too.
This helped M&G Global Macro Bond, which invests a lot in foreign bonds and currencies, particularly the US dollar. It makes the fund different to lots of other bond funds. We think it's a great way to diversify a portfolio focused on UK bonds or shares. The ability to invest in emerging market bonds and use derivatives can increase risk though.
Royal London Sterling Extra Yield Bond also did well. The managers focus on achieving a high income. The capital growth from some bonds was weaker last year, but the fund's higher level of income boosted its overall performance.
The managers have done a good job of paying investors an attractive income over the long term too. They do this by investing in high yield bonds and niche areas of the bond market, which are riskier, so they offer a higher yield to compensate. The managers carry out plenty of analysis before investing to make sure they only invest in what they think are quality bonds.
At the moment the fund yields 6%. Income isn't guaranteed and yields aren't a reliable indicator of what you might get in the future.
What didn't do so well?
One of the worst performing areas in 2018 was Indian smaller companies. This is partly because the Indian securities regulator brought in some trading restrictions on the shares of smaller firms.
This hurt funds investing here, like Jupiter India. Some investments in oil companies also didn't help because the price and cost of importing oil rose earlier in the year.
We think there's a lot of potential stored up in India. The government has introduced plenty of reform in recent years, and we think this brings new and exciting opportunities for businesses to grow. And smaller businesses tend to offer more growth potential than larger ones over the long run. Investing in a single emerging market and smaller businesses is high risk though, so you should only consider this fund for a long-term portfolio that can stand higher levels of volatility.
You can find out more about what happened to the fund and what we think about its longer-term prospects in our latest update.
LF Woodford Income Focus also had a tough year. It's run by a manager with a great long-term record, but even the best go through bad patches.
Neil Woodford thinks the prospects for the UK economy are far better than most people think. He's invested the fund in a way that means it could do well if his views are right. Some UK financials and housebuilding companies are held in the fund, for example. But this didn't work well last year.
Ultimately we think Woodford has the skills to navigate markets and perform well for investors over the long run. With this fund he prioritises paying a high income, with some potential for it to grow over the long run. It yields 6.3% at the moment, but this doesn't indicate what the fund will pay in future. Please remember yields are not a reliable indicator of what you might get in the future.
Investments in smaller companies and the potential to use derivatives could increase risk. For more information and our thoughts, take a look at our latest review.
Woodford Income Focus fund update
Finally, Kames Ethical Equity went through a weaker spell last year. The fund tends to avoid sectors like healthcare and oil & gas because of its ethical guidelines. But these areas were some of the strongest performers in the UK. Sectors like financials and industrials didn't do so well, which didn't help because quite a bit of the fund is invested here. Investments in companies such as packaging company DS Smith and asset manager Standard Life Aberdeen were particularly poor. A focus on small and medium-sized companies increases risk.
Audrey Ryan, the fund's manager, has a 20 year track record investing ethically and we still think this is a great option if you want to invest in the UK with ethics in mind.
The fund owns shares in Hargreaves Lansdown plc.
Past performance is not a guide to the future. Source: *Lipper IM to 31/12/2018. Where no data is shown, figures are not available.