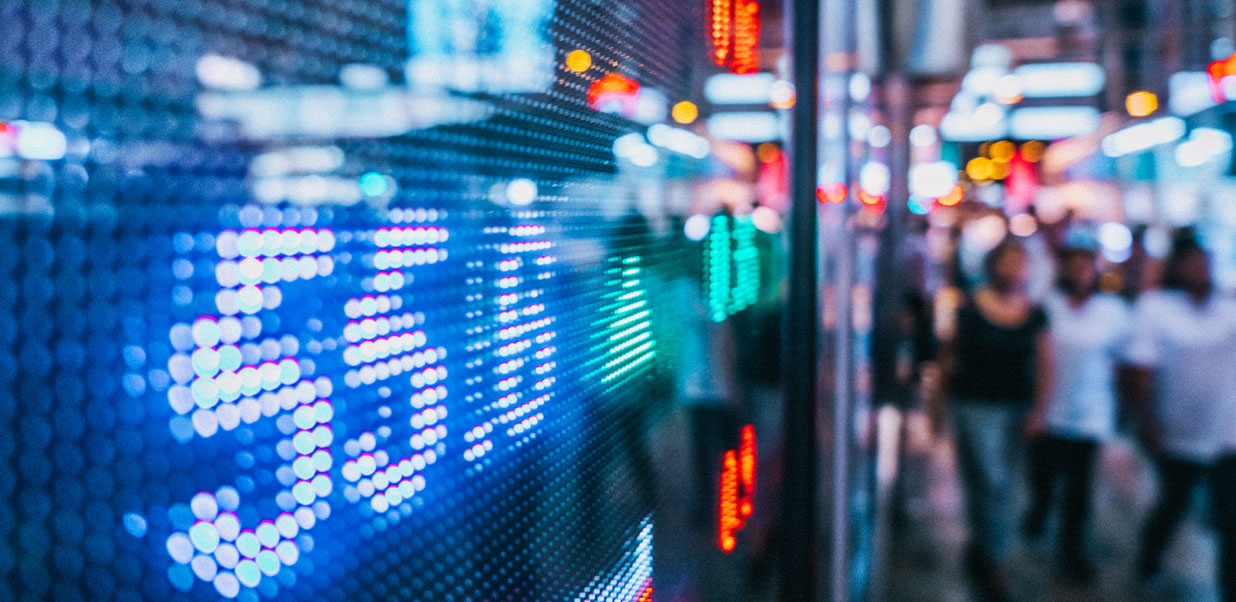 Important notes
This article isn't personal advice. If you're not sure whether an investment is right for you please seek advice. If you choose to invest the value of your investment will rise and fall, so you could get back less than you put in.
'Equity income' is a timeless investment style.
It epitomises why people invest in the first place – to receive a share of the profits generated by a business. And it's a perfect example of the "buy low, sell high" investment approach.
Buy low, sell high
Income investors aim to invest in companies when their share prices are low, in order to benefit from a higher level of income.
This works because a company's dividend yield, a measure of the income it pays, is inversely related to its share price. So a falling share price leads to a higher yield, assuming the dividend doesn't get cut, and vice versa.
Once the share price rises (and the yield falls), investors have the opportunity to take profits and reinvest the proceeds into the next high-yielding opportunity.
In theory, it's simple. In practice, it's not.
All investments and their income, fall as well as rise in value, so you could get back less than you invest. Yields are not guaranteed, nor a reliable indicator of future income.
Last month we spoke to a number of veteran income investors with proven track records of investing this way. They each look for companies that are lowly valued – they invest when they think a company's share price is lower than its true worth and its dividend yield is attractive. But they each do this in a slightly different way.
Adrian Frost, Nick Shenton and Andy Marsh, managers of Artemis Income, look for companies with healthy cash flows and dividends, whose shares are good value. And they like businesses that keep incrementally improving, which could ultimately help the share price rise.
They gave us the example of RELX and Wolters Kluwer. These publishing companies are seeing the benefits of investments they previously made into their businesses, and have a pipeline of improvements stretching to 2024.
Nick Shenton – how to invest through the Brexit noise
They aim to avoid "value traps" - companies that look good value but offer optimistically high yields. For example, they may be incapable of growing their profits, or operate in an industry that's in decline, meaning they fail to improve or sustain higher dividends.
Chris Murphy, manager of Aviva UK Listed Equity Income, thinks the valuations of 'quality growth' companies are too high. Instead he's looking for businesses that have temporarily fallen out of favour and have the potential to improve. While he waits for this to happen, he collects the dividends they pay, which are shared with investors.
These should still be quality businesses at their core though. Murphy doesn't want to invest in those that fail to recover. Importantly, they must be able to generate growing cash flows that can support the dividend.
Find out more about Aviva UK Listed Equity Income
We also met Clive Beagles, co-manager of JOHCM UK Equity Income. He's a classic value investor and tends to be more contrarian. It means he often invests in companies that offer some of the highest yields in the market, but they can remain out of favour for prolonged periods of time. Some fail to recover, but over the long term Beagles has identified more businesses that have gone on to do well. Some of these are smaller companies, which are higher-risk.
Current investments include WPP. Some other investors think the advertising company is in long-term decline. But Beagles takes a different view. He says there's more going on behind the scenes than is seen at first glance. The use of digital technologies is growing within the business, which could improve efficiency and lead to lower costs.
Please note that for each of the funds mentioned, charges can be taken from capital which can increase the yield but reduces the potential for capital growth.
UK market is great value
All three managers share the view the UK market looks good value at the moment.
They say this value is evidenced by the amount of corporate activity taking place in the UK. For example, some businesses are taking advantage of the low valuations on offer by buying, and taking over, others at cheap prices.
Our own analysis broadly agrees with this, and we also think the dividend yields on offer in the UK are currently some of the most attractive in the world.
Investing in the UK, like any stock market, is not without risks though. A no-deal Brexit or potential Labour government could create uncertainty for both the UK economy and businesses. Over the longer term we think many UK businesses will prosper and keep paying dividends to shareholders, even though there may be some volatility along the way.
Value returns to favour – a flash in the pan?
It's well publicised that 'growth' stocks have outperformed 'value' over the past decade. But last month value stocks moved ahead, allowing their investors a rare sigh of relief. September's shift wasn't enough to reverse the long-term trend but it's a reminder that markets can and do move quickly. Any greater shift back in favour of value could happen swiftly. Investors could miss out on potential gains if they don't already have some exposure to this style in their portfolio.
We're not saying the current growth trend is about to end, these businesses still have the potential to do well. But we do think it's wise to take a diversified approach to lessen the impact when the trend turns, as all investments will fall as well as rise in value.
A balanced portfolio should include exposure to lots of different companies across many sectors and countries. If you invest in funds, you should make sure they're run by managers with different strengths, investment styles and areas of focus.
This article is not personal advice. If you're unsure if an investment is suitable for your circumstances, please seek advice.
Is value investing in for a U-turn?
Our research team pull evidence from history, stock ratios, inverted yield curves and other industry experts to explain why now is the time to give unloved stocks a second look.
Important notes
This article isn't personal advice. If you're not sure whether an investment is right for you please seek advice. If you choose to invest the value of your investment will rise and fall, so you could get back less than you put in.
Daily market update emails
FTSE 100 riser and faller updates
Breaking market news, plus the latest share research, tips and broker comments
Register