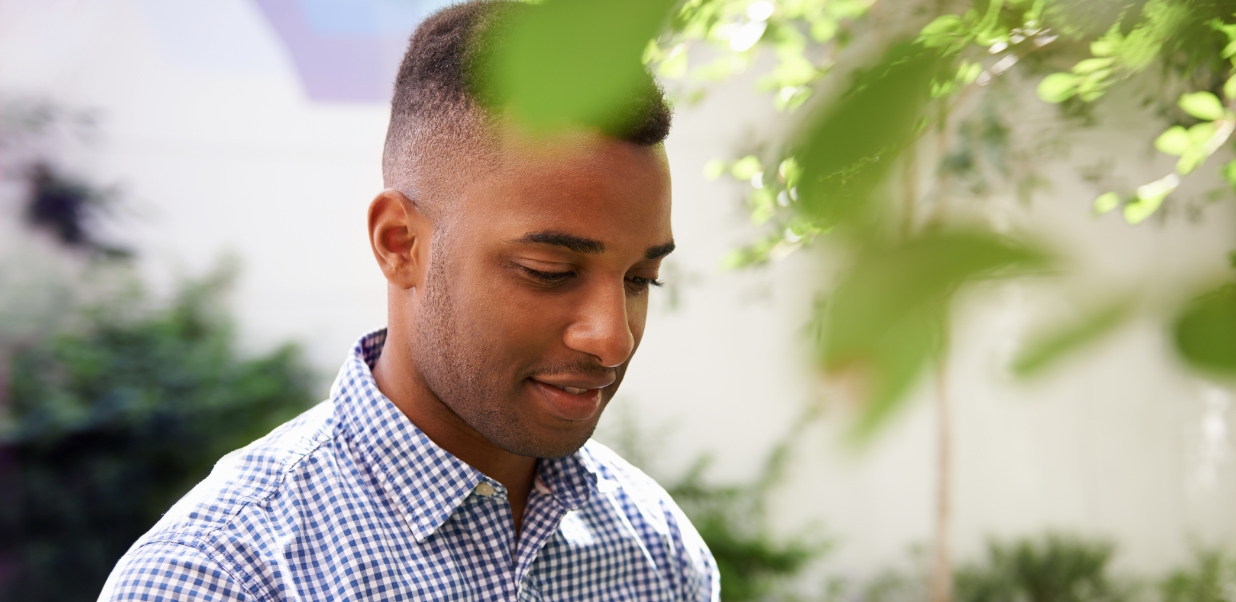 Important notes
This article isn't personal advice. If you're not sure whether an investment is right for you please seek advice. If you choose to invest the value of your investment will rise and fall, so you could get back less than you put in.
The amount of information we have access to is huge.
Each year the amount of data produced doubles, and about 85% of all data was made over the last two years alone. But it's how we use that information which is important.
Being an expert in finance and economics doesn't always make a good investor. The world is governed by lots of things – from to biology, to psychology. You can't be an expert in them all. And you don't need to be.
Often, the biggest barrier to successful investing is yourself. If you get your head around a few basic investing rules and behaviours, you could be well on your way to growing money for your future.
Perhaps most importantly, remember why you're here in the first place – and don't let other people who are playing a different game to you knock you off course.
This article isn't personal advice. All investments can fall as well as rise in value so you could get back less than you invest. If you're not sure if an investment is right for you, please seek advice.
If you don't understand it, don't buy it
Some of the greatest investors have the simplest approach. They've got a few rules – what to look for and what to avoid.
We can learn from that.
You'd think that when it comes to one of the most proven and successful investors like Warren Buffet, that more people would just copy what he does, as it seems to have worked.
But his long-term business partner would say that "more investors don't copy our model because our model is too simple. Most people believe you can't be an expert if it's too simple."
Too much information can be overwhelming and overcomplicated. With investing, we think the best approach is a simple one – pick good fund managers, think long-term, and stick to your plan.
Different types of information are useful for different things
A fund manager's performance over the last year, or a quarterly earnings update from a company whose shares you hold, might be useful for a short-term insight.
Knowing that the price of an investment plunged today might influence you to make an immediate decision on whether you'd like to buy or sell.
But that information probably won't be useful in a year's time, and it probably won't give you much context either.
These quick and expiring pieces of information might seem timely and relevant – but how useful are they really, and how much do they affect your long-term plan?
If you understand why it is that the price of the investment plunged – whether it's due to a fundamental problem with the business, or just the tendency for investors to follow the crowd – that's knowledge that could be useful time and time again and will help you make better informed decisions.
Be comfortable with being uncomfortable
Training for a marathon might not be enjoyable, but the feeling when you complete it can make you forget the pain. Investing's no different.
Investing involves taking on risk. And in general the more risk you take on, the higher the potential reward – but you'll also have to accept that it might not be a smooth ride, and there is no guarantee you'll get back what you put in.
Nothing can be good all of the time, but it's important to stick to your guns. If everybody knew when the best and worst days in the stock market were going to be, then investing would be a completely different ball game.
In the last three months of 2018, the FTSE100 fell by around 7%. But in the first three months of 2019 it bounced back, making up a lot of its lost ground.
If you'd missed the best ten days in the market between 1998-2017 – that's 10, out of 5,217 days – you'd have halved your return. Instead of growing to almost £34,000*, a £10,000 investment grew to just over £17,000 when invested in the FTSE All-Share. There's no guarantee this will happen again and past performance isn't a guide to the future.
Missing the ten best days in the market (1998-2017)
Scroll across to see the full chart.
Past performance isn't a guide to the future. Source: *Lipper IM to 31/12/17
There's never a right time
If you hold off investing until the 'perfect moment', or you take your money out of the market on a whim, you risk missing out on the gains that'll help buffer the losses that you'll go through one day.
And that's why we think it's important to stick with good fund managers, those who've ridden the ups and downs, and stuck to their process throughout. Anybody can get lucky on a stock one time. It takes skill to repeat it time and time again.
You can find our favourite funds, managed by who we think are the best managers, in the Wealth 50. If you're ever not sure you should ask for advice.
Turn down the background noise
We're long-term investors. This means we don't act on short-term noise or the latest trends, and we're not driven by a one-off event which we don't think will have a long-term impact.
But we don't ignore the noise completely because it can give us useful clues as to what's causing investors to make the decisions they're making. We can't forget that it's investors and how they're feeling that drive markets. So even if you wouldn't act on the noise, it's useful to understand where it's coming from.
There are a few well known trends in the investing world, whether it was the recent rush towards cryptocurrencies, or the technology boom which started in the late 1990s. There are trends outside the investing world too, like the mullet, double denim and the Tamagotchi. These trends all have something in common – they're driven by humans. And with the odd exception, they rarely come back into fashion.
Whatever, whenever and wherever the trend, the point is that people will think it's the best thing in the world for a short amount of time. Then when it loses its shine slightly, or something new and different comes along, suddenly… it isn't.
It's useful to recognise the signs of a trend. You might want to use it as your warning to sit tight, and to do nothing. Being boring can be best.
Look less at the specifics and more at the bigger picture
You'll never know everything. You won't get it right every time. You can measure what's happened in the past, and you can gather specific information on investments, companies and performance – but the rest of it is all down to how that information fits together as part of the bigger picture.
Not everything is relevant.
There are plenty of different ways to invest, and no one way is better than another. Different fund managers have different goals, and their different styles will perform well and not so well at different times, depending on the way that they invest their portfolios. If something seems too good to be true it probably is.
When the news is full of events or uncertainty, people are usually reacting to it. So it's often the case that when the biggest risks come along, they aren't common knowledge, so we have no idea how people will react to them.
With this in mind, it's more realistic to set up your portfolio to absorb some damage. The only certainty is uncertainty, so it's smart to have a broad mix of investments.
How to diversify your portfolio
And it's also why we think it's important to look further than the short-term when you're investing. Getting something right once could be luck. Getting it right multiple times is skill. And riding tough market conditions and coming out the other side is worthy of recognition.
There are few people we think have genuine investing skill. You can read our Wealth 50 to see our favourite funds managed by people we think do.
And our latest research updates cover conversations we've had with these managers, in case you'd like to see what they're getting up to with your money.
---
Editor's choice: our weekly email
Sign up to receive the week's top investment stories from Hargreaves Lansdown
Please correct the following errors before you continue:
Hargreaves Lansdown PLC group companies will usually send you further information by post and/or email about our products and services. If you would prefer not to receive this, please do let us know. We will not sell or trade your personal data.
Important notes
This article isn't personal advice. If you're not sure whether an investment is right for you please seek advice. If you choose to invest the value of your investment will rise and fall, so you could get back less than you put in.
Daily market update emails
FTSE 100 riser and faller updates
Breaking market news, plus the latest share research, tips and broker comments
Register