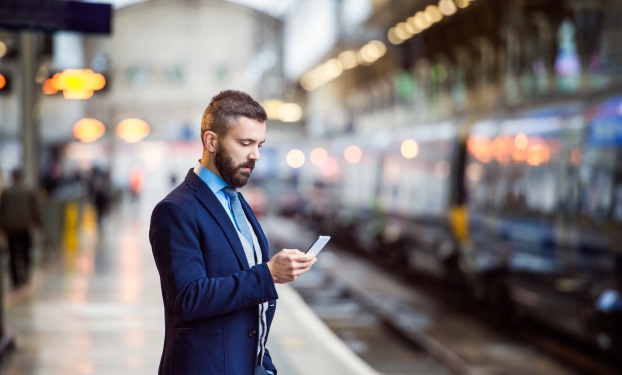 Chris Saint 8 March 2019
No news or research item is a personal recommendation to deal. All investments can fall as well as rise in value so you could get back less than you invest.
If you know you'll be transferring money abroad in the future, you'll want to convert your money at a time when exchange rates look good. After all, everyone wants a good price. One way that many people do this is to keep an eye on the currency markets.
But this can be time consuming. And what happens if rates improve momentarily and you miss the spike? With all the time and effort involved, why do it yourself?
If you have a specific rate in mind that you'd like to achieve, our currency service can watch the markets on your behalf. Here's two simple ways you could save time and money when arranging an overseas payment.
Keep informed with simple rate alerts

You specify a target rate that you want to achieve and our currency specialists will call you if it becomes available (during our business hours of Mon-Fri 8am-6pm). This means you can get on with life, without having to spend all your time watching the markets. It's an easy way of keeping up to date and there's no obligation to convert your money if you don't want to.

Secure a rate with a market order

A market order is similar to a rate alert, but we'll go one step further and automatically convert your currency for you if your rate becomes available. This could help you capture improvements to rates, even if they happen in the middle of the night. We'll contact you afterwards to arrange payment and send the currency to where you'd like it to go.

Advantages and considerations

Rate alerts and market orders could help you to benefit from improving exchange rates as they happen. They're flexible too, and can be changed or cancelled at any time before they trigger.

But a market order is classed as a 'firm order', meaning you're obliged to purchase the currency if it triggers. You should make sure you have quick access to the money needed to pay for your currency.

Generally rate alerts and market orders are useful if the markets move in the way you hope but don't offer any shelter if rates move against you.

Looking to shelter your payments from currency volatility? Read about the benefits of fixing an exchange rate.

When can I use a rate alert or market order?

These services could be useful whenever you hope to achieve a better exchange rate than is currently available. They're most useful when you have some planning time built in, to allow the markets a bit of time to potentially reach your target. For example:
Buying or selling a property abroad - where even a slight change in exchange rates could cost or save you a significant amount.
Sending living expenses overseas - where it could help you budget more efficiently if you're to exchange your money at a specific rate.
Transferring money to family or friends.
We're here to help
It's easy to set up a rate alert or market order and you won't pay extra for either service. Just call our currency specialists on 0117 311 3257 (Mon-Fri, 8am-6pm) or visit our website to find out more about our currency service.
This article, like our currency service, is not personal advice.
The Hargreaves Lansdown Currency Service is a trading name of Hargreaves Lansdown Asset Management Limited, which is a wholly owned subsidiary of Hargreaves Lansdown Plc, One College Square South, Anchor Road, Bristol, BS1 5HL. Company Registered in England & Wales No. 1896481. It is authorised by the Financial Conduct Authority (FCA) as a Payment Institution under the Payment Services Regulations 2017. The Firm Reference number is 115248. The marketing of the currency service is not regulated by the FCA. March 2019.