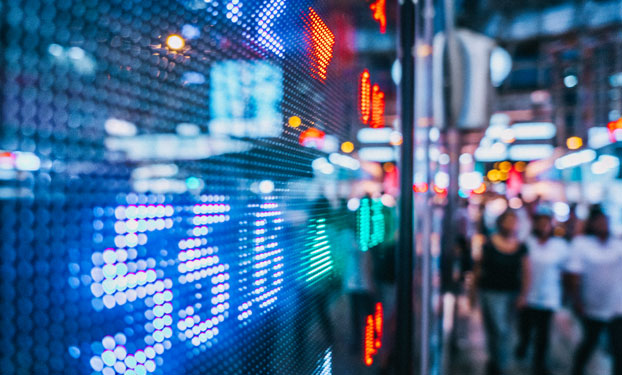 Dominic Rowles 30 April 2019
No news or research item is a personal recommendation to deal. All investments can fall as well as rise in value so you could get back less than you invest.
Tracker funds are a low-cost way to invest your money in a broad range of companies.
They aim to match the performance of a collection of shares or bonds, otherwise known as an index. The alternative is an active fund, which is run by a professional stock picker with the aim to deliver better performance than the index in the long run.
Tracker funds have been extremely popular in recent years. And we think their popularity's justified.
They could be a great addition to your portfolio, whether you're brand new to investing or an experienced hand.
Remember all investments can go up and down in value, and you could get back less than you invest. This article isn't personal advice and if you're not sure if an investment is right for you please seek advice.
A tracker for beginners
If you're new to investing, the amount of information available to you can be daunting. It can be hard to make sense of it all and even harder to know where to start.
We think tracker funds can be a great way to dip a toe in the market. They'll help build your confidence and could give you greater diversification.
We think the UK is a great place to start.
It's home to some of the most innovative and dynamic businesses in the world. From pillars of global industry to higher-risk smaller companies with the potential to become the market leaders of tomorrow.
We think the Legal & General UK Index is a great way to invest in the UK. It tracks the FTSE All-Share, an index of more than 640 large, medium-sized and small UK companies.
In time, you can carry out your own research to build a portfolio that combines trackers and actively-managed funds to help deliver strong performance over the long term.
A worthwhile addition to your portfolio?
If you're a more experienced investor and already have a portfolio of funds, we think you could consider a tracker too.
Diversification is the cornerstone of a successful investment portfolio. One way to diversify is to invest globally.
But actively-managed global funds might be less diversified than you think. Most tend to invest in a small selection of companies and won't necessarily be exposed to all areas of the global market.
That's why we feel a global tracker could be a good addition to many portfolios. Our favourite way to track worldwide stock markets is the Legal & General International Index Trust. It tracks the FTSE World (ex UK) Index and invests in around 2,350 companies across the globe.
It also invests in emerging markets which have plenty of long-term growth potential, but are higher-risk.
Or you could consider a tracker for US exposure.
The US accounts for more than half of the global stock market and is home to companies that dominate their field. We think most diversified portfolios should have at least some exposure.
But it's one of the most heavily researched markets on the planet and reacts quickly to new information. That makes it difficult for active fund managers to consistently deliver better performance than the broader US stock market.
We like the Legal & General US Index Fund. It tracks the FTSE USA Index – a broad index of more than 620 large and medium-sized US companies. We think its low ongoing charge should help it track its index well over the long run. Please note that the HL annual charge of a maximum of 0.45% will also apply. View our full list of charges.
Find out more about these funds, including charges
---
---