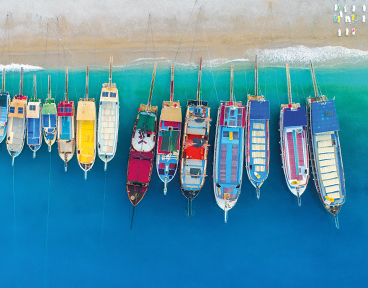 No recommendation
No news or research item is a personal recommendation to deal. All investments can fall as well as rise in value so you could get back less than you invest.
Running your own business can mean independence and potentially lucrative financial rewards.
Making sure your business is profitable is one thing, but being your own boss also means there's no one you can rely on for help with your long-term future.
Saving for retirement is your responsibility.
Whether you're a sole trader or the owner of a limited company, there are a number of ways for you to get there, and still be able to focus on growing your business at the same time.
Sort out your pension

How to find old pensions

The government's Pension Tracing Service can help you track down any old workplace schemes from any previous jobs. This can be a good way to start taking control of your retirement saving. All you need is the name of your old company to get started. Find your lost pension.

Starting a new pension

If you don't have any old pensions, the first step is setting up a plan. Most self-employed people use a personal pension for their savings. Two of the main options are a stakeholder pension or SIPP (self-invested personal pension), like the HL SIPP. Our SIPP is designed for investors happy to make their own decision. Don't worry about paper, you can apply online.

You can hold all your SIPPs in one place. Here's how.

Make tax-efficient employer pension contributions

If your business is a limited company, you could make employer contributions to your pension from your company account. It would be deducted from the company's profit, and so there would be no corporation tax.

As the money isn't being paid to you as a dividend or salary, you personally wouldn't pay any tax until the time comes to take the money out, which you can do from age 55 (57 from 2028).

Business owners might prefer this approach, as contributions paid like this can be treated as an allowable business expense. You also won't pay employer or employee National Insurance on the contribution.

It's important to remember that HMRC might question if the total salary and benefit package is excessive for the work undertaken. If you're not sure, please check with your accountant.

If your spouse or partner works for your company, you can make employer contributions for them too, and save tax. Doing this will boost your joint income in retirement, since you can take money from two pension pots.

Outside of the company, you can even pay in £3,600 gross as a personal contribution (£2,880 net) and your spouse or partner will receive basic-rate tax relief, even if they're a non-earner.

Complement your pension with an ISA

ISAs (Individual Savings Accounts) can be a great way of complementing your pension saving. Currently there's no capital gains tax to pay in an ISA and no tax on UK income.

Not only are ISAs tax efficient, you can also access your money whenever you like, which is useful when your earnings change each month.

This tax year your allowance is £20,000. If you make the most of your allowance every year, choose the right investments, and hold them for long enough, you could build a substantial pot.

On top of all that, an ISA can save you time. There's no need to declare it on your tax return. It should be remembered all investments can fall in value as well as rise so you could get back less than you invest.

Include your pension contributions in your tax return

Saving into a pension can reduce your overall tax bill. Make sure you include any personal pension contributions for the previous tax year when you complete your self-assessment tax return by 31 January each year.

If you pay tax above the basic rate, then you could reduce your tax bill by quite a bit. Your tax return relates to the previous tax year, so making a pension contribution today could cut next year's tax bill. You can also claim tax back on any contributions you've made in the last 4 tax years.

Tax benefits will depend on your individual circumstances and tax rules can change. Money in a pension can normally only be accessed from 55 (57 from 2028).

This article isn't personal advice. If you're not sure if an investment is right for you, ask us for advice.
Transfer your existing SIPP to us
Find out more about the HL ISA
---
Read on – Property and the stock market
Back to Investment Times homepage
The value of investments can go down in value as well as up, so you could get back less than you invest. It is therefore important that you understand the risks and commitments. This website is not personal advice based on your circumstances. So you can make informed decisions for yourself we aim to provide you with the best information, best service and best prices. If you are unsure about the suitability of an investment please contact us for advice.