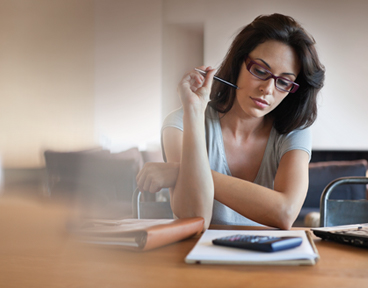 No recommendation
No news or research item is a personal recommendation to deal. All investments can fall as well as rise in value so you could get back less than you invest.
Working for yourself is all about risk and reward.
You're often taking significant risks – there's no employer paying your wages to give you a secure income. In many cases setting up a business involves a big capital outlay, and sometimes debt too. But with the risk can come significant benefits – being in control of your own destiny, the flexibility to fit work around your life, and of course the chance to earn more money.
It's a bit like investing.
All investments go up and down in value, which means there's the risk of loss. As investors that's a risk we accept, because over the very long term we're usually rewarded for that risk – stock markets have grown investor's wealth over time. That said though, there are no guarantees they'll keep rising in future.
Investing in business
Risk-takers are the lifeblood of our economy. They create jobs and wealth for the people around them.
HL was founded 37 years ago in a spare bedroom, and now we have around 1,500 people working here.
Stock markets really work alongside business owners. Companies need money to grow, and it's investors who supply that money.
Apple, the first company in the world to be worth $1 trillion, wasn't always so cash-rich. Just over 20 years ago it was just 90 days from bankruptcy, before investors stepped in to save the day. Without investors, the iPhone wouldn't be a thing.
Taxes on the rise
Entrepreneurs create wealth for economies. In the same way investors support businesses, we think our government should be encouraging and supporting our young businesses, our self-employed, and those who work for themselves. The best way of doing this is through the tax system.
But as you probably know, this isn't always the most helpful.
The government promised to abolish Class 2 National Insurance contributions, but have since changed their mind. That's going to cost you on average £134 a year.
And if you pay yourself dividends, it's hard to ignore the dividend allowance was cut from £5,000 to £2,000 in April. If you're a basic rate tax payer receiving at least £5,000 in dividends, you'll pay an extra £225 in tax this year. For higher rate tax payers that quickly jumps to £975.
We're here to help. We've written this special edition of the Investment Times to help the business savvy, and those who work for themselves, make the most of their money.
The power of a pension
Don't be put off by the name, pensions are incredibly valuable. They're the single most tax-efficient way to save for your retirement.
Take a look at some of the benefits:
Business owners and directors – contributions to an employee's pension, including your own, can be offset against corporation tax
Sole traders and partnerships – contributions to a pension can be offset against their income tax liability
Employers – unlike salary, pension contributions are exempt from National Insurance of 13.8%
Employees – subject to the employer's approval, employees can save tax and National Insurance by exchanging part of their salary for a pension contribution.
Remember tax rules can change and benefits depend on your circumstances. You can usually take money out of a pension from 55, or 57 from 2028.
If you're adding money to a pension after you've paid income tax, you can claim tax relief.
How much tax relief could i get?
You pay
Government adds
Total in your pension
Extra claimed through tax return
Effective cost
Non tax payer or 20% tax payer
£800
£200
£1,000
£0
£800
40% taxpayer
£800
£200
£1,000
£200
£600
45% taxpayer
£800
£200
£1,000
£250
£550
You must pay enough 40%/45% tax to claim the full relief shown above. If you pay Scottish income tax, you might pay a higher rate of tax and be able to claim more tax relief as a result. Find out more about the tax benefits of a SIPP.
You can usually put up to £40,000 each tax year into a pension. With higher-rate tax relief that could effectively cost you just £24,000.
If you're making a £40,000 contribution from your company you could save £7,600 in corporation tax, and it'll be free from tax for the employee too.
Personal vs Employer contribution
| | Salary | Tax and NI deducted | Amount paid into pension | Tax relief | Total in pension |
| --- | --- | --- | --- | --- | --- |
| Personal contribution (basic-rate relief) | £1,000 | £320 | £680 | £170 | £850 |
| Employer contribution | £1,000 | £0 | £1,138 | £0 | £1,138 |
The HL self-invested personal pension (SIPP) is a good way to start saving for your future and some tax at the same time.
Read more about the benefits of a SIPP
Think about where to invest
It's also worth pointing out that there's a lot of flexibility when investing in a SIPP. And any gains you make are free from UK taxes. Remember tax rules can change and the benefits of investing in a pension depend on your circumstances.
We know businesses can make fantastic investments. The managers of the Lindsell Train Global Equity Fund look for exceptional businesses from around the world with strong brands that have lasted decades, if not centuries.
Find out about investing in the best in business
If you'd like to choose something that's got an extra layer of management behind it, you could consider the HL Multi-Manager Income & Growth Trust. It's managed by our experts and offers a dividend yield of 4.4%, variable and not guaranteed.
Read more about the fund, and the power of reinvesting dividends
Finally, property has been a popular investment over the last few decades. But with the government changing tax rules on buy-to-let properties, the returns aren't as attractive as they once were. We take a look at some alternative ways to invest in property, which you can own in a SIPP.
Tax is a complex area, and this article is a general overview. Make sure you get specialist advice if you're not sure.
Learn more about what advice can provide
---
Read on – The benefits of a pension – here what some of our clients have to say
Back to Investment Times homepage
The value of investments can go down in value as well as up, so you could get back less than you invest. It is therefore important that you understand the risks and commitments. This website is not personal advice based on your circumstances. So you can make informed decisions for yourself we aim to provide you with the best information, best service and best prices. If you are unsure about the suitability of an investment please contact us for advice.