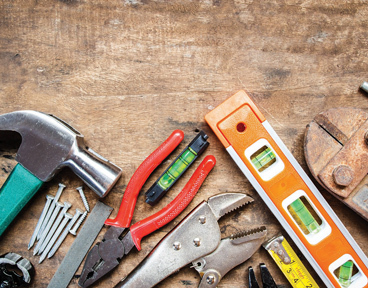 No recommendation
No news or research item is a personal recommendation to deal. All investments can fall as well as rise in value so you could get back less than you invest.
Our favourite UK income managers in a simple, convenient investment
Expertly managed by our in-house team
Yield 4.4% (not a reliable indicator of future income)
When you look back at the history of some of today's biggest companies, something unusual stands out.
Garages.
Amazon, Apple, Google, Virgin, Microsoft, Dell, HP and Disney all started in a garage and have gone on to become huge successes. Could a modest first office hold the key to future success? Unlikely. But it does go to show that big things start small.
Evolution before revolution
We're so used to seeing finished products that it's easy to forget how they came to be. None of the companies listed above were overnight successes.
We get caught up in stories which talk about a "breakthrough" moment, but the reality's always different. Any revolution begins with years of evolution. We're quick to overlook these years of graft but success almost always comes from starting with something small, and repeating it over and over again, without stopping.
To prove the point, arguably the best entrepreneur in the world, Jeff Bezos, often talks about being relentless. He's so fond of the concept that he was going to call his young business Relentless.com, before he eventually settled on the name Amazon. He still ended up buying the domain and if you type it into your browser, you'll end up on the Amazon homepage.
Relentless investment
Investing is no different. The key is to find a process that works for you, which lets you ignore distractions, and you can repeat over and over again. That's what our experts aim to do with the HL Multi-Manager Income & Growth Fund and here's how you could benefit.
The fund invests in what the investment industry calls 'equity income', which was coined to describe funds that invest in dividend paying companies. We think it's investing in the purest sense.
When you buy shares in a company you become a part owner of that company, which entitles you to a share of any profits that are paid out in dividends. The best companies find ways to increase their dividends over time and, all else being equal, as their dividends rise the company's share price should rise too.
Before going on, it's worth spending a moment on dividends. It's hard to overstate how important they are.
Hidden power of dividends
You might already take dividends as a source of income, but they can be just as valuable when you want to grow your wealth. As you're paid dividends you can use them to buy more shares, which could entitle you to more dividends in the future. You can then buy even more shares to receive yet more dividends, and so on.
Over the years, repeatedly reinvesting dividends in this way can reveal hidden powers. Although remember, past performance is not a guide to the future. Any investment can fall as well as rise in value so you could get back less than you invest.
A £10,000 investment in UK shares made thirty years ago would have grown to £40,436 without reinvesting dividends, but to £120,200 with income reinvested.
This is the power of relentless repetition, known in finance as compounding.
Your first dividend would have been worth about £210, and that's why a lot of investors never fully harness the benefits of compounding. Gains look small at first, then modest, and all of a sudden they become substantial. Of course, this describes how compounding works but by the nature of investing, it's not guaranteed.
Stay the course
One thing is for sure. You have to stay the course and keep your focus or you'll never reap the rewards. It's easy to talk about holding an investment for decades, but it's hard to do. Which is where we think our fund managers, Lee Gardhouse and Ellen Powley, can help through their HL Multi-Manager Income & Growth Fund. It's managed by our sister company HL Fund Managers Ltd.
You might like to do this research yourself, but there are thousands of companies on the stock exchange. That's where a fund is useful. You can invest with an expert who picks dividend paying companies on your behalf, and there's no shortage of funds to choose from. In fact, we think equity income investing is home to some of the UK's best fund managers. So which do you choose?
The best of equity income
Our HL Multi-Manager Income & Growth Fund aims to invest in the best of these funds. It fuses different but complimentary styles from leading fund managers into one, convenient investment. Importantly, we think it lets you take a step back and let compounding work its magic. That's because Lee and Ellen constantly monitor the portfolio, and make changes on investors' behalf. We think the extra layer of management more than justifies the extra costs.
They've managed the fund for the past sixteen years – through the Iraq war, the global financial crisis, the Eurozone crisis, numerous elections and plenty of other distractions. Despite this, we think Lee and Ellen have made great returns for patient investors. The managers do invest in funds focussed on smaller companies, which are higher-risk.
Those who've held the fund since it launched, and reinvested the dividends along the way, have nearly quadrupled their initial investment. A £10,000 starting sum would now be worth £37,662*. But past performance isn't a guide to how it'll perform in the future.
HL Multi-Manager Income & Growth Trust - performance since launch (%)
Past performance is not a guide to the future. Source: *Lipper IM to 31/10/2018
Annual percentage growth
Oct 2013 -
Oct 2014
Oct 2014 -
Oct 2015
Oct 2015 -
Oct 2016
Oct 2016 -
Oct 2017
Oct 2017 -
Oct 2018
HL Multi-Manager Income & Growth
2.3%
11.2%
7.1%
11.1%
-4.6%
IA UK Equity Income
1.9%
7.6%
6.8%
12.6%
-3.6%
Past performance is not a guide to the future. Source: *Lipper IM to 31/10/2018
We think the fund could make a great core for most portfolios and that the results more than justify the additional cost of a multi-manager fund.
This fund takes charges from capital, which increases the yield but reduces the potential for capital growth.
The fund is managed by our sister company HL Fund Management Ltd.
More about HL Multi-Manager Income & Growth Fund, including charges and how to invest
View HL Multi-Manager Income & Growth Fund Key investor information
HL Multi-Manager Income & Growth
Read on - 4 smart ways to save
Back to Investment Times homepage
The value of investments can go down in value as well as up, so you could get back less than you invest. It is therefore important that you understand the risks and commitments. This website is not personal advice based on your circumstances. So you can make informed decisions for yourself we aim to provide you with the best information, best service and best prices. If you are unsure about the suitability of an investment please contact us for advice.