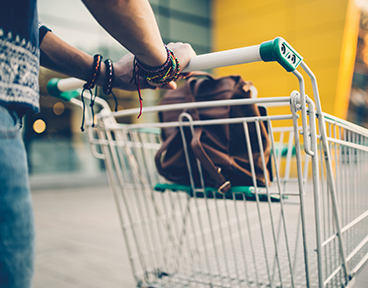 No recommendation
No news or research item is a personal recommendation to deal. All investments can fall as well as rise in value so you could get back less than you invest.
Managed by a team with decades of experience
The fund can invest in companies from around the world
It could offer great long-term growth potential
Legendary investor John Templeton said, 'History shows that time, not timing, is the key to investment success. Therefore the best time to buy stocks is when you have the money.'
He's saying that given enough time, the stock market has always gone up. It doesn't go up in a straight line though, so be ready for dips and bumps along the way.
Ideally you want to buy in the dips and sell at a high. But there aren't many people who can do that and get it right. Lots of people get it the wrong way round, buying after the good times and selling after the market's fallen.
Lots of companies pass some of their profits to shareholders in the form of dividends, even when share prices aren't going up. You can't collect dividends if you aren't invested.
If you have spare money to invest for the long-term, Templeton suggests you're better off getting it invested, being patient, and letting time do its thing.
Invest in great companies
We really like the Lindsell Train Global Equity Fund as a long-term investment. It invests in companies around the world and focuses on developed markets like the UK, US and Japan. It's run by experienced investors Nick Train, Michael Lindsell and James Bullock. They use a simple philosophy – invest in great companies and own them, ideally, forever.
Lots of the companies in the fund share two things in common, strong brands and longevity.
Companies with well-known brands have lots of loyal customers that buy their products again and again. They tend to make more sustainable earnings and cash flows, which can be reinvested back in to the business. This way they should benefit from the power of compounding. In other words, growth on top of growth. Like all investments the fund can fall as well as rise in value so you could still get back less than you invest.
You'll be familiar with lots of the brands in the fund. Pepsi anyone? And you probably have a few of Unilever's products around the house, like PG Tips tea, Dove soap and Persil washing powder.
Like Templeton, the managers think that with enough time, the stock market will go up. Successful businesses make the most of new technology, so they expect their share prices to rise over the long run, although it isn't guaranteed. The fund invests in a number of companies that take advantage of tech, like media company RELX, which is making the most of the switch from print to digital in the academic research it offers.
Simple but effective
The managers only invest if they think a company will be popular for a long time. So they don't buy and sell companies very often – why sell a great business to buy an inferior one?
They don't think there are many truly great businesses around. When they find one, they want it to make a meaningful difference to the fund's performance, so they only hold around 25 – 30 different companies' shares. Each one can have a big impact on the fund, so it does increase risk. The fund can also invest in smaller companies which adds potential for growth, but they're higher-risk.
And they come up with some interesting ideas. Juventus Football Club might seem an unusual investment, but it actually fits well with the manager's philosophy when you think about it. Tracing its routes back to the 19th century, it certainly has longevity. And Nick Train thinks the masses will keep paying to watch football, which should mean lucrative TV deals for football clubs.
The effort the managers put into buying great companies has made for great results.
Since the fund launched in March 2011 it's grown 244%*. That compares to 121% for the FTSE World. Remember that's not a guide to how it'll perform in the future.
Lindsell and Train are both very experienced managers with successful track records going back decades. They've proven they're excellent at picking stocks. We like their simple investment philosophy and think the fund is a good long-term option for investing in global stock markets.
This fund has a holding in Hargreaves Lansdown plc.
Lindsell Train Global Equity - performance since launch (%)
Past performance is not a guide to the future. Source: Lipper IM to 31/10/2018
Annual percentage growth
Oct 2013 -
Oct 2014
Oct 2014 -
Oct 2015
Oct 2015 -
Oct 2016
Oct 2016 -
Oct 2017
Oct 2017 -
Oct 2018
Lindsell Train Global Equity
8.5%
23.3%
27.0%
17.6%
15.2%
IA Global Sector Average
4.3%
6.0%
24.0%
14.0%
1.1%
Past performance is not a guide to the future. Source: *Lipper IM to 31/10/2018
Please note as this is an offshore fund you are not usually entitled to compensation through the UK Financial Services Compensation Scheme.
More about Lindsell Train Global Equity Fund, including charges and how to invest
View Lindsell Train Global Equity Fund Key investor information
Lindsell Train Global Equity
Back to Investment Times homepage
The value of investments can go down in value as well as up, so you could get back less than you invest. It is therefore important that you understand the risks and commitments. This website is not personal advice based on your circumstances. So you can make informed decisions for yourself we aim to provide you with the best information, best service and best prices. If you are unsure about the suitability of an investment please contact us for advice.