No recommendation
No news or research item is a personal recommendation to deal. All investments can fall as well as rise in value so you could get back less than you invest.
The approach of legendary investors such as Sir John Templeton and Warren Buffett is to buy when share prices look cheap and sell when they are expensive. While this might sound simple in theory, few investors manage to consistently buy at the very bottom and sell at the very top. That's why we believe topping up exposure to areas when they look attractively valued is a good approach.
When judging value in the market, we believe one of the best measures is the cyclically adjusted Price/Earnings (P/E) ratio (see below for an explanation). This currently tells us that, despite a strong five year run for share prices, the market as a whole still looks undervalued.
The current cyclically adjusted P/E ratio for the UK stock market is around 15x. Although this is higher than the past few years it is still below its average of around 20x and well below historic peaks. The modest valuations currently placed on UK shares give us confidence the UK stock market can make further gains over the medium term.
No recommendation
No news or research item is a personal recommendation to deal. All investments can fall as well as rise in value so you could get back less than you invest.
The UK is home to many businesses which should benefit from our thriving economy. In addition Britain's biggest businesses earn, on average, over 70% of their revenue overseas, meaning they are well placed to take advantage of opportunities at home and abroad.
UK companies also have a strong culture of sharing their profits with investors via dividends, offering the prospect of attractive and growing income over the long term, as well as capital growth. Furthermore, the UK is also home to many dynamic smaller businesses operating in cutting edge industries and markets.
Value in the UK market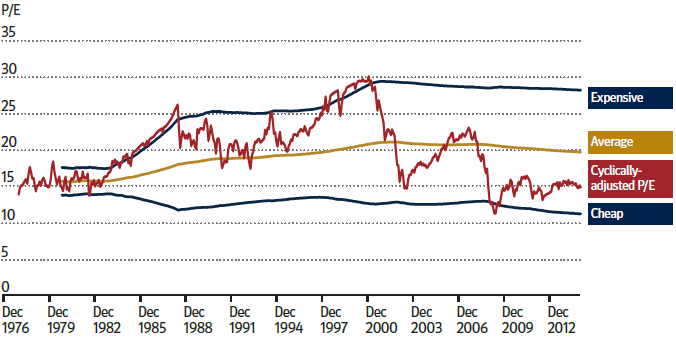 Read an explanation of cyclical P/E ratios
P/E ratios explained
A company's P/E ratio measures how much investors are willing to pay for its earnings. It is calculated by dividing the value of a company's shares by its earnings. A company with shares worth £100m, for example, and earnings of £10m is said to trade on a P/E of 10. A company with a P/E of 20 is described as expensive relative to a company with a P/E of 10 because investors are paying twice as much for the same earnings.
The red line in the chart shows the cyclically-adjusted price/earnings ratio of the UK stock market over the past 30 years (calculated by dividing share prices by a ten year average of corporate earnings). The blue lines use 'standard deviation' - a statistical measure of how far away a variable is from its average value - to show whether this P/E is historically high or low. The yellow line represents the long-term average.
These ratios should not be looked at in isolation. Other factors and investment risks should be considered when choosing investments.
Recent economic events have also been favourable. The price of a barrel of oil has tumbled from around $112 at the end of June 2014 to below $50 as I write. This will act as a substantial boost for consumers and businesses, lowering the cost of fuel, materials and transport. December's inflation figures, for example, showed the cost of motor fuels falling 10.5% year-on-year. The RAC predicts petrol could soon sell below £1 a litre. It's a similar story with gas, with British Gas recently cutting their prices by 5%.
This should put more money in people's pockets, but also contribute to falling production costs for many businesses, which could be passed on to consumers by way of lower prices. UK inflation has fallen to 0.5% and at a time of relatively slow wage growth, cheaper goods are a positive. Falling industry costs and increased consumer spending should also feed through to higher profits for well-managed companies.
There are undoubtedly some risks, most notably sluggish growth in Europe, our main trading partner. However, we think the positives of a falling oil price, low inflation and low interest rates outweigh the negatives and our outlook is positive.
Investors seeking exposure to the UK have the luxury of a wide range of investment choice, whether it's investing in individual shares or funds run by professional managers. While this should be considered a good thing, narrowing down this choice isn't always easy, and many investors look to our experts. This is where our multi-manager approach excels, aiming to blend a number of first-class fund managers in a single managed portfolio.
Find out more about the Hargreaves Lansdown Multi-Manager Funds
These funds will fall as well as rise in value, so investors could lose money.
The HL Multi-Manager funds are run by our sister company Hargreaves Lansdown Fund Managers.
The value of investments can go down in value as well as up, so you could get back less than you invest. It is therefore important that you understand the risks and commitments. This website is not personal advice based on your circumstances. So you can make informed decisions for yourself we aim to provide you with the best information, best service and best prices. If you are unsure about the suitability of an investment please contact us for advice.