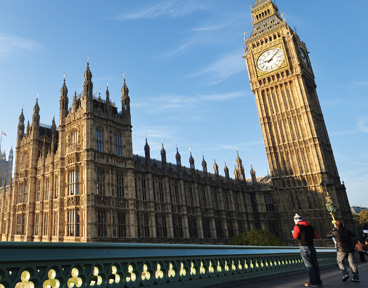 No recommendation
No news or research item is a personal recommendation to deal. All investments can fall as well as rise in value so you could get back less than you invest.
When a government borrows money, it effectively transfers the responsibility of paying for today's spending onto tomorrow's taxpayers. Including the forecast for 2014/15, over the five years of this parliament the government will have borrowed more than £550bn - around £21,000 for every UK household. The national debt now stands at £1.4trn, the interest payments on which total almost £50bn each year.
All the major parties agree on the need to cut the budget deficit - in short, it isn't difficult to conclude that taxes will have to rise at some point.
The pre-election tax giveaway is a well-known electoral tactic. Much less publicised is the postelection tax takeaway. In the twelve months following the last six general elections, newlyelected governments have announced tax rises averaging £7.5bn a year in 2012/13 terms, according to the Institute for Fiscal Studies.
No recommendation
No news or research item is a personal recommendation to deal. All investments can fall as well as rise in value so you could get back less than you invest.
The Financial Times' annual survey of economists paints a similar picture. Respondents were sceptical that promised cuts to spending could be delivered, and agreed that following the election we would see more borrowing and higher taxes.
There is a considerable gap between the planned 'fiscal tightening' (a combination of spending cuts and tax increases) announced by each major party and the effect of the policies they have announced so far. Given the unpopularity of further spending cuts, it is my belief that these gaps will primarily be funded by as yet unspecified tax increases. The table below shows the magnitude of the gap for each party.
Announced fiscal tightening (% of GDP)
| | Planned | Announced | Gap |
| --- | --- | --- | --- |
| Conservatives | 4.3% | 2.3% | 2.0% |
| Labour | 3.0% | 2.4% | 0.6% |
| Liberal Democrats | 3.0% | 2.3% | 0.8% |
Where the main parties differ is who they are likely to target in their pursuit of increased tax revenue. Relatively few specifics are known at this stage, but all have released at least some tax policies and these are summarised below.
With post-election tax rises looking highly likely, it could be wise to ensure you have made full use of all your tax allowances and shelters before the tax year ends on 5 April.
Download our updated guide to ISAs
What could the election mean for the stock market?
Media commentators seem to agree on one thing - the election will cause volatility in the stock market. But should long-term investors be concerned?
Perhaps the biggest concern is a potential referendum on EU membership, and the possible consequences of an exit. This is a clear risk in the event of a Conservative government, or a Tory-led coalition, but Labour could also yield to the electorate's demand for a referendum if they think it will score political points. Last year's Scottish independence referendum showed this kind of uncertainty causes volatility in the short term. However, even in the event of a referendum, the probable outcome is a vote to remain in the EU. As such the long-term impact on the stock market should be minimal. Furthermore it was sterling, rather than the stock market which bore the brunt of referendum-related uncertainty in the run up to the Scottish vote.
Register to receive free share research updates by email
Perceived wisdom is that markets prefer a Conservative government, but in reality share prices have the potential to make progress whoever is in power. As my colleague Steve Clayton details in his article, the UK market delivered decent returns between 1997 and 2010 under a Labour government, despite the dotcom crash and financial crisis. In his article Steve looks at which sectors of the economy could be most affected by different election results.
Read Steve Clayton's article, 'Election: potential winners and losers'
While short-term volatility is all but assured, the long-term direction of stock markets are driven by corporate profits. History shows that these are unlikely to be affected by who is in power. Since 1969, company profits have increased by an average of 2.3% per year in real terms under Conservative governments, and 2.4% under Labour governments, although there are no guarantees this will be repeated.
A final point is that the London Stock Exchange is an increasingly global feast - more than 70% of FTSE 100 constituents' earnings are derived overseas, and the impact of domestic policies is likely to be minimal. In truth the global economic outlook is far more likely than the election to dictate the long-term direction of the UK stock market.
Debt and deficit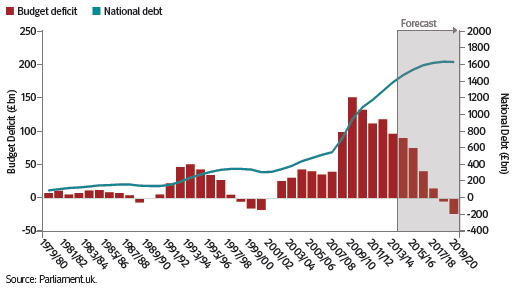 The value of investments can go down in value as well as up, so you could get back less than you invest. It is therefore important that you understand the risks and commitments. This website is not personal advice based on your circumstances. So you can make informed decisions for yourself we aim to provide you with the best information, best service and best prices. If you are unsure about the suitability of an investment please contact us for advice.