No recommendation
No news or research item is a personal recommendation to deal. All investments can fall as well as rise in value so you could get back less than you invest.
Over the course of a year we conduct hundreds of meetings with fund managers, which means traveling across the UK and overseas. This extends the universe of funds and managers we can review.
During the past year, members of the team have visited places as diverse as Scotland, San Francisco and Shanghai. Most recently I visited Japan, which gave me the chance to observe first-hand how large companies such as Sony, Nissan and All Nippon Airways view the prospects for the Japanese economy and stock market.
I always imagined Japan's stock market decline from its 1987 peak would have been felt on the ground, but the visit proved this was far from the case. Tokyo is a better functioning major city than many I have visited, including London and New York. Greater Tokyo is the world's largest metropolis and home to over 35 million people but, despite its size, is clean and well organised.
Unlike many countries, including our own, the Japanese have used the past 20 years to invest heavily in infrastructure. The centre of Tokyo has been almost totally rebuilt over this period, underlying their ability to think long-term and plan for the future. In addition, Tokyo has already adopted 4G mobile phone technology, something the UK is only just introducing. It even works on the Tokyo underground!
From a corporate perspective, the Japanese were historically adept at learning from technological advancements made in the West and improving upon them. A period of successful innovation has catapulted Japanese firms into world-leading positions in consumer electronics, car manufacturing, robotics and chemicals.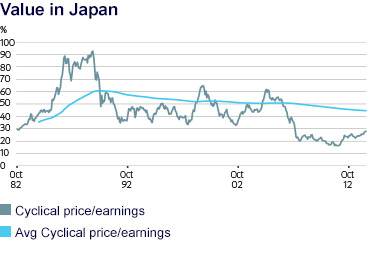 Source: Internal, to 30 April 2015
In recent years, companies have ruthlessly cut costs and emerged as leaner, more efficient entities. I believe they are well-placed to benefit from some of the changes taking place across Japan. Furthermore, many Japanese companies have battled against a strong currency in recent years, which has made their goods more expensive to foreign buyers and reduced overseas profits when converted back to yen. Recent yen weakness has eased this pressure and should be a boost for Japan.
Despite the good news from companies, the stock market is attractively valued and we don't believe share prices currently reflect the potential for businesses to grow their profits going forwards. One of our favoured measures of valuation, the price/earnings ratio, currently suggests the Japanese stock market is among the cheapest globally and is valued well below its long-term average.
Our verdict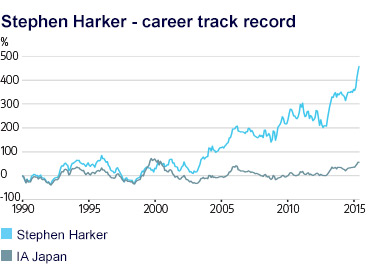 Source: GLG. Data runs to 1 April 2015. Past performance is not a guide to future returns.
The chart shows Stephen Harker's track record across his career, including all three of the funds he has managed during this time.
May 10 -
May 11
May 11 -
May 12
May 12 -
May 13
May 13 -
May 14
May 14 -
May 15
IA Japan
-3.9%
-3.9%
29.0%
-9.2%
27.2%
Investors are too hasty to write off Japan, in my view. Stock markets and economies tend to move in cycles and since the 1980s Japan has gone from global stock market darling to irrelevance. I'm not suggesting Japan will imminently return to its former dominance, but it does not seem unreasonable that progress could be made from here.
We started increasing exposure to Japan in our Multi-Manager portfolios in 2011, topped up into weakness until the market turned in 2012 and currently maintain an overweight position. We have also been suggesting Japan as an investment idea in the Investment Times throughout this period. Over this time the stock market has performed well, but earnings growth has outpaced stock market growth. We believe there is potential for this gap to close.
Investment choice
GLG Japan CoreAlpha, managed by Stephen Harker and his team, is one of our favoured funds for exposure to undervalued Japanese companies. The team looks for unloved and out of favour businesses and aim to buy them before sentiment turns. They invest for the long term and wait patiently for company fortunes to improve. The fund has a concentrated portfolio of 50 stocks which allows each to have a significant impact on performance, but it is higher risk. Stephen Harker has an exceptional record of long-term outperformance and we believe this is an excellent fund for exposure to Japan. Like all funds its value will fall as well as rise so investors could get back less than they invest and past performance should not be seen as an indicator of future returns.
The value of investments can go down in value as well as up, so you could get back less than you invest. It is therefore important that you understand the risks and commitments. This website is not personal advice based on your circumstances. So you can make informed decisions for yourself we aim to provide you with the best information, best service and best prices. If you are unsure about the suitability of an investment please contact us for advice.