No recommendation
No news or research item is a personal recommendation to deal. All investments can fall as well as rise in value so you could get back less than you invest.
I recently read an article in the weekend papers in which an independent financial adviser was explaining why he only ever used index tracking funds when building portfolios for his clients. His reasoning was simple - he thought it was impossible for him to identify the managers that would go on to outperform in the future.
I got to the end of the article and had to agree he had come to the correct conclusion. This is not because it is impossible to identify those managers that have the best chance of going on to deliver index-beating performance. Rather, he did not appear to have the information required to understand why some funds outperform and others do not.
The phrase 'past performance is not a guide to the future' is often used in our industry. Part of the reason why it is true is that markets are inherently cyclical. Areas of the market that have performed well recently may not be those which will deliver in the coming years. For example, a manager focused on income-producing stocks will naturally do better when other investors look for the comfort of large, defensive income stocks, such as in late 2008. On the other hand, smaller companies managers focusing on growth stocks are likely to suffer as a consequence.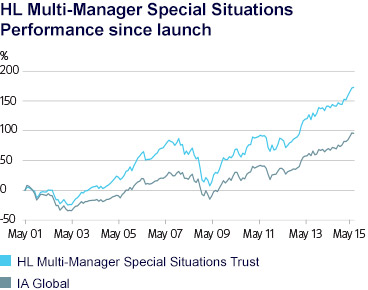 Source: Lipper IM, data run to 1 May 2015.
The HL Multi-Manager Special Situations Trust is perhaps the purest expression of this dedicated process. Our in-depth research has allowed our investment team to focus on just selecting the very best fund managers from across the world. This has led to the fund comfortably outperforming its index over a number of years. Please remember that past performance is not a guide to future returns
May 10 -
May 11
May 11 -
May 12
May 12 -
May 13
May 13 -
May 14
May 14 -
May 15
HL MM Special Situations
13.6%
-5.0%
20.6%
8.3%
14.3%
IA Global
9.2%
-5.7%
17.9%
6.0%
16.8%
Hargreaves Lansdown has committed substantial resources to help us understand why funds perform in different market environments. The aim is to uncover those managers we believe have the best chance to outperform across the market cycle. To do this, we analyse the underlying portfolio holdings of over 1,000 funds and track the changes these managers make from one month to the next. With this mass of data we can see if a manager has a particular bias towards certain areas of the market and how this might not only benefit their portfolios in times when their style is in favour and but also negatively impact when their style becomes unloved.
Our analysis allows us to drill through the past performance and determine what part of the return can be attributed to the types of stocks held, the size, economic sector, the country and what can be attributed to the manager's stock picking ability. Importantly, we can also assess how each of these measures has changed over time, as crude past performance really isn't a guide to the future. We believe that stock selection is the key way to judge a fund manager, as our experience tells us that returns generated through strong stock picking are most likely to be replicated in future.
Proof of the pudding
Our team of 11 analysts and fund managers analyse active and passive funds with the aim of searching the market for what we believe are the best funds in all the major sectors. To help our clients, we include these funds in our Wealth 150, Wealth 150+ and Core Tracker lists. We also use the data collected to condense these funds into an even narrower list for our Multi-Manager funds.
Learn more about our Wealth 150 and Wealth 150+
Find out more about our Multi-Manager funds
As our understanding of what drives fund performance has strengthened, we have set the bar ever higher, meaning fewer funds make the necessary grade. Inevitably, some good managers will turn bad and as such we accept that we will get some calls wrong. However, we hope our clients can have the confidence to use our focused lists of favourite funds to help them choose their own investments knowing we have conducted analysis which many others neither have the time, inclination nor resources to carry out.
The value of investments can go down in value as well as up, so you could get back less than you invest. It is therefore important that you understand the risks and commitments. This website is not personal advice based on your circumstances. So you can make informed decisions for yourself we aim to provide you with the best information, best service and best prices. If you are unsure about the suitability of an investment please contact us for advice.