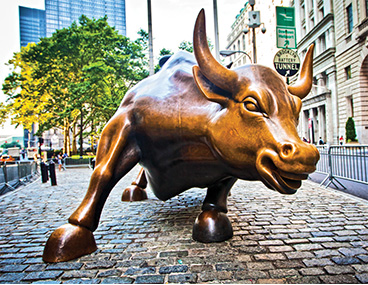 No recommendation
No news or research item is a personal recommendation to deal. All investments can fall as well as rise in value so you could get back less than you invest.
Amongst forecasters, the US presents somewhat of a conundrum. The country looks economically strong - growth is steady and unemployment is at a five-year low. The problem is that many doubt that the statistics tell the full story.
The US economy has looked strong since emerging from recession after the global crisis in 2007-08. But to some economic commentators, the recovery seems flawed. The country remains laden with debt with over $18tn of government debt outstanding. This is roughly equivalent to $57,000 per individual, some 50% higher than the UK. And this debt keeps increasing - the US government spends $400bn more than it receives in taxes each year.
Of course, employment is an important part of the economy. The US unemployment rate, at 5.1%, is roughly half its peak in 2009, but this statistic taken in isolation could mask other problems in the labour market. There are fears that this figure is artificially low due to underemployed workers in part time employment, and some longterm unemployed categorised as having dropped out of the labour force and being excluded from official statistics.
Are US stocks expensive?
Our analysis suggests US shares currently look somewhat expensive. Data can be found to support both sides of this argument, but we often consider the cyclically-adjusted price-to-earnings ratio (which looks at share prices relative to corporate earnings) to assess whether a market is good value. This ratio is higher for the US than other developed markets. If you believe the P/E ratio will fall, one of two things must happen - either share prices must fall, or earnings must rise. A high P/E ratio can therefore be treated as a warning that share prices are too high and will fall in future, or simply indicative that companies are capable of growing their earnings - as they have done in the US every year since 2009.
FTSE USA: Top 10 constituents
Source: FTSE, as at 30/10/15.
Why invest in the US?
The data gives us no certainty on when any correction might occur. Discrepancies can persist for many years, during which investors might miss out on growth from some of the world's best companies. The US is the world's largest stock market as well as its largest economy, and makes up almost half the world's market. From pharmaceutical and health company Johnson & Johnson, to retailer Amazon and credit card provider Visa, the US market contains many successful global business which dominate their field.
Technology is an industry where American innovation leads the way. Silicon Valley continues to dominate as the world's high tech hub; US entrepreneurs continue to change the world by developing new products. The US university system is one of the best in the world, which gives America a technological advantage and bodes well for future research and development programmes. The establishment of intellectual property is strongly encouraged and intellectual property rights are well-protected.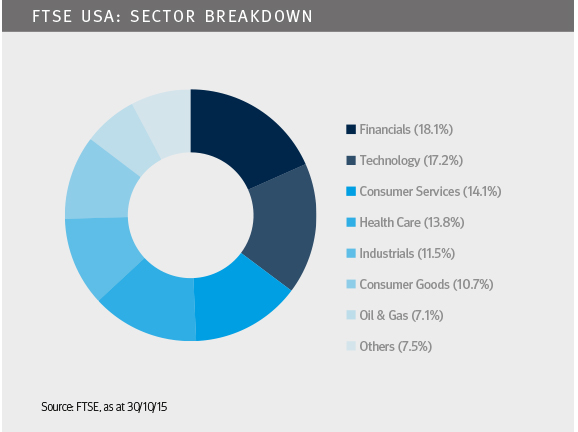 Another current consideration is the oil price. A barrel of WTI crude oil, the benchmark for US energy, has fallen considerably over the last year. But while cheap oil isn't good for the US energy sector, it is positive for the economy as a whole. America is a net importer of oil, so cheap oil supports US manufacturing, helps the travel and logistics industries to reduce costs, and puts more disposable income in consumers' pockets.
In conclusion, despite concerns over valuations, we believe most diversified portfolios should contain at least some exposure to the US market. It is simply too big a call to omit such a dynamic and innovative economy.
How to invest
The US is one of the most heavily researched markets in the world. Share prices are extraordinarily quick to react to new information, and this efficiency means it is difficult, although not impossible, for active fund managers to unearth opportunities overlooked by the wider market.
Our research shows there is a dearth of skilled US fund managers who consistently outperform, particularly among those investing in larger companies. In our view the best way to invest in the US could therefore be a fund which simply aims to track the US market.
Our favourite is the Legal & General US Index Trust. This fund aims to track the performance of the FTSE USA Index. Following an index avoids the need for expensive research desks and technology, allowing Legal & General to keep costs low. We have negotiated a reduced ongoing charge for our clients of just 0.06% (normally 0.1%). There is a charge of up to 0.45% p.a. to hold funds in our Vantage Service. Learn more about our charges »
This is a fully replicated tracker fund, meaning it invests in every stock in the index. This provides exposure to a diverse range of around 650 large and medium sized companies, making up close to 98% of the value of American listed companies. We believe it makes an excellent choice for low-cost diversified exposure to the world's largest market.
Fund information
Fund name
Legal & General US Index Trust
Fund manager
LGIM Index Fund Management Team
Net initial charge
0.00%

Estimated ongoing charge (OCF/TER)

0.10% p.a.
Vantage Service charge
0.45% p.a.
The value of investments can go down in value as well as up, so you could get back less than you invest. It is therefore important that you understand the risks and commitments. This website is not personal advice based on your circumstances. So you can make informed decisions for yourself we aim to provide you with the best information, best service and best prices. If you are unsure about the suitability of an investment please contact us for advice.