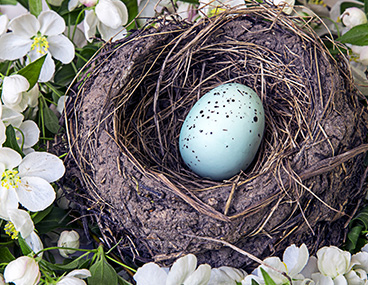 No recommendation
No news or research item is a personal recommendation to deal. All investments can fall as well as rise in value so you could get back less than you invest.
Recent changes to pension rules have revolutionised estate planning and inheritance tax (IHT).
With all the news around pension freedoms, it would make sense for your first thoughts to be about what you can do with your pension in retirement now that you can make unlimited taxable withdrawals from the age of 55 (57 from 2028). You might not have thought about IHT or trying to spend as little of your pension pot as possible - after all why would you?
It is conventional thinking to see pensions as retirement income. But the new freedoms have created the chance to significantly reduce the IHT your loved ones might have to pay.
Traditional tax at death
For many, their priority is to try to ensure beneficiaries inherit as much as possible. This can be done through estate planning which ultimately reduces the amount of IHT due. The estate's value above £325,000 (effectively £650,000 for most married couples or civil partners) is typically taxed at 40%, so most inheritance tax planning involves various ways of reducing the size of your taxable estate. Common methods include making gifts before death, making charitable donations in your will, and simply spending taxable assets.

The new world of pensions and ISAs
Before the new pension rules came into play in April, pension funds were heavily taxed at up to 55% on death after 75 or after having taken tax-free cash or an income. This meant pensions were more likely to be spent before any other options, like ISAs, as pensions were potentially subject to more tax upon death.
This changed for the better from April this year. Pension funds are now normally completely tax free on death before age 75. Not only is there usually no IHT liability, but beneficiaries can withdraw money from the pension tax free too. For death after age 75, there is still usually no IHT, but beneficiaries inherit the pension and are charged their marginal rate of income tax on withdrawals they make. This means pensions have become a hugely effective tool for IHT planning. There are circumstances under which IHT could still be payable, for instance where pension contributions have been paid while in ill health or within two years of death. Overall this is a radical transformation: instead of just funding your retirement, your pension could also now be viewed as an IHT wrapper.
This raises the question of whether your retirement should be funded by other means than your pension. Should you spend taxable investments first, ISAs next and pension pots as a last resort? We recently conducted a survey to ask clients how they planned to use their pension. 30% of those not planning to make withdrawals are doing so for tax planning reasons (see below).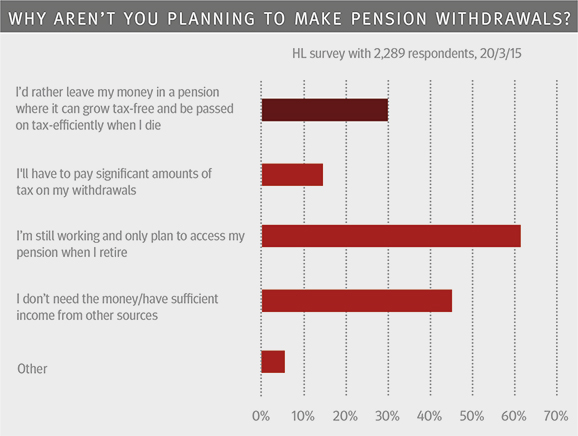 A number of other rule changes have also affected estate planning, such as the tax benefits of ISAs now being potentially transferable to a spouse on death. You can also now hold AIM shares in an ISA, many of which qualify for an IHT exemption after two years.
Changes yet to come in 2017
On top of these changes to pensions and ISAs there will be a new IHT tax break on the family home - the main residence nil rate band, available from 6 April 2017. The main residence nil rate band will be the home's net value to a maximum of:
£100,000 for 2017/18
£125,000 for 2018/19
£150,000 for 2019/20
£175,000 for 2020/21
This means that come 2020 a married couple could potentially leave £1m of their estate IHT-free (£650,000 being their combined nil rate band and £350,000 being their combined main residence nil rate band). This only applies to one main residential property, not second homes, and only if it is left to direct descendants, such as a child or grandchild.
Be sure before you start
If you don't consider these changes and the effect on your financial plan you could be paying more tax than necessary on income, capital gains and ultimately death. You could also be applying an inappropriate investment strategy resulting in lower overall returns or the wrong level of investment risk.
Before you start investing, gifting or spending, you should make sure that you are financially secure during your retirement. There is a balance between ensuring you have enough to live on during retirement and minimising tax (both in life and in death).
This is where a good financial adviser can prove invaluable. Advisers use sophisticated cash flow analysis techniques to provide a genuine insight into developing a strategic plan that takes into account your objectives and best tax planning ideas.
They will help you to map out your financial future, showing you how best to organise your assets to provide you and your spouse or partner with financial security: both the income you need and capital for contingencies, while minimising taxes and maximising legacies for those you'll leave behind.
The value of investments can go down in value as well as up, so you could get back less than you invest. It is therefore important that you understand the risks and commitments. This website is not personal advice based on your circumstances. So you can make informed decisions for yourself we aim to provide you with the best information, best service and best prices. If you are unsure about the suitability of an investment please contact us for advice.