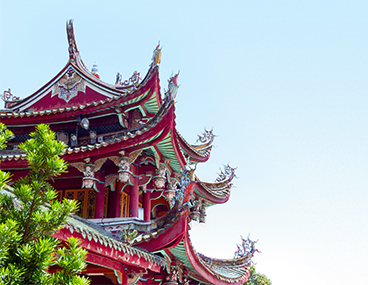 No recommendation
No news or research item is a personal recommendation to deal. All investments can fall as well as rise in value so you could get back less than you invest.
China, the world's second-largest economy, is playing an increasingly influential role globally. You only need to look at the market reaction to its slowing economic growth this year to see how important China has become. I recently visited Shanghai in order to meet company management and gain insight into the opportunities and risks for our clients investing in China.
The vast amount of infrastructure development that has taken place over the years is clear. Looking east from central Shanghai across the Huangpu River you can see the district of Pudong. Thirty years ago there was little in the area other than farmland. It's now a leading financial hub, packed with skyscrapers and office blocks.
China's economy is changing. Rather than depending on the old engines of growth – infrastructure investment and exports – domestic consumption is now leading the economy through a period of rebalancing.
Consumer-driven growth
This transition to a consumer-led economy is a story increasingly well-told, but it is one I saw first hand. On a Sunday evening in Shanghai, the shops remained open at 10pm and were full of people. Dotted among the traditional Chinese shops and restaurants were many Western high-street clothing retailers, as well as luxury and designer brands.
Retail sales growth remains buoyant at around 10.5% (year-on-year). High-end brands have witnessed falling sales however, hit by a slowing economy and China's anti-corruption campaign.
An array of broader trends is driving consumption. As China has undergone rapid urbanisation and wages and disposable incomes grow, consumers have been willing to spend as they strive for higher living standards. Management at SAIC (Shanghai Automotive Industry Corporation) told me its factory is running at almost full capacity, on target to manufacture 500,000 cars this year.
The pressure is now on businesses to embrace technology and innovate. E-commerce is increasingly playing a role in companies' growth with the internet providing a portal to advertise, expand brand awareness and sell products.
Company in focus: Jahwa
On the trip I met Jahwa, a cosmetics manufacturer – a sector growing rapidly. The company is China's largest domestic cosmetics brand. It has been outpacing many of the well-known international brands, which have typically been more popular with Chinese consumers, but are losing market share. There is an increasing appetite from consumers for new and innovative products, in which they have proven successful, while the company's product range embedding Chinese culture and tradition is proving popular, and could be difficult for Western brands to replicate.
Some of the world's biggest technology businesses remain domestically-focused in China, but there is potential to expand globally. Technology firms are also developing a presence in the financial services industry. Alibaba, largely known for its online shopping portal, has a major financial services affiliate, offering services from online payments and banking to micro-lending and cloud computing.
Market disruption
In 2014, the Shanghai-Hong Kong stock connect launched, allowing international investors access to mainland Chinese shares and marking a step towards opening China's capital markets. A period of significant growth in the stock market ensued, but was followed by a precipitous decline halfway through 2015.
The stock market correction wasn't all that surprising given the speed of the preceding rise. I believe this was a case of the market getting ahead of itself, rather than an indication of long-term decline. The government's attempt to stem the falls were seen by many as heavy-handed. I would agree to an extent, especially as China is supposed to be liberalising its financial markets, with less intervention from the government.
On that note, state influence remains a characteristic feature of the economy.
While the government is aiming to improve corporate governance, China's state-owned enterprises are not often run in the sole interest of shareholders and corruption remains widespread. I remain wary of significant exposure to these businesses.
Investing in China
I would advocate most portfolios having some exposure to China. During my trip I saw many well-managed and successful businesses with ambitious plans for the future. They are ready to take on Western companies and leave behind the focus on low-cost manufacturing that has fuelled growth in the past.
Challenges on the road to reform are to be expected. In many ways, the slowing of Chinese economic growth to a more sustainable pace should be viewed positively, but it should be remembered this is a multi-decade story and the ride will be a bumpy one.
The opportunities for investors are vast, but defining the winners from the losers is no easy task. China's development could have a far-reaching impact on the global economy, particularly on its neighbours with whom close trade links are shared. I therefore believe broader exposure to the developing world is a good initial approach. Our favourite Asian and emerging markets funds can be found on the Wealth 150.
For broad and diversified exposure to the emerging world, the HL Multi-Manager Asia & Emerging Markets Fund could be considered. Around 15% is currently invested in Hong Kong/China, while it also provides exposure to other developing nations such as India and Brazil. The fund is managed by our in-house research team; choosing what they believe to be the best funds in the region. We believe the extra layer of management more than justifies the additional cost of a multi-manager approach.
Recent falls across emerging markets have left their stock markets looking good value to us. Valuations are now similar to the depths reached during the global financial crisis. Then, we all genuinely feared a global depression, but today we view the outlook as considerably brighter - although of course not without risks. For the contrarian investor willing to shoulder high levels of volatility, this could prove an opportune time to invest in these dynamic, but high risk, economies and we believe the HL Multi-Manager Asia & Emerging Markets Fund is a simple, convenient and effective way of doing so.
The HL Multi-Manager Asia & Emerging Markets Fund is managed by our sister company, HL Fund Managers Ltd.
The value of investments can go down in value as well as up, so you could get back less than you invest. It is therefore important that you understand the risks and commitments. This website is not personal advice based on your circumstances. So you can make informed decisions for yourself we aim to provide you with the best information, best service and best prices. If you are unsure about the suitability of an investment please contact us for advice.