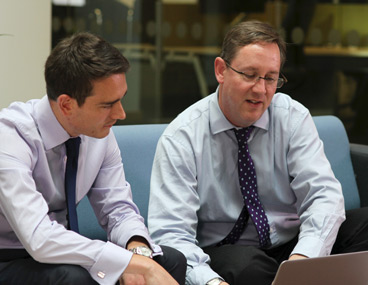 Investing shouldn't be a black art, understood by the few, nor should it be a black box, where you just take what you're given without understanding why.
HL Select UK Shares is a managed portfolio of our favourite growth shares, in the convenience of a fund, where investors will know exactly what's happening with their money and why.
Learn more about the HL Select UK Shares Fund
After launch, investors will be able to see every share in the portfolio, once we've finished dealing, and know why it's held. If the portfolio holdings change, we'll explain how and why. Investors will also get regular updates, including our latest views on the market, how holdings are performing and anything else we feel they should know about, to keep them fully informed.
Targeting long-term growth
I have worked in the investment industry for almost 30 years, and one thing has become very clear to me. If you can invest in high quality growth businesses, that can compound their earnings year after year, it has the potential to create enormous value.
We want to find companies that are in charge of their own destiny. Those that can dictate their own terms, because they have exceptional products or services and the financial strength to re-invest profits back into the business, and hopefully continue to grow year after year.
The effects of compounding are powerful. If a business can keep growing reliably, over time it can significantly increase in value. Our strategy is to seek out these exceptional businesses, and hold their shares for as long as they keep doing it.
Shares can fall as well as rise, and we won't get it right every time so investors could get back less than they invest. That's why we are focused on the long term and place so much emphasis on the financial strength of companies we aim to buy.
Every stock should count
We will choose stocks on merit, not mass. We only want to hold the companies that we think have the best potential. In the stock market, big doesn't necessarily mean better. If we find something that's a little bit smaller, but a whole lot better in our view, we'd rather have that in the fund, although they are higher risk. If we find a great company that's a big one too, even better. We simply aim to own the best companies we can find, according to our criteria.
Very few companies will make the grade but we have the flexibility to scour the whole UK market, to find those we believe have most potential. We expect to hold a concentrated portfolio of around 30 companies, which means each stock could make a real difference to returns but it is a higher risk approach.
Learn more about the HL Select UK Shares Fund
Why invest now?
Whilst the market has risen over the long term, there have been some fairly dramatic setbacks, and some giddy peaks, along the way.
Human nature being what it is, most of us, even if we get out before a market tumble, fail to get back in again before the market has moved on higher. That's why we always say that stock market investments should be for the longer term, and believe the key is to be invested in the market in the first place.
We don't try to call short term market movements, driven as much by sentiment and psychology as they are by investment fundamentals. Instead we just try to identify exceptional businesses and own them. Really good businesses grow through thick and thin. By taking a wary attitude to debt, we hope to shelter investors from the worst of any future downturns. If we get it right, the fund will be packed full of survivors, well placed to take advantage of weaker rivals' discomfort and capitalise on the eventual upturns. Although there are no guarantees and investors could get back less than they invest.
Investing now puts money to work straight away. We believe our focus on companies with a virtuous circle of great products, high returns, loyal customers and robust balance sheets, allowing continual reinvestment back into the business, could be a great route to longer term gains.