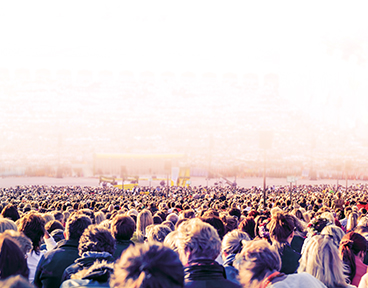 No recommendation
No news or research item is a personal recommendation to deal. All investments can fall as well as rise in value so you could get back less than you invest.
You might think the combined intelligence of a group would lead to good decision-making. But people are easily influenced by each others' views, so there is a significant chance of them drawing the same conclusion, correct or not.
It requires great courage to go against the herd. In investing, often the greatest challenge is to ignore the wisdom of the crowd and consider unfavourable areas of the market. The most profitable opportunities often appear after periods of poor performance when a company, stock market or region is out-of-favour.
History has shown investing when valuations are low can lead to excellent long-term returns, although there are no guarantees. Opportunities like this arise infrequently, so when our research highlights assets at unequivocally cheap prices, in an area we feel offers superb long-term potential, we get particularly excited.
After a period in the doldrums, emerging markets reached this point at the end of 2015. We have regularly highlighted this to our clients since. Stock markets have bounced strongly, but we believe there is further to go.
Emerging markets are more volatile than their developed-world counterparts, and can be more sensitive to swings in investor sentiment. Indeed they experienced a short-term setback following November's US election, as investors feared protectionist policies would harm exports. However, the constraints of office are likely to limit Donald Trump's ability to carry out some of his more controversial ideas, and any attempt to restrict free trade will likely meet opposition from conservative congress members. In our view the long-term investment case for emerging markets remains intact.
These countries have undergone rapid growth and industrialisation in recent decades. While broader growth has slowed in recent years, they are still some of the world's fastest-growing economies, including India, the Philippines and Vietnam. Long-term prospects should remain underpinned by a youthful and increasingly well-educated population, while a rising middle class boosts consumption-led growth across emerging markets.
We believe a contrarian, value-oriented approach is one of the best ways to gain advantage over other investors. Patience is required – it can take time for the inherent value of an investment to be recognised in its price. A market which is cheap can stay cheap for some time, and even get cheaper still. Nevertheless, buying when valuations are low can stack the odds in the investor's favour.
The BlackRock Emerging Markets Equity Tracker is our favoured choice for investors who seek low-cost, broad exposure to these higher-risk markets. It tracks the performance of the FTSE All-World Emerging index, and is well-diversified across a wide spectrum of emerging economies.
Since its launch in November 2009 the fund has delivered returns of 34.1% for investors, though past performance is not a guide to the future. Its net ongoing charge of 0.23% p.a. is exceptionally low – this is key with tracker funds as charges are a key determinant of performance. The Vantage charge of up to 0.45% p.a. also applies.
Learn more about BlackRock Emerging Markets Equity Tracker including how to invest
BlackRock Emerging Markets Equity Tracker KIID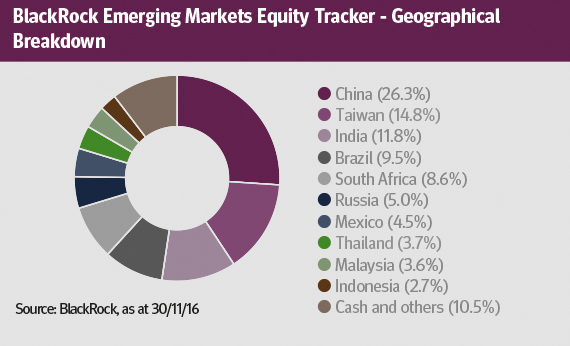 Past performance is not a guide to future returns
Source: Lipper IM, to 30 November 2016
The value of investments can go down in value as well as up, so you could get back less than you invest. It is therefore important that you understand the risks and commitments. This website is not personal advice based on your circumstances. So you can make informed decisions for yourself we aim to provide you with the best information, best service and best prices. If you are unsure about the suitability of an investment please contact us for advice.