No recommendation
No news or research item is a personal recommendation to deal. All investments can fall as well as rise in value so you could get back less than you invest.
When you break down the concept of investing to its basics, there are two ways you can make money: share prices can rise (a capital gain) and you can collect dividends (income). Much time is spent scrutinising the ups and downs of the stock market. But dividends should not be underestimated.
The FTSE 100 has grown by 171% over the past 25 years, but this jumps to 561% when dividends are reinvested. This serves as an illustration of just how important dividends can be. Of course, the next 25 years will be different, and past performance is not a guide to future returns.
Get paid to be patient
This is not to say share price growth is unimportant. The best companies grow their profits over the years and this allows them to pay higher dividends. Companies able to achieve this tend to see their share price rise too. The combination of a dividend that grows over time and a rising share price can add up to impressive longterm returns.
This is equity income investing. We have long been advocates of this approach and it is a firm favourite with many of our clients.
Part of its enduring appeal is that it rarely leads to sleepless nights. Providing you can accept fluctuations in the value of your capital, regular dividends provide a return while you wait for share prices to rise over the long term. You are quite literally getting paid to be patient.
In the current environment this is particularly relevant. Rates on cash deposit are negligible, so once you have enough set aside for a rainy day, it makes sense to seek superior returns from other assets. Many equity income funds currently yield in the region of 3 to 5%, with the potential for income and capital to grow. Remember unlike cash, capital is not guaranteed and you could get back less than invested. Dividends too can fall as well as rise.
Small and medium-sized companies are prized by investors for their exciting growth potential. Yet many firms' shares have missed out on the market rally since June's referendum amid fears they could struggle if economic growth slowed.
Medium-sized companies in particular have underperformed. Yet the UK economy has fared better than expected since the Brexit vote, and this could therefore represent an opportunity if these firms can recover some lost ground.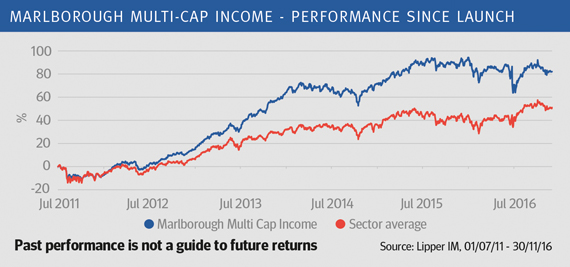 Nov 11 - Nov 12
Nov 12 - Nov 13
Nov 13 - Nov 14
Nov 14 - Nov 15
Nov 15 - Nov 16
Marlborough Multi Cap Income
21.4%
42.1%
5.9%
13.0%
-4.4%
Sector average
14.4%
23.6%
5.1%
5.8%
4.5%
Past performance is not a guide to future returns
Source: Lipper IM, to 30 November 2016
Many investors associate smaller companies with growth rather than income, but plenty pay an attractive dividend now, with the potential to increase this in future if all goes to plan. The Marlborough Multi Cap Income Fund currently yields 4.8% (not a reliable indicator of future income).
We think this presents an attractive buying opportunity, and have faith in manager Siddarth Chand Lall's ability to identify companies that can sustain and grow dividends. Along with renowned smaller companies investor Giles Hargreave, he has delivered an impressive return of 82% since the fund's launch in 2011, compared with 51% for the sector average. Past performance is not a guide to the future and investors should note that small and medium-sized companies can be more volatile than their larger counterparts.
Learn more about Marlborough Multi Cap Income including how to invest
Marlborough Multi Cap Income KIID
We often extol the virtues of diversification. This means diversification across companies of different sizes, in different sectors. It also means diversification across different fund managers, with different styles. For a sustainable and growing income it is necessary to combine some investments which generate a high income now, and some with the potential for income growth. You also need to consider exposure to different countries and currencies.
To construct and maintain such a portfolio can be a daunting and time-consuming task. For investors who prefer to leave this to the experts, HL Multi-Manager Income & Growth could offer a solution. Managers Lee Gardhouse and Ellen Powley combine some of our favourite equity income funds into a single, convenient and diversified investment. The approach has met with great success and we believe the results justify the extra costs involved.
The underlying funds, which include exposure to small and medium-sized companies via the likes of Marlborough Multi Cap Income, currently offer a range of attractive yields. When blended together in the HL Multi-Manager Income & Growth Trust the overall yield is 4.1% (yields are not a reliable indicator of future income). The fund is run by our sister company HL Fund Managers Ltd. The funds charges are taken from capital which reduce the potential for capital growth.
Learn more about HL Multi-Manager Income & Growth including how to invest
HL Multi-Manager Income & Growth Trust Key Features
The value of investments can go down in value as well as up, so you could get back less than you invest. It is therefore important that you understand the risks and commitments. This website is not personal advice based on your circumstances. So you can make informed decisions for yourself we aim to provide you with the best information, best service and best prices. If you are unsure about the suitability of an investment please contact us for advice.