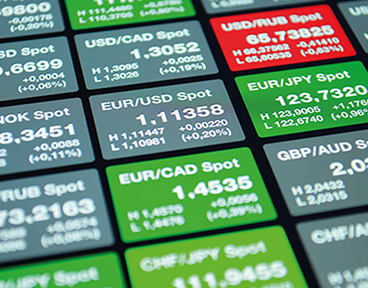 No recommendation
No news or research item is a personal recommendation to deal. All investments can fall as well as rise in value so you could get back less than you invest.
There is a lot to be said for keeping life simple, particularly when it comes to investing. In no area is this more evident than in currency markets. There are currently as many arguments for sterling to weaken as there are for it to rally. The truth is nobody knows and it is nigh-on impossible to consistently call the direction of currency movements correctly.
The global nature of our lives means currency fluctuations affect the cost of day-to-day items, as illustrated by the recent 12.5% rise in the cost of Marmite. However, while a weak pound increases the cost of goods we import, it also boosts the value of (and income from) overseas investments.
As exchange rates have a 'swings and roundabouts' effect on a portfolio's performance, we suggest investors maintain diversified currency exposure, but focus on more reliable factors to generate good returns.
The HL Multi-Manager Special Situations Trust has exposure to a variety of currencies, and its overseas holdings have benefited from recent sterling weakness. Yet rather than attempting to forecast future currency movements, managers Roger Clark and Lee Gardhouse focus on one thing – identifying fund managers with superior stock picking ability, wherever in the world they invest.
Learn more about HL Multi-Manager Special Situations including how to invest
HL Multi-Manager Special Situations Trust Key Features
It's a simple strategy that has been proven to work, and we believe the results more than justify the additional costs of a multi-manager approach. Investors at the fund's launch in April 2001 have seen their investment rise by 207% compared with 123% for the average fund in the IA Global sector, though past performance is not a guide to the future and investments will fall as well as rise in value.
The biggest driver of long-term returns has been the strong stock selection of the underlying fund managers. Managers like Dan Nickols, Richard Pease and Stephen Harker invest in vastly different areas – UK smaller companies, large and medium-sized European businesses and large firms in Japan. Yet all have one thing in common: they are exceptional stockpickers.
Another important characteristic we look for is managers with 'skin in the game'. The HL Multi-Manager Special Situations Trust invests predominantly with 'boutique' investment houses where the fund managers either own the fund management company themselves or have a revenue-sharing agreement, meaning they are well-incentivised to deliver the best performance.
The trust is the purest expression of our investment team's extensive research, providing a one-stop-shop of our favourite fund managers across the globe. It includes exposure to dynamic but higher-risk areas like emerging markets and smaller companies. Investors have the peace of mind that day-to-day management is taken care of by our team of professionals. Similarly to the managers we invest with, all of our fund managers have a stake in the trust, and only their very best ideas make it into the portfolio. We believe long-term investors stand to be rewarded by this approach and feel the trust could make a great core holding for a globally diversified portfolio.
The trust is run by our sister company HL Fund Managers Ltd.
Learn more about HL Multi-Manager Special Situations including how to invest
HL Multi-Manager Special Situations Trust Key Features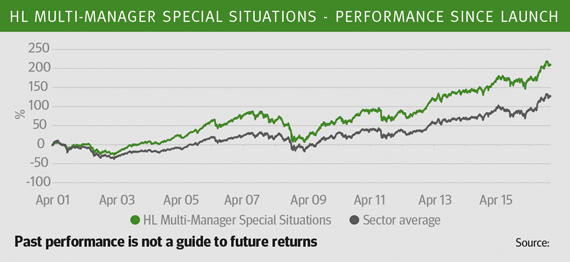 Nov 11 - Nov 12
Nov 12 - Nov 13
Nov 13 - Nov 14
Nov 14 - Nov 15
Nov 15 - Nov 16
HL Multi-Manager Special Situations
12.9%
25.2%
6.5%
7.5%
14.2%
Sector average
11.3%
21.9%
9.0%
3.3%
20.4%
Past performance is not a guide to future returns
Source: Lipper IM, to 30 November 2016
The value of investments can go down in value as well as up, so you could get back less than you invest. It is therefore important that you understand the risks and commitments. This website is not personal advice based on your circumstances. So you can make informed decisions for yourself we aim to provide you with the best information, best service and best prices. If you are unsure about the suitability of an investment please contact us for advice.