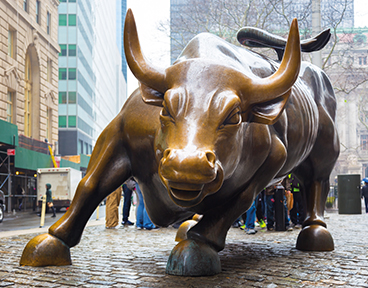 No recommendation
No news or research item is a personal recommendation to deal. All investments can fall as well as rise in value so you could get back less than you invest.
2016 has been the year of the improbable. According to Ladbrokes, a £1 bet on Leicester winning the Premier League, the UK voting to leave the EU and Donald Trump becoming US president could have returned over £4.5m.
This year feels like a crescendo of events that started with the 2008 financial crisis. Since it bottomed in 2009 the market has climbed what is often termed a 'wall of worry'. Commentators have continually expected markets to fall, but instead they have climbed higher and higher. However, fear of falling markets has caused many investors to miss out on this bull market. This is why I call it the most unloved of my career.
"Events, dear boy"
I'm reminded of a journalist asking Harold Macmillan what he feared most. He replied "events, dear boy, events." Today investors fret over elections, referendums, a slowdown in China, euro zone debt… the list is endless. Meanwhile journalists are always full of doom and gloom – it sells more papers.
At the moment both retail and professional investors are as pessimistic as I have seen in my 32 years in financial services. This overwhelming bearishness makes me optimistic. Please don't think me complacent. Markets have a habit of making fools of all of us, but they have certainly done that to the pessimists over the last five or six years.
Weight of money
With most investors in pessimistic mode, there is plenty of cash on the sidelines waiting for an opportunity to enter the market. This means that should markets fall by, say, five or ten percent, the dip could be heavily bought. We saw this with the Brexit referendum, where the market's fall was quickly reversed.
I well remember the summer of 1987 – professional and retail investors thought the stock market would rise forever. I even heard of some investors taking out second mortgages to buy into the stock market. October that year saw the sharpest fall anyone had ever seen, and because everyone was already fully invested there was no cash to support the market. Today I see the opposite, and that's why I think the market will make good progress from current levels.
Don't ignore dividends
Low interest rates add to the favourable backdrop for equities. In my view high debt levels globally, coupled with an ageing population, will keep economic growth subdued and interest rates lower for longer than anyone expects. In this environment it's easy to see the attraction of equity income funds, many of which yield from 3 to 5% at present – albeit that unlike the security of cash, your capital will fluctuate, so you could get back less than you invest.
Investors in my view are spending too much time trying to forecast events and their outcomes and not enough time getting on with their investments and then getting on with their lives. As we have seen this year, forecasting events is incredibly hard. Even if you do that correctly, you need to be able to forecast the market's reaction, which can be even more difficult. Even those who correctly predicted we would vote to leave the EU did not in most cases predict it would lead to a sharp rise in the stock market.
My suggestion for the New Year is to make sure you have enough cash for life's emergencies, and invest the rest in good quality funds – especially those that pay a dividend. Then spend less time looking at events and spend more time on your favourite pastimes.
Read about our latest investment ideas
Get paid to be patient: Why equity income yields could offer opportunity
Emerging markets: Why it could pay to go against the herd
Keep it simple: A diversified, global fund for the core of a portfolio
Editor's choice: our new weekly email
Sign up to receive the week's top investment stories from Hargreaves Lansdown
Hargreaves Lansdown PLC group companies will usually send you further information by post and/or email about our products and services. If you would prefer not to receive this, please do let us know. We will not sell or trade your personal data.
The value of investments can go down in value as well as up, so you could get back less than you invest. It is therefore important that you understand the risks and commitments. This website is not personal advice based on your circumstances. So you can make informed decisions for yourself we aim to provide you with the best information, best service and best prices. If you are unsure about the suitability of an investment please contact us for advice.